03 Feb 2021
Vincent Fernando, CFA
While the economic fallout from the Covid-19 pandemic is undeniable, data reported by key companies reveal that there are specific segments of the tech industry that are crushing it right now.
Sure, we will gradually go back to physical shopping and face-to-face interactions once the virus situation eases, but we will continue to use tech far more than we had used to.
The pandemic has helped us collectively shake off old brick-and-mortar habits and accelerate structural digital trends that would have taken years to develop otherwise. Here are 10 that will continue to thrive in a post-Covid-19 world.
1. Telemedicine
Telemedicine usage has spiked amid the pandemic. In particular, daily active users for remote medicine services have increased across Southeast Asia and Australia. Singapore-based Doctor Anywhere and MyDoc, for example, saw a 156% and 147% year-on-year increase, respectively, while Halodoc in Indonesia saw a 100% jump in March.
This trend will persist long after the Covid-19 pandemic has passed, as more consumers realize the enhanced safety measures and convenience telemedicine services provide. For one, doctors are able to screen their patients' basic health issues simply by communicating with them online. And with the ubiquity of thermometers nowadays, patients can easily provide data to healthcare professionals.
On the patients' end, they don't have to physically visit a clinic or the hospital whenever they feel ill, especially when what they need are only some pain relievers and rest.
2. Robotics and automation
Industrial automation is another trend that is likely to get even faster adoption.
PricewaterhouseCoopers recently conducted a survey among businesses regarding their views on fourth industrial revolution or 4IR technologies, such as factory automation and the internet of things. Of the respondents, 63% believe that these help provide protection during economic downturns.
After the experience of having to shut down operations during lockdown, factories are now more likely to accelerate their investment into using autonomous and contactless technologies to future-proof their production lines, especially in a post-pandemic but still socially distant world.
For example, Singapore-headquartered Cognicept uses remote teleoperators to oversee its clients' robots in industries such as hospitality and logistics. Humans take control for only 1% of the time, usually when a robot gets confused or lost. This enables robots to succeed in many use cases where their error rates are too high to allow complete 100% automation.
"Covid-19 has presented a lot of challenges. Aside from [its] tragic health impacts, the pandemic has exposed a lot of fragility in the systems that drive our economy," says Cognicept CEO Mike Sayre. "Labor force disruption, supply chain breakdowns, and the safety of frontline workers have all driven an accelerated exploration of robotic solutions."
See: This tech could be the secret ingredient to the mass adoption of robots
Cognicept has seen increasing demand, he adds. "We have seen inquiries for UV disinfection robots, delivery robots in quarantine facilities, cleaning robots, and logistics robots, to name a few."
Other companies that are likely to benefit from faster adoption of industrial automation services include Alibaba (through its smart logistics subsidiary Cainiao), JD.com, and Amazon.
3. Remote work supervision
As remote work becomes the norm, some startups are now offering innovative – and sometimes counterintuitive – solutions in this area.
Australia- and New York City-based Tulu offers software that allows companies to remotely manage manual labor that usually requires heavy on-site supervision and guidance. Effective remote management in general has become necessary, but remote supervision of cleaning services have particularly become essential, leading to a surge in demand for Tulu's solutions.
"Cleaners, by habit, miss spots all the time, and 40% of them fail a live audit because of human error. Tulu's tech platform assists all cleaners to adhere to guidelines and remedy their efforts in real-time, resulting in reductions in human error and increases in worker productivity and safety," Tulu founder Reza Keshavarzi says.
"We enable organizations to oversee more workers across multiple geographies while reducing the need for [on-site] managers and ensuring [everyone's] health and safety in a post-Covid-19 world."
Team Viewer, a remote access software provider, is also benefiting from work-from-home programs being implemented in various industries. The listed company's subscribers and billings in the latest quarter both soared by more than 60%.
4. Online education
Online education has been one of the largest beneficiaries of lockdowns across the world. Much of the stigma against it has been removed as more people experience the convenience it provides.
Learning online is actually efficient in many ways. A lot of time spent in traditional brick-and-mortar education isn't exactly "learning," as many of our old party pictures can attest.
Even after lockdowns get lifted, online education will continue to enjoy increased acceptance as learning institutions adopt more online tools to safeguard themselves against future disruptions.
See: Edtech firm Byju's keeps India focus as revenue growth triples
Iresearch estimates that as online education companies in China monetize their Covid-19 user base gains, the market will continue growing robustly at about 20% a year. Other publicly listed names this sector include New Oriental Education, TAL Education, GSX Techedu, and Youdao.
5. Virtual meeting apps
Perhaps the most ubiquitous development of all has been the increase in usage of conference call platforms, both among consumers and businesses. Apps like Google Meet and Microsoft Teams saw a surge in downloads across multiple countries in the second half of March, over 10x the average rate in Q4 2019.
Newer and smaller players have caught the wave and are even showing Big Tech giants how to innovate. Houseparty, for example, came out of nowhere to become one of the most downloaded apps in many Western markets.
The company's innovative inclusion of activities that exist natively within a video call have made large tech companies realize that a true social platform not only allows participants to speak to each other but also share activities together digitally.
Australia-based Oper8tor is pushing things in a different direction by developing a patented technology that can connect multiple parties using different calling apps – whether it's WhatsApp, Skype, or Messenger – into one conference call. The Oper8tor app also allows for the automatic transcription of conversations so that callers receive a text transcript within minutes after a call is completed.
"Covid-19 has dramatically increased people's focus on how to connect most efficiently remotely," says Oper8tor CEO Angus Parker. "We're seeing tremendous need for help in professional fields such as banking where audit trails and record-keeping are important. [Companies] can't always force a customer to use [their] preferred calling app."
Even as the world begins to normalize and reopen, usage of video conferencing is likely to remain high as businesses learn how to further leverage the tool over expensive single-day business trips.
With the exception of Zoom as a pure-play video conferencing company, most major video conferencing solutions tend to be under one of the big tech giants: Alphabet, Microsoft, and Tencent.
6. Cloud enterprise software
Enterprise collaboration and cloud adoption will be major winners as companies migrate their workflows to online to continue engaging with customers even without a brick and mortar presence. Operating digitally and online is now a must-do for businesses – and an overdue one due to its efficiency.
Monthly active users for Chinese enterprise collaboration apps DingTalk (Alibaba), WeChat Work (Tencent), and Tencent Meeting grew exponentially from January to March 2020. Even as their growth gets moderated with the lockdown restrictions being eased, enterprise collaboration tools stand to only gain more adoption in the long run as employees and businesses alike see how shifting to digital enhances productivity.
This trend is not limited to China. It has played out strongly in other parts of the world as well, with companies such as Dropbox and Slack also experiencing increased adoption.
Asia-centric names in the enterprise space include Tencent, Alibaba, and ByteDance while Western names include stocks like Slack and Dropbox.
7. Enterprise livestreaming
Livestream retail was already hot before Covid-19, but it's now on the rise. With enterprise collaboration tools allowing employees to remain productive while exercising social distancing, livestreaming has become a powerful engagement channel that brands are leveraging to connect with consumers remotely.
While TikTok's growth has been exponential, "enterprise livestreaming" is set to take off. Iresearch is currently forecasting China's enterprise livestreaming market to grow by 152% this year.
Companies like JD.com are directly integrating ecommerce purchase capabilities within livestreaming, allowing viewers to do one-click impulse buys while watching their favorite influencers hawk products.
China leads the world in ecommerce innovation, already bringing it to regions such as Southeast Asia. And companies such as Facebook and Alphabet are taking note. We can expect increased livestream ecommerce capabilities in Facebook, Instagram, Snapchat, and Youtube to appear in Western markets as the year progresses.
Major names in the listed space for Asia include JOYY and Momo. TikTok's parent company ByteDance, however, is not yet listed. Meanwhile, Facebook, Alphabet, and Snapchat are the livestreaming players that are expanding in the US.
8. Micromobility
Public transportation usage took a nosedive by more than 60% around the world as lockdowns kept people at home. Even as it is now showing small signs of early recovery, it's doubtful that public transportation usage will return to its pre-Covid-19 level as consumers are likely to remain cautious about the health risks it poses.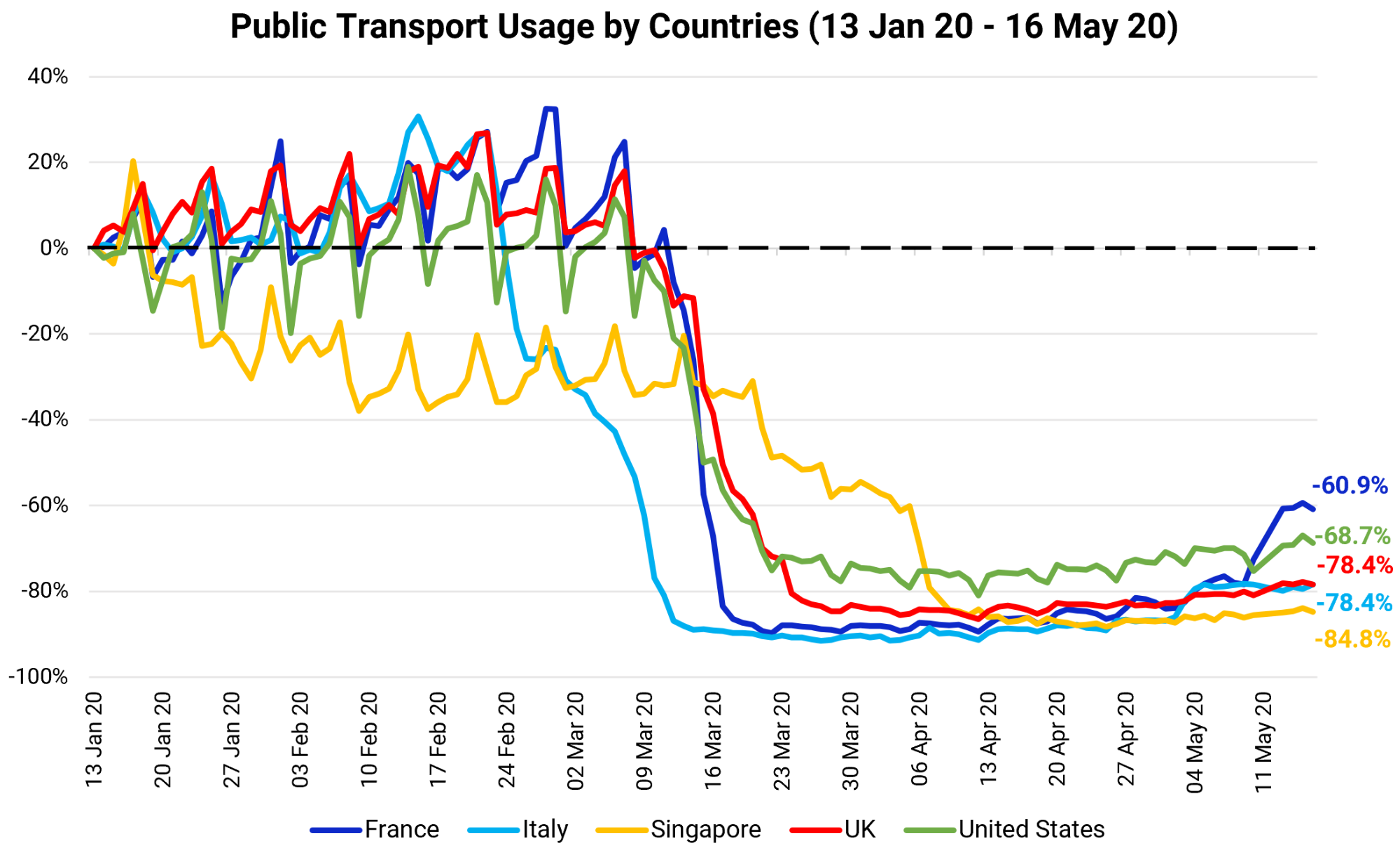 Thus, micromobility has an interesting opportunity to capitalize on this transportation gap by offering affordable individual mobility solutions. Niu Technologies CEO Yan Li stated during the company's last earnings call, "We did observe a demand [for] individual mobility solution as people tended to stay away from public transportation. This trend might increase the total addressable market in a permanent way when people try our electric scooters and start to enjoy the technology, the style, and the freedom our products offer."
While electric vehicle (EV) firms have seen a significant decline in revenue, the pandemic may just have accelerated the shift toward EV micromobility solutions as more people get introduced to these.
Listed Asia-centric stocks include Niu Technologies and Yadea while Western names include Uber, Lyft, Lime, and Bird.
9. Fresh foods and fast-moving consumer goods ecommerce
China's ecommerce penetration is already one of the highest in the world in terms of dollar value penetration – according to the data from market research company Emarketer, it is at 35% of total retail sales in 2019.
We expect this to grow even faster, thanks to the catalyst that was Covid-19, which had propelled consumer behaviors to adapt and even permanently change when it comes to shopping for daily needs online.
In Southeast Asia, we're seeing Lazada's grocery arm RedMart reporting surging demand. Regional super app Grab has been investing a lot of resources into its groceries delivery business.
10. Esports and gaming
Playing and streaming video games quickly became mainstream staples as sources of digital entertainment amid the pandemic.
In April this year, Tencent acquired a controlling stake in Huya while maintaining a 38% stake in DouYu. This has important implications for esports, given the huge portfolio of games that Tencent can leverage for streaming content while it capitalizes on its 1.2 billion strong user ecosystem to drive even faster adoption.
The leading game livestreaming platforms in China, Huya saw its mobile monthly active user count surge to 74.7 million in Q1 2020, a 38.6% increase year on year from 53.9 million in the same period of 2019.
Asian game developer companies in the listed space include Tencent and NetEase, while game-focused streaming companies include Huya and DouYu. Singapore based Sea Limited, via its Garena gaming arm, has its stock trading near all-time highs.
While the Covid-19 pandemic has caused a major negative economic impact overall, there is a benefit to perceiving the problems it has created as opportunities. Problems need solutions, and solutions are what make a business. And that is exactly what the companies in these tech segments are doing.