Bizzy Group has had a busy few years behind the scenes.
The Jakarta-based startup was established in 2015 as an e-procurement platform.
Andrew Mawikere became its CEO two years later and brought on a key investor: Sinar Mas Digital Ventures, the venture capital arm of one of Indonesia's largest conglomerates, Sinar Mas Group.
That relationship deepened in 2018 after an unusual move. Bizzy merged with Sinar Mas companies that are larger and older – a logistics firm founded in 1992 and a distribution company that was set up the following year.
Bizzy Group was born.
The company has the lofty ambition of simplifying Indonesia's unruly logistics network. With Mawikere at the helm, it sought to unify all parts of the supply chain, from ports to warehouses to distributors, wholesalers, and retailers.
These puzzle pieces would be linked through an open digital platform that would allow any manufacturer to deliver goods to any part of the country.
The group, which is valued at a combined US$300 million, made US$290 million in sales last year. Bizzy Digital is the startup that's building the platform sitting atop the established distribution (nearing profit) and logistics (now profitable) arms. The digital unit is raising US$9 million and is close to securing a lead investor for the round.
Getting into shape
The journey leading up to the fundraising had been rough. Bizzy had to merge a team of startup yuppies with blue-collar workers that form the bulk of the organization.
"The drivers, warehouse workers, salesmen – you cannot govern them through OKRs (objective and key results)," says Mawikere, referring to a goal-setting system that's popular among tech companies.
And while digital workers prize flexible work arrangements, blue-collar workers value structure. "They have to be in the warehouse by a certain time, and they have to leave by a certain time," he adds.
See: Revival of B2B ecommerce in Southeast Asia: Meet the key players
Next, Bizzy had to trim the fat. The company found itself biting off more than it could chew as it chased big goals.
"A lot of it is inspired by Alibaba," says Glenn Lai, Bizzy's vice president of digital distribution and logistics. While the Chinese tech titan had the capability to do it all at once, Bizzy needed to pick its spots.
The startup ended up putting more resources into the distribution business because it was showing the most promise.
I had to suck it up and do it.
The move drew fire: A finite budget meant that while some departments grew, others had to shrink. Plans were postponed, and this pissed off some employees.
"People had a whole dream of what they will contribute to for five years," recounts Lai. "Suddenly, the entire plan got shifted down for an entire year."
This process was painful for Mawikere, too. He decided to shut down the e-procurement platform – an idea that he believed in but wasn't working out.
"I had to suck it up and do it. I had to be away for two weeks just to clear my head," he recalls.
In total, 300 people were let go in the exercise, leaving the company with a headcount of 2,700.
"It was painful for us, but we came out on the other side a lot more focused," adds Lai.
Breaking the wholesale mafia
Indonesia is a unique market for logistics. The country's large geography, population, and under-developed infrastructure has created a supply chain that could go seven layers deep.
Distributors work with sub-distributors. Sometimes, agents come between buyers and sellers. Warungs – or roadside stores – sit at the far end of the chain.
Because warungs change locations often and deal mostly in cash, specialized wholesalers exist to sell goods to them.
Some players, however, are parasitic. Lai points to a "mafia-like network of wholesalers" who are bullying buyers into accepting inflated prices.
Solving warung owners' pain points will make an impact. After all, traditional retail accounts for 83% of retail sales in Indonesia, according to a research report by investment firm CLSA.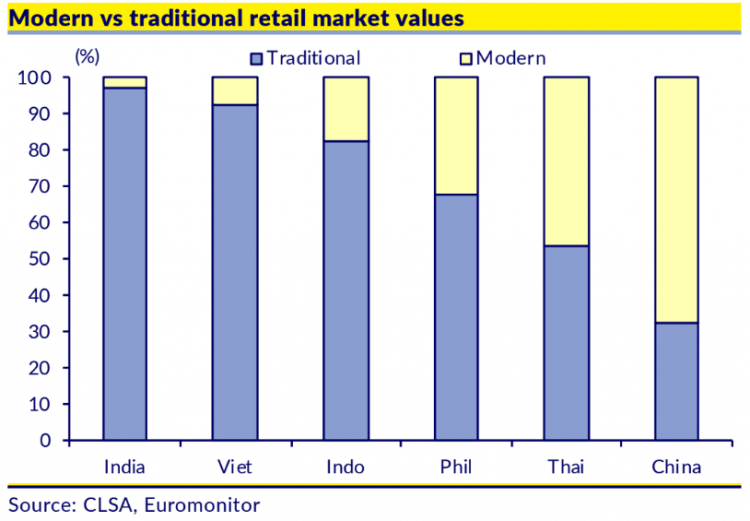 Among some big fast-moving consumer goods (FMCG) companies, ecommerce accounts for under 5% of their sales, CLSA believes. This explains why online marketplaces like Bukalapak, Tokopedia, and Blibli are partnering with warungs to offset the low adoption of ecommerce, which is caused by the country's inadequate infrastructure.
Meanwhile, modern retailers are facing heat from ecommerce players. Their growth has stalled, and convenience store chain Alfamart's net shop additions have dropped to historical lows, CLSA notes.
Supermarkets are struggling too as Indonesians tend not to buy in bulk, says Lai. That consumer habit, coupled with underdeveloped infrastructure, makes it hard for them to scale up.
The government, after encountering pressure from traditional shop owners, has enacted regulations to impose limits on retail chains.
This is all good news for warung owners, who will likely continue to play a big role in the average Indonesian's life.
By combining its distribution network with a series of tools that make managing the supply chain easier, Bizzy is helping warung owners to earn a better living.
Bizzy has relationships with brands and owns 200 trucks and 27 warehouses across Indonesia. It doesn't need to build up its distribution network from scratch, unlike competitor Warung Pintar.
Its software platforms include:
Fieldforce:

A tool for managing and monitoring salespeople

Tokosmart:

An app that lets retailers purchase directly from Bizzy and other distributors

Bizzy POS:

An inventory management system for retailers
Over 20,000 retailers are already buying from Tokosmart at least once a month, with an additional 10,000 doing so every other month.
Sellers on Tokosmart are earning a 19% growth in sales on average compared to before they joined the platform. Meanwhile, retailers on Warung Pintar have also seen their margins improve, according to CLSA's research.
That's because store owners on a digital network can place orders anytime instead of waiting for a salesperson to arrive. Sellers can also discover new items on the app.
"Whenever I go to restaurants [in Indonesia], half the menu items are out of stock," says Lai. Tokosmart can reduce lost income by helping sellers replenish items quicker.
Uncovering hidden logistics fleets
Indonesia's supply chain has another quirk: Its logistics cost is about a quarter of its entire gross domestic product, which is higher than its Southeast Asian neighbors. This speaks to both the opportunity and inefficiency in the space.
In 2018, the country ranked 46th in the world in terms of logistics efficiency, behind Southeast Asia's main markets except the Philippines, according to the World Bank.
Finally, about 90% of the world's logistics fleets are privately owned. As such, they're only accessible to their owners, unlike the DHLs of the world. This trend is acute in Indonesia, which has a higher percentage of private fleets than the global average.
Bizzy Digital envisions that Truckway, its fleet and route management and optimization software, will make these private fleets accessible.
Lai says these fleets are underused as they tend to be overloaded for a few days and completely idle on others. The plan is to open up Truckway to any distributor or manufacturer – sort of an Uber for delivery trucks.
Long way to go
Of course, Bizzy Digital is new, so it's far from where it needs to be. It's eating its own dogfood by testing out its software internally. It's slowly opening them up to third parties.
Bizzy's penetration of traditional stores is only a drop in the ocean compared to the country's estimated total of 3.5 million to 5 million warungs.
See: What's driving the revival of Southeast Asia's B2B ecommerce
Many warung owners continue to resist technology, with some fearing that they'd have to pay taxes after coming on board.
Lai, however, says the increase in sales for each owner will far outweigh the taxes, which is pegged at 1% for businesses with a gross turnover of below US$340,000 a year. The average warung doesn't make anywhere near that much.
On the payments front, about 95% of retailers on Bizzy's network pay for goods in cash, but that's because the platform had only started adding digital payments a couple of months ago.
Bizzy can persuade up to 30% of them to adopt digital payments by this year, Lai believes. That number could go up to 50% in a few years.
The company also faces the sheer complexity of managing three business units and four digital product lines – along with the numerous competitors within each category to deal with.
We're thinking at least three to four steps ahead.
But Bizzy is not thinking too far ahead.
Yes, it has plans: Its distribution arm is diversifying beyond FMCG. It's finding ways to help warungs earn more, such as aggregating and selling their shelf space to brands as well as allowing them to sell digital goods (which competitors are already doing).
But the supposed benefit of Bizzy is that it combines the nimbleness of a startup with the resources of a corporation.
"We're thinking at least three to four steps ahead, rather than 20 steps ahead," says Lai.