With over 1.8 billion downloads, Shareit is one of the most popular Google Play apps of all time, according to App Annie.
That's quite an achievement for an app that many may not have heard of. Shareit started in China in 2013 as a built-in software for Lenovo smartphones and was spun off (for undisclosed reasons) as a separate company two years later, with Michael Qiu as CEO.
Despite being headquartered in Beijing, the company's largest market is India, followed by Indonesia. In reality, Shareit has "zero users" and "makes no money" in China, says Karam Malhotra, the firm's global vice president and India CEO.
Shareit saw a positive reception in India since it launched there seven years ago. This led to the company shifting its expansion plans to the country, where it gained 150 million users within a year.
In March 2015, the company closed an early-stage fundraise, according to PitchBook. Chinese venture capital firms Addor Capital and Legend Capital, the corporate venture arm of Lenovo's majority shareholder Legend Holdings are listed as investors, but it's not stated if they took part in the round, or backed Shareit later.
The company declined to comment on its funding history or earnings, saying it doesn't disclose any financial information.
Feeding a data-hungry population
Shareit became known for its convenience and speed in transferring huge files in areas hampered by poor network connectivity and slow internet bandwidth.
"Indians struggled to access content as internet access was either scarce, too slow, or patchy. At the same time, data was also too expensive," says Malhotra. "So rather than watching videos off the internet, Indians relied on sharing content, such as TV shows, movies and music with each other using Shareit."
Shareit has also become a major platform for distributing apps in India. According to the company, almost half of its users in the country don't have a Gmail account, which means they have no access to Android's app store.
Here's how it works: The app creates a direct Wi-Fi connection that allows users to share software, movies, and games of up to 20 gigabytes in size – without internet access. It does so with speeds that are 200 times faster than Bluetooth, with the highest download speed going up to 20 megabytes per second, according to Shareit's description on Apple's App Store. Using the app requires that both sender and receiver be in close proximity for a seamless file transfer, enabled by strength and stability of their Wi-Fi signal.
"Shareit has lots of 'stickiness.' We provided a solution when many others couldn't. [And because] we gave such a strong user case for millions of people in India, Shareit's value is much stronger," explains Malhotra.
The company says that it serves over 600 million monthly active users (MAUs). As of Q1 this year, Shareit was in ninth place on App Annie's list of leading apps by MAUs in India and Indonesia. The ranking combines iPhone and Android users.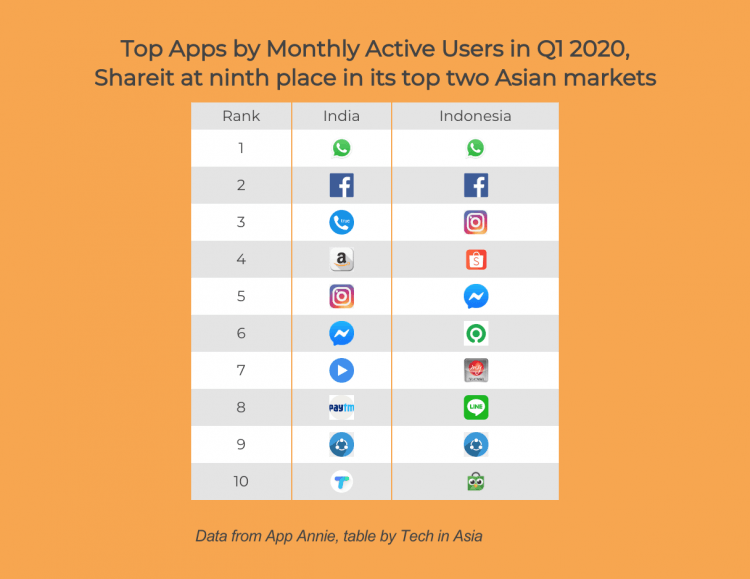 Shareit's usage statistics puts it in the same league as Chinese consumer apps TikTok and Bigo, which have gained strong traction outside of their home country. And while Shareit has over 300 employees in China and 100 employees in India, it considers the South Asian country as its most important market.
"ShareIt was founded by Chinese folks, but we call ourselves an Indian company," says Jason Wong, the firm's India managing director. "We don't call ourselves a Chinese company because if we lose the India market, we need to shut our business down."
Turning the tide
In the world of consumer apps, change is constant. Even as Shareit maintains its popularity as a file-sharing app, a number of trends are blunting its edge.
Third-party estimates seen by Tech in Asia show that Shareit's MAU numbers have plateaued since February 2018, suggesting that the company's growth may have hit a wall. The firm declined to comment on the findings but says it keeps tabs on the number of active users.
"According to statistics from Google Play, less than 5% of users uninstall our app on a monthly basis. That's very low compared to that of other apps, which can see up to 90% of users uninstalling shortly after downloading it," notes Malhotra.
Even so, the competition may be catching up. In a Tech in Asia trial of Shareit, a download reached a peak speed of 20 MB/s, but some users complained of sluggish speeds in reviews posted on Google Play Store. The company says this could be due to the distance between devices or interference as a result of too many WiFi signals. We also tested a similar app called Xender, and it reached a peak speed of 40MB/s.
Malhotra didn't comment on Xender, but he said that since Shareit fulfills a "wide array" of functions besides file-sharing, it's "fair" to say that the company does not have direct competitors.
But the most serious game changer for Shareit is how previously data-shy Indians are now consuming media more liberally. Thanks to the intense competition following the launch of telecommunications firm Reliance Jio in 2016, people gained access to cheaper mobile internet plans.
"People used [Shareit] on Android to share movies and video songs and music. [That's changing] with Jio, [which] gave out free data, before switching to charging low fees. Now everyone just streams," says a person who lives in Mumbai.
Shareit is attempting its biggest evolution yet in a bid to stay relevant. And the first order of business is to make money.
Move to monetization
In 2018, the company decided to ramp up ad monetization efforts, which Malhotra says were "non-existent" previously. He joined the firm as its India CEO, after Shareit acquired his startup Fastfilmz, an over-the-top (OTT) platform that showcases south Indian films. Shareit wasn't generating much revenue back then.
"We had 200 million MAUs globally when we were deciding to monetize, but we found out that 90% of marketeers out there didn't know us," says Malhotra. Today, Shareit generates revenue via brand campaigns with fast-moving consumer goods and ecommerce players as well as food and beverage companies through ad banners and videos on its app.
Apart from running more ad campaigns, Malhotra says his team will make a stronger push to persuade users to share and install "related" apps to people who got Sharedit based on their recommendation.
Over the years, Shareit has become a major distribution channel for apps. Over 1 billion app installations, which include those from ecommerce and gaming companies, take place on its platform every month.
Malhotra thinks this is because almost half of its user base don't have access to Android's app store. Instead, they rely on family members to share app installation files with them. Users also learn about new apps by word of mouth.
"From user behavior, we know who's using e-wallet apps and transacting online, so we can definitely help such apps extend their reach by marketing related apps to [such] users," he adds.
Shareit is working with 200 apps on such solutions globally. "We offer app-sponsored installs, recommendations, based on what we think they would be interested in. It's powerful. As for users, they find it valuable," says Mahotra.
Super app ambitions?
Apart from its monetization plans, Shareit is now a YouTube of sorts, offering free premium OTT content to users in India through tie-ups with global media titans such as Viacom and Times Music.
Malhotra also tells Tech in Asia that Shareit is looking to expand into mobile payments – a move that echoes Reliance Jio's rollout of JioMoney in 2016. Does this mean the file-sharing app wants to be a super app?
Not necessarily. "The move to e-payments is very much a strategy to reinforce our app-game distribution," he explains, shying away from the label that industry observers have applied to its peers like Paytm, Ola and Flipkart. Instead, Shareit is developing a "supporting app" to help players "make in-game purchases such as items and coins."
Users still rely on the app mainly for its file-sharing function, according to the company. A person living in Jakarta tells Tech in Asia that people often use it to send pirated music or videos that were downloaded from YouTube to their friends. Another user in Indonesia said his family members used it to transfer data from their old phones to their new ones.
We want to work with more Call of Duties and Garenas…
Shareit also says that it's now "banking big on its gaming audience" across Southeast Asia, where its users are growing "300 to 400%" per annum. A big chunk of its revenue in the region already comes from advertising for other applications, but it seeks to tap into advertising services for gaming apps, such as those from Singapore-based Garena.
Malhotra says the advertising potential for Southeast Asia's gaming companies is "largely untapped." There are about 100 gaming apps already on Shareit's platform that are "relatively doing very well."
Shareit hosts "simpler" games such as Subway Surfers and Hill Climb Racing on its game center, allowing casual players easy access on the go. But the firm realizes that "not everyone is into 'hypercasual' games.
"We want to focus on hardcore games, such as first-person shooting games – those that we can't host on our simple gaming platform. We'll help would-be users discover them so that they can download and play them separately," explains Malhotra.
Circling back to its unique selling point, Shareit says it wants to capitalize on its quick download speeds, which can download a 2 GB game like PlayerUnknown's Battlegrounds in "under 45 seconds."
"That's the power of us working closer with hardcore game companies, because their files are very large," Malhotra observes. "When we embark on our next phase, we want to work with more Call of Duties and Garenas. We believe this is a great opportunity."