03 Feb 2021
Vincent Fernando, CFA
Covid-19 has been a major catalyst for ecommerce adoption, catapulting digital shopping from a convenience to a necessity for households all over the world. In particular, fast-moving consumer goods (FMCG) appear to be having a moment as consumer behavior and purchasing habits permanently shift to ordering groceries and daily necessities online.
In China, however, only 6.3% of fresh food and 8.8% of alcoholic beverages are currently ordered online vs. 44% ecommerce penetration for broader retail.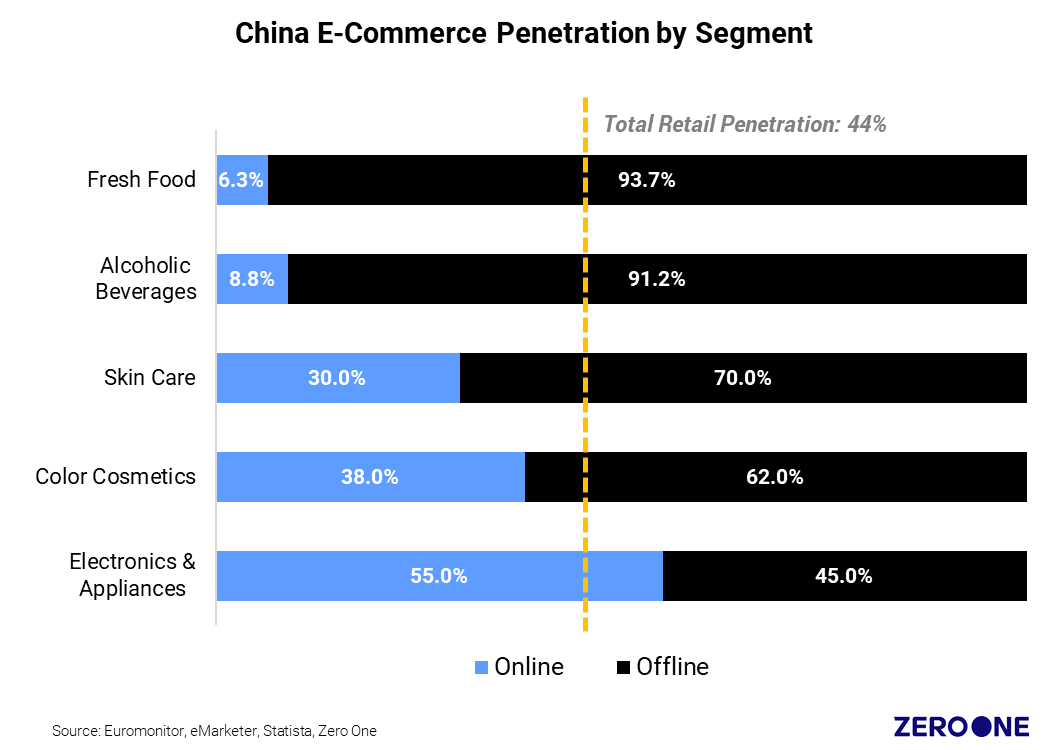 This gap represents a huge opportunity for the country's ecommerce companies, given that they can ride on this "catch-up effect" to grow gross merchandise value (GMV). For example, assuming the ecommerce penetration for fresh food rises to become equal with broader retail ecommerce, it would imply a ~7x GMV uplift for the category.
This uplift potential is supported by large shifts in consumer behavior.
The present crisis, for one, is a catalyst of such shifts. According to a recent survey by Nielsen, 67% of Chinese consumers shopped for fresh food and daily necessities more than twice a week amid the pandemic, with 89% saying they would be willing to purchase these goods online even after the effects of Covid-19 ease.
Already, companies like Alibaba, JD.com, and Pinduoduo have taken note of this structural trend and have doubled down on their FMCG investments via services like Freshippo and JD Supermarket. Firms like Tencent have also backed online grocery startups such as Missfresh and Xingsheng Youxuan in a greater push toward ecommerce.
These companies that have invested in their FMCG ecommerce offerings have easily outperformed broader indices such as the MSCI China and NASDAQ.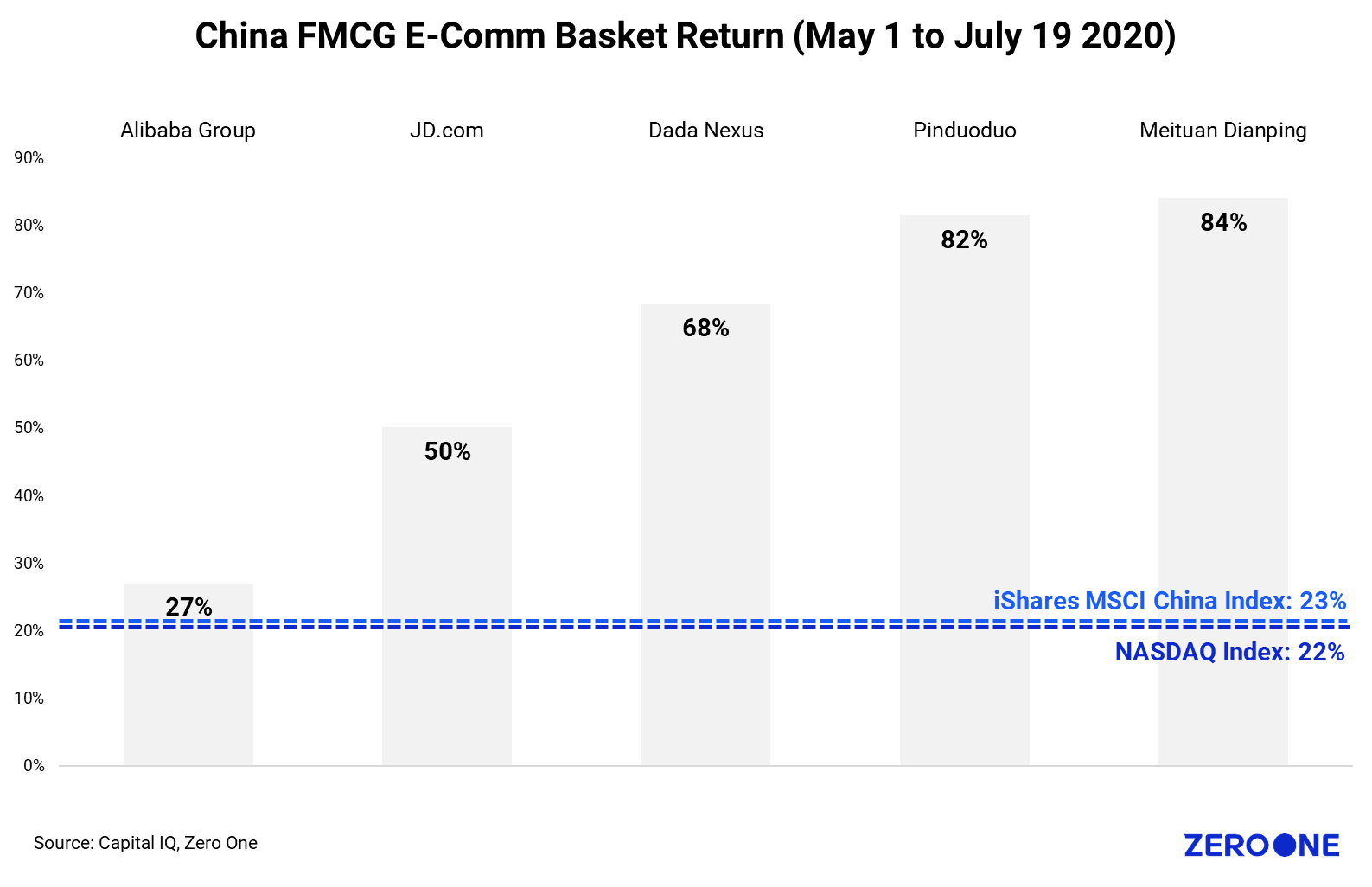 The FMCG phenomenon is not unique to China; consumers across Southeast Asia are also emerging from Covid-19 with more homebody attitudes
It's not just people in China who are emerging from the pandemic with more "homebody" mentalities; Southeast Asians are, too. According to research firm Nielsen, more than half of consumers in several countries across the region plan to eat at home more often even after the crisis blows over.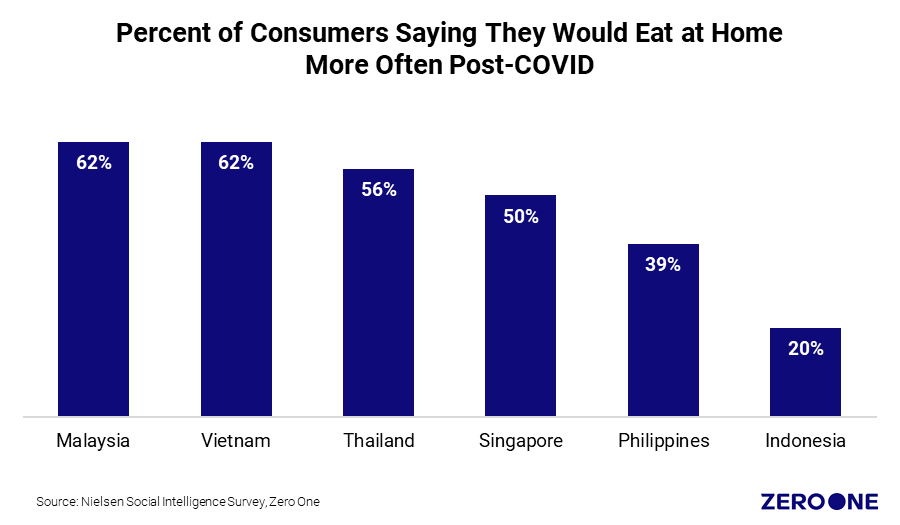 As illustrated above, 62% of Malaysians and Vietnamese say they plan to eat at home more frequently post-Covid-19, while 56% of Thais and 50% of Singaporeans also plan to eat out less. These results indicate that consumer behavior across many Southeast Asian nations are permanently changing to adapt to buying groceries and cooking at home more.
Vaughan Ryan, managing director of Southeast Asia at Nielsen, explains: "In a number of Asian markets, [ecommerce] sales are regularly exceeding 20% to 25% of the average weekly sales across FMCG every week since the end of January. Consumers have been back to the same store multiple times, so this behavior is beyond panic buying. There is no doubt consumers have moved away from an on-the-go lifestyle to more of a 'safe in-home consumption' trend."
Southeast Asian ecommerce champions Lazada and Shopee adopt features and tactics from China
As the demand for grocery and FMCG products spiked, Lazada and Shopee were already well-positioned to capture the sudden uptick owing to the past experiences of their Chinese investors.
Lazada leveraged online supermarkets and virtual stores to connect farmers with consumers
In November 2016, for example, Alibaba-owned Lazada had acquired online supermarket business Redmart, allowing it to immediately serve customers in Singapore the moment lockdowns hit. According to the company, online grocery sales grew 4x when lockdowns were initiated in April, with unique daily visitors jumping 11x.
In Malaysia, Lazada also launched a virtual store to connect farmers in the Cameron Highlands district with consumers. The initiative was a great success that saw approximately 70 tons of vegetables being delivered from farms directly to people's homes by the third week of its launch.
Shopee capitalized on livestreaming to showcase fresh food and wares to consumers
Tencent-backed Shopee was also prepared for the sudden spike in online FMCG demand, having launched its own livestreaming service, "Shopee Live," back in June 2019.
This allowed the company to showcase its range of fresh food and daily necessities to customers in real-time and helped reduce barriers to adoption by addressing "old-school" mentalities of needing to see products before buying them.
With the livestreaming service, customers could watch videos of dishes being cooked in real-time and purchase the ingredients used (rice, carrots, onions, etc.) immediately on the app.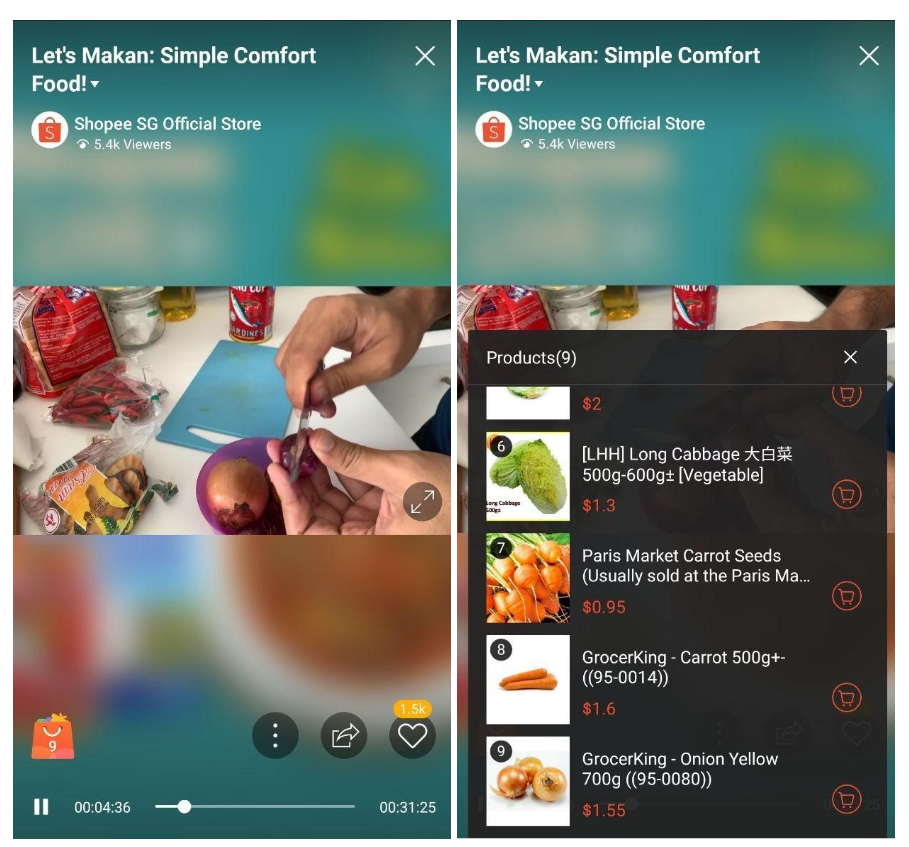 The twin catalysts of Covid-19 and China's tech Influence are poised to accelerate Southeast Asia's adoption of online FMCG purchases
While it was the impact of Covid-19 that forced people to adopt online FMCG shopping in the short term, it is the increased convenience and safety that will ultimately convince Southeast Asian consumers to stay for the long haul.
China-pioneered tactics such as ecommerce livestreaming and the consumer-to-manufacturer (C2M) model can also go a long way in helping provide end consumers a sense of assurance on a product's quality and freshness.
Importantly, grocery ecommerce had already been the fastest-growing online category in Southeast Asia even before the lockdowns. Covid-19 had merely acted as an impetus to the trend.
As of January 2019, food and personal care grew the fastest among all ecommerce categories in Southeast Asia, with a 35% increase. Notably, all six major Southeast Asian countries also posted grocery ecommerce growth of at least double that of the global average, according to figures cited by Hootsuite and We are Social.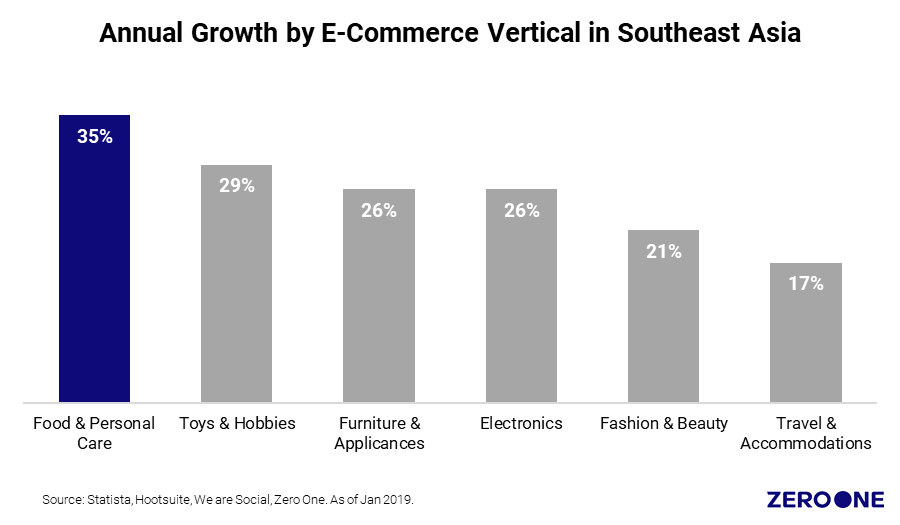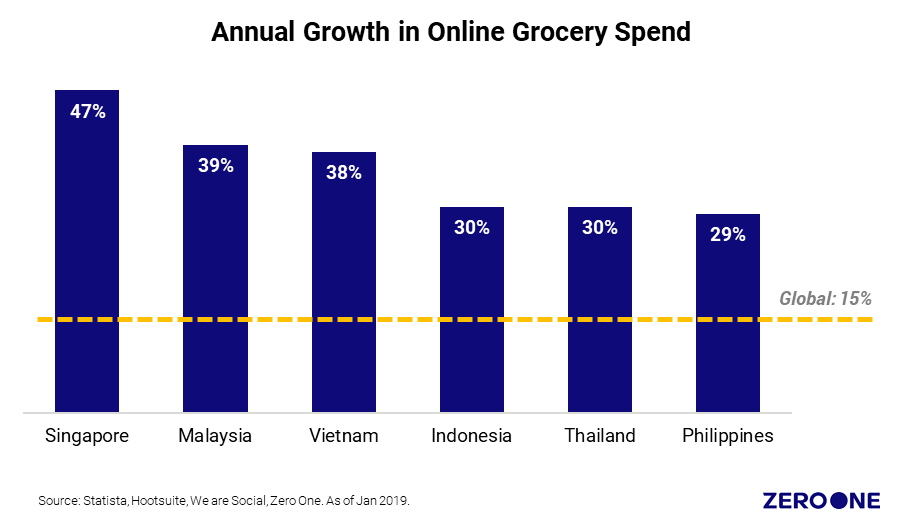 Though FMCG ecommerce has plenty of promise in Southeast Asia, the region poses unique challenges. Ecommerce infrastructure like logistics and payments remain a work in progress in places like Vietnam and Indonesia, which features a fragmented FMCG supply chain that's dominated by incumbents.
But unique approaches are emerging that might prove effective. A number of startups, for instance, are employing agents that buy goods on behalf of their neighbors and serve as collection points, cutting down logistical costs.
Regardless, ordering FMCG online is simply more efficient, and China's large tech companies are focused on Southeast Asia for expansion, with investment stakes in major regional players.
So while FMCG ecommerce in the region will certainly evolve with unique local characteristics, it's likely to be one of the largest growth opportunities for ecommerce in the years to come.