After seeing success with its QQ Music streaming service, Tencent was thirsty for more. But rather than just growing within China, the internet giant launched Joox in January 2015 in a bid to offer its music services to overseas markets.
Within a year of its release, the app seized majority of the market share in Hong Kong and Malaysia, which came as a surprise to many. After all, Spotify had already been in both markets since 2013, yet it was knocked off the top spot by a newcomer.
What has helped Joox hit a high note with users is its emphasis on local music. Such content is particularly important in some Asian markets, especially in Thailand and Taiwan, where 40% to 50% of the most popular singles are in the local language. And Joox provides just that, giving listeners access to millions of songs in Korean, Mandarin, Cantonese, Thai, Indonesian, and Malay.
Spotify is no pushover, however. In fact, in terms of active users, it's maintaining its lead over Joox in key Asian markets, an industry source estimates.
Joox has been reinventing itself as a multimedia entertainment app. In 2017, it launched its livestreaming service for Mandopop and K-pop concerts, complete with real-time subtitle translations in local languages, consequently converting thousands of music fans into app users.
That same year, it launched its karaoke feature that allows users to record and sing songs with others. Joox tells Tech in Asia that the karaoke function has seen "impressive" success: By 2019, users have sung over 10 million songs through the app, with some 20 tracks belted out every minute.
Although Joox's move to widen its offerings has struck a chord with a young demographic, Spotify says that "diversifying into livestreaming concerts is not currently in [its] plans." Instead, it will be focusing on "building the best-in-class catalogue of original and exclusive podcasts" to become the world's top audio platform, a company spokesperson says.
If Joox's karaoke feature rings a bell, that's because Tencent Music Entertainment (TME) started its own karaoke app WeSing in September 2014. But not only does it allow users to sing karaoke, it also lets them share videos and livestreams with friends via Weixin (WeChat) for free. There are some paid features in WeSing that have generated revenue for TME, a growing and profitable Tencent subsidiary that was valued at around US$21 billion in 2018.
The primary sources of revenue for livestreamers and karaoke singers on WeSing are virtual gifts and coins from their fans. Power users with six-figure follower counts can earn as much as 50,000 yuan (US$7,300) a month in tips during livestreams – and that's after TME takes its steep 70% cut of revenue.
While most of TME's 800 million user base is concentrated in its music-streaming apps QQ Music, Kugou, and Kuwo, the firm's biggest revenue sources are its "social entertainment services," with sales from music-focused livestreams and online karaoke accounting for two-thirds (67.6%) of total revenue.
However, TME says that Covid-19 has affected its social entertainment business. Analysts believe that growth will slow down this year due to the pandemic, with revenues expected to rise by only 18%.
With its music-streaming services still unprofitable, Joox needed to branch out into other revenue streams. Despite stressing that it has "no relationship" with TME other than having the same parent company, Joox launched its version of a coin redemption center in early 2019.
Similar to how mobile games work, the redemption center allows users to collect up to 17 free Joox coins daily by completing tasks such as singing a karaoke song. The coins can then be exchanged for free VIP membership and access to exclusive music events. Joox says the strategy helps it "gain traction among users" by offering them a way to enjoy the app's premium features without having to fork out a cent.
Much like in TME's music apps, Joox users can swap the coins for online gifts to give to friends or their favorite artists who, in turn, can cash them out. Hardcore fans can buy packages starting from HK$8 (around US$1) for 50 Joox coins.
Although Joox declined to reveal its financial numbers "as per company policy," its rewards system has risen in popularity: The volume of Joox coins that have been given out has increased by 522% in the past 12 months, according to Poshu Yeung, vice president of Tencent International Business Group.
Joox's potential revenue
Estimates by Tech in Asia show that if Joox can keep growing, it could eventually make close to US$13 million per month or US$156 million a year in its existing markets. The estimates are calculated based on metrics from TME, as both firms operate off a similar revenue mix of music subscriptions and sales, advertising, and social entertainment services.
Although TME's monthly US$258 million figure dwarfs Joox's, it must be noted that the former's Chinese market is a lot larger than the latter's overseas one, which consists of Macau, Thailand, Malaysia, Indonesia, and Myanmar.
Running up against Spotify
Joox has had a quick and impressive rise, seizing over 50% of all music-streaming app downloads when it launched in Hong Kong and Malaysia in 2015 and even edging out Spotify, which has been the top app in the category since 2013.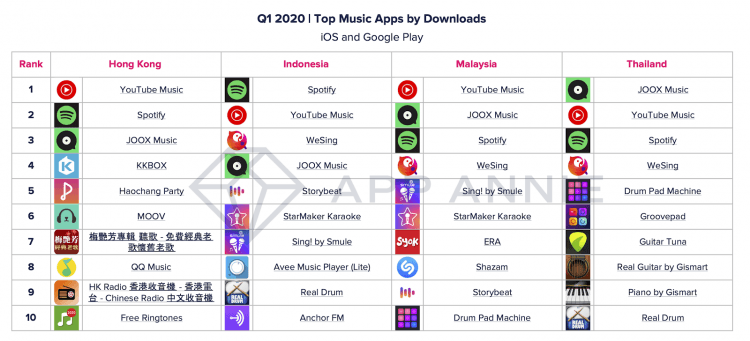 It then expanded to Indonesia and Thailand in 2016, and continues to be in the race to the top, ranking first or near it in its core markets, according to app analytics firm App Annie.
However, "Joox's growth is not conclusive because this is just a snapshot in time," explains Junde Yu, vice president of App Annie. "We also need to look at whether new downloads are accelerating and watch for trends in their active user numbers."
Even though it got off to a good start, the road ahead remains long for Joox. Spotify has since regained its top dog status in the music-streaming market in Indonesia, Thailand, Hong Kong, and Macau, whereas Joox's user count has been relatively flat in recent months, according to estimates from an industry source.
Joox declined to reveal its exact user figures, except to say that it has grown 533% over the past five years. YouTube Music's entry into Asia last year has also made the space even more competitive.
Looking ahead, in order for the company to meet its revenue potential, Joox may need to ramp up marketing spending, find new product growth triggers, or expand to new countries.
Lowering the barrier to usage
Both Spotify and Joox have been finding ways to make their products more accessible to Asia's price-sensitive listeners. Launched in June 2019, Spotify Lite offers users in regions with poor internet connectivity a less data-intensive experience, such as speedier and easier installations, while retaining up to 90% of the main app's functions.
The move is seen as Spotify's attempt to lower its barrier to usage, as many users were shunning its service due to high data charges.
Spotify Lite appears to have limited traction compared to the main app, however, clocking only over 10 million Google Play installs compared to Spotify's 500 million.
The Sweden-based firm had also refused to lower its prices for Spotify Premium until December 2019, when it finally caved in and gave a 50% price cut in India, as Apple Music and YouTube Music were also offering discounts.
Joox, meanwhile, has consistently priced itself at 8% to 16% less than Spotify. It also offers users a longer trial period for its premium services. Although it loses out to its rival app when it comes to the number of tracks available in its music collection, Joox makes up for this with its variety of songs in Asian languages.
Joox also says it's repositioning itself to better serve advertisers, which bring in around half of its revenue; the other half comes from VIP subscriptions, according to a previous Tencent Thailand interview in the Bangkok Post.
Supporting local
Joox has been ramping up its efforts to promote local music artists. In March, it launched Joox Originals in Hong Kong and Malaysia to support local talents, and songs released via the platform are exclusive to Joox users. The initiative will be launched in Indonesia and Thailand this year.
Apart from this, Joox regularly collaborates with local artists, even inviting them to sing with their fans through its karaoke function. The firm has built up a database of "thousands" of tracks in regional languages such as Mandarin, Cantonese, Thai, Indonesian, and Burmese.
Looking to the future, Joox says it's planning to expand to "other African countries," specifically Nigeria, which it identifies as the largest music market Africa. This would follow its 2017 expansion to the continent into South Africa.
On the revenue front, Joox says that although it has been shifting toward in-app purchases such as its coin redemption feature, subscription remains an important factor to its growth. "In the near future, we will roll out different subscription plans, similar to the family plans that we launched in Q1 2020."