20 Jan 2021
Vincent Fernando, CFA
Many would agree that merging ride-hailing giants Grab and Gojek would make business sense. But that's easier said than done and probably not the smartest move for both.
Speculation about a potential merger mounted after The Information recently reported that the Southeast Asian rivals are in discussions about a potential merger. In January, Tech in Asia published an opinion piece on why the combination makes sense. The ride-hailing giants, however, didn't confirm the merger talks, with Gojek saying that the report wasn't accurate.
The merger could definitely create synergies, deriving cost savings and helping the combined entity become profitable. Nevertheless, the companies have no option but to deny such reports right now, given that any public admission would invite scrutiny from the regulators and business partners as well as the media and the public.
Sometimes, it's good to have large visible competitors because monopolies are usually kept in check by regulators that have mandates to protect consumers from companies that overprice their products and services. People tend to hate monopolies, but they generally tolerate duopolies or markets dominated by just a few companies. Duopolies are actually great business positions to be in, perhaps even better than monopolies because they attract less regulatory scrutiny or public outrage.
Microsoft, for example, should probably be grateful to Apple for bringing competition in the PC market all these years. Google can thank Apple as well for having iOS as an alternative to Android. Without competition, these companies would be under much harsher government scrutiny and would be much more restricted in their businesses. While surely Apple takes some customers away from Microsoft and Google, competition hasn't prevented these companies from enjoying phenomenal growth and becoming trillion-dollar businesses.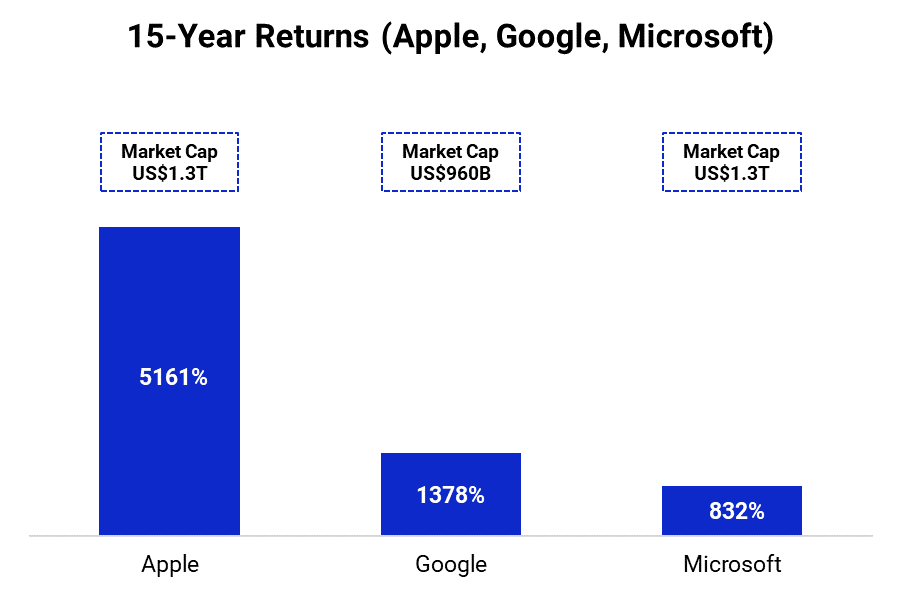 Source: Zero One
Tech vs. traditional companies
How can a tech duopoly be so successful? Because the real competition for tech companies is the traditional economy. For instance, ride-hailing is up against car ownership and taxi services, while e-commerce goes head-to-head with offline commerce.
As such, tech firms enjoy most of their long-term growth by migrating users of old technologies to their new technologies. Innovation replaces low-tech industries as the digital economy takes its share from the traditional businesses.
Expanding tech penetration versus traditional products is by far the largest growth opportunity for tech businesses, and there remains massive upside for digital economy penetration in Southeast Asia.
For example, while the number of ride-hailing users in Southeast Asia soared from 8 million active users in 2015 to 40 million in 2019, these consumers represented just 6% of the region's population, according to a recent report from Google, Bain & Company, and Temasek.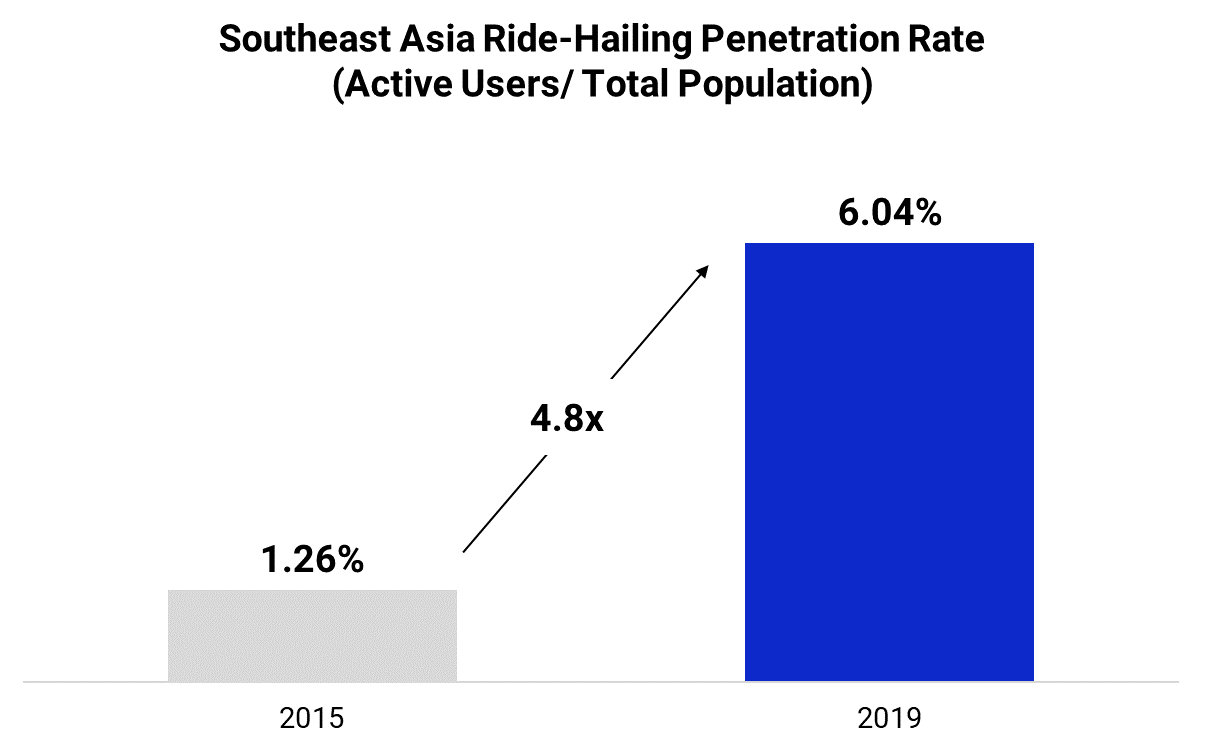 Sources: Bain, Google, and Temasek report, Zero One
Grab and Gojek can both enjoy many multiples of revenue growth simply by converting more people to ride-hailing instead of trying to acquire each other's existing customers.
As shown in the chart below, the gross merchandise volume (GMV) of ride-hailing in Southeast Asia is expected to grow by 21% per year through 2025, driven by new users discovering its benefits as well as increasing usage by existing customers. There's plenty of growth that Grab and Gojek can share without unnerving regulators about a potential monopoly.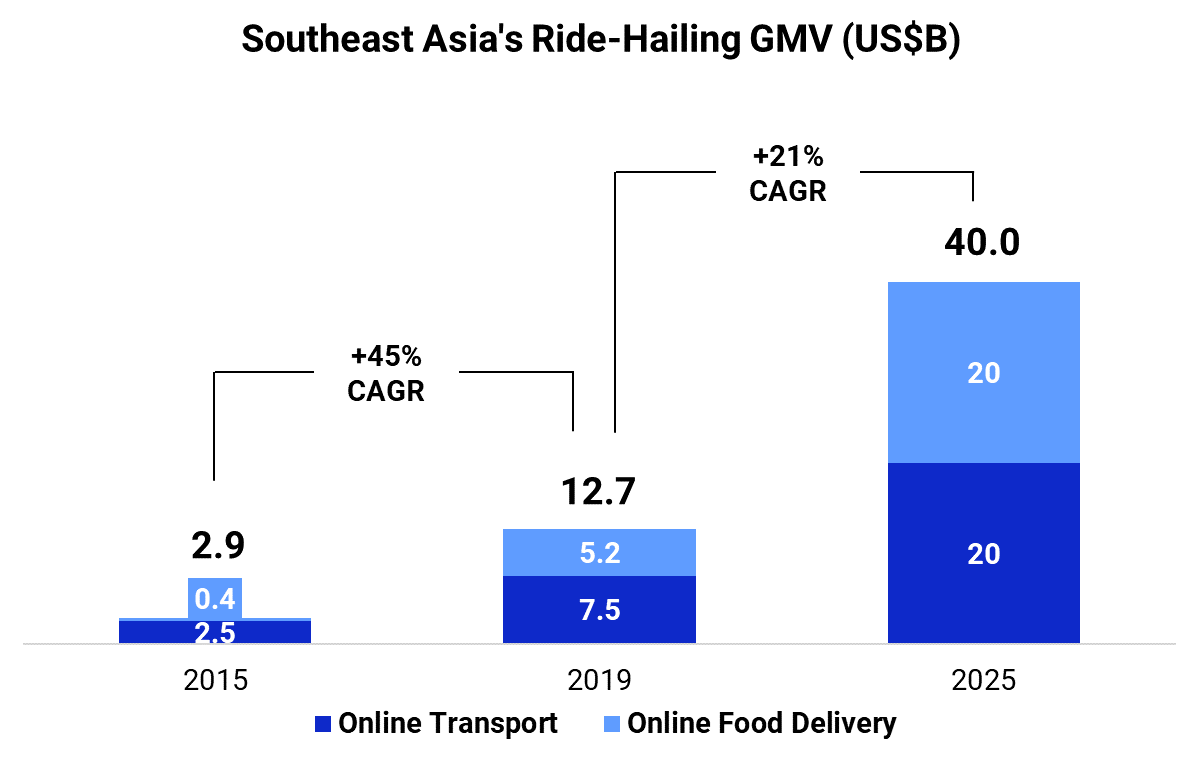 Sources: Bain, Google, and Temasek report, Zero One
For all its growth in recent years, the entire internet economy of Southeast Asia represents just a tiny sliver of the region's total economy.
As shown below, the total internet economy's GMV was just 3.5% of gross domestic product in 2019 and is only expected to account for 8.5% of GDP by 2025 despite growth prospects. This underscores how converting the traditional economy remains the biggest growth opportunity, and to overly focus on other tech companies as the primary competition is to miss the bigger picture.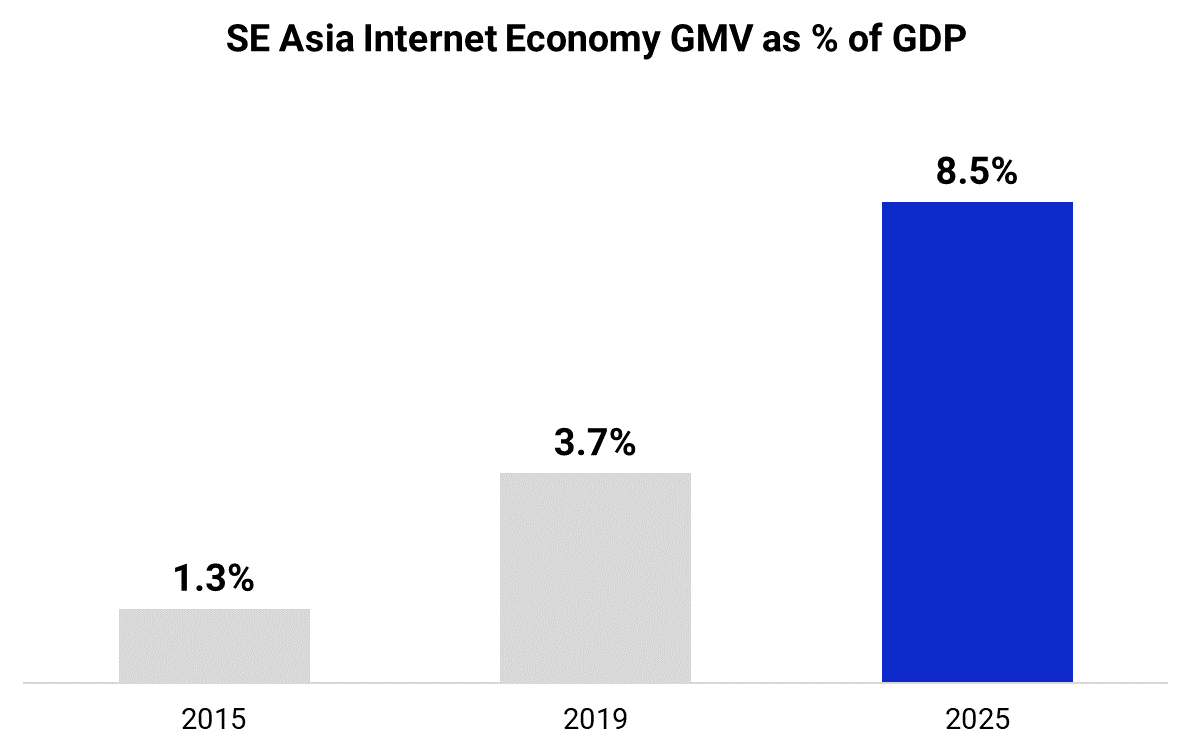 Sources: Bain, Google, and Temasek report, Zero One
An opportunity not to be missed
It's better for Gojek and Grab to continue as separate companies, especially if they want to realize their digital bank and fintech ambitions. Regulators would be far more restrictive if a combined Grab-Gojek entity were to become a digital bank and could even try and dismantle their super-app status due to monopoly concerns.
It's hard to overstate how large the digital banking opportunity is for Grab and Gojek. As individual companies, both can migrate traditional bank clients into digital customers and easily share the revenue pie because most financial services have very low digital penetration rates. Their main digital banking competition is traditional banks, not each other.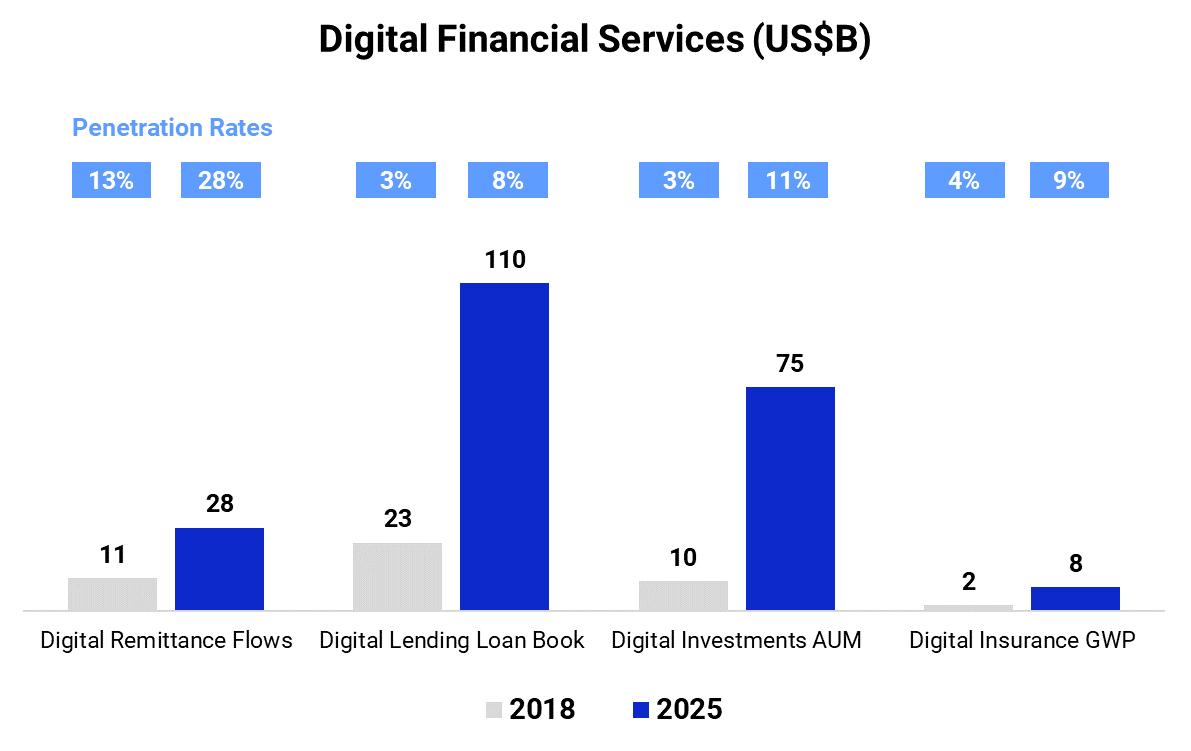 Sources: Bain, Google, and Temasek report, Zero One
A merged Grab-Gojek would be too obvious as the only game in town for digital banking, not just because of their ride-hailing dominance but also because of their respective shareholder bases. Uber is no longer a rival in Southeast Asia since it's now a shareholder in Grab. China's Didi also holds a stake in Grab, so it's unlikely to become a future competitor in the region.
In fact, if you put together the shareholders of Grab and Gojek into one entity, then it reads as a near-complete list of anyone who could in theory compete with the two in the future. This possibility is unlikely to be missed by regulators.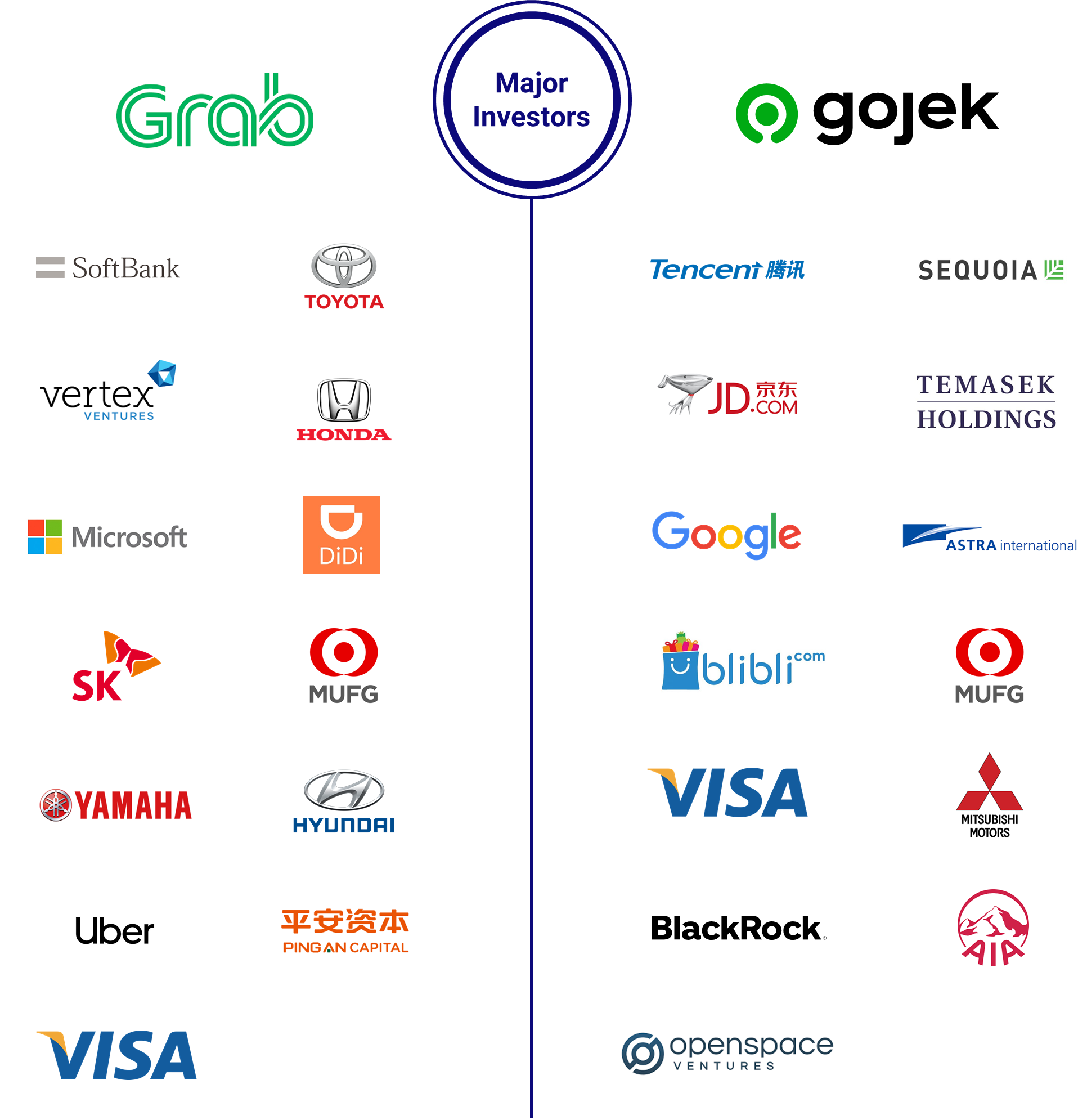 As shown above, a Grab-Gojek merger means that most of Asia's major tech players will team up under one entity. The only hope for competition against this combination would be US tech firms (except Uber) expanding into the region, but they probably wouldn't try to go head-to-head, given the formidable shareholder support they'd be up against. The merged shareholder base could create the risk that regulators will step in and prevent Grab-Gojek from developing the super app that each company wants to build on its own.
Phenomenal growth
While it's common knowledge that Grab and Gojek have spent a lot of money fighting each other, let's not forget that both startups have enjoyed phenomenal growth. As shown in the charts below, the companies' valuations have skyrocketed despite their market rivalry.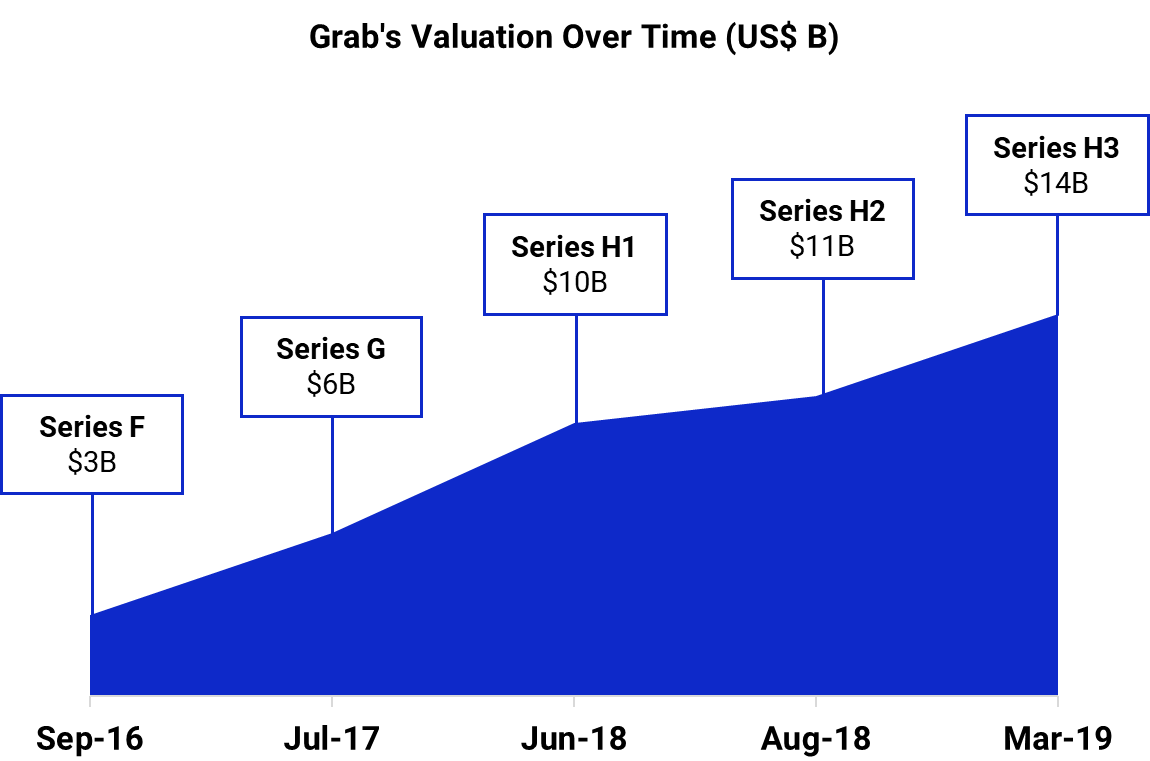 Source: Zero One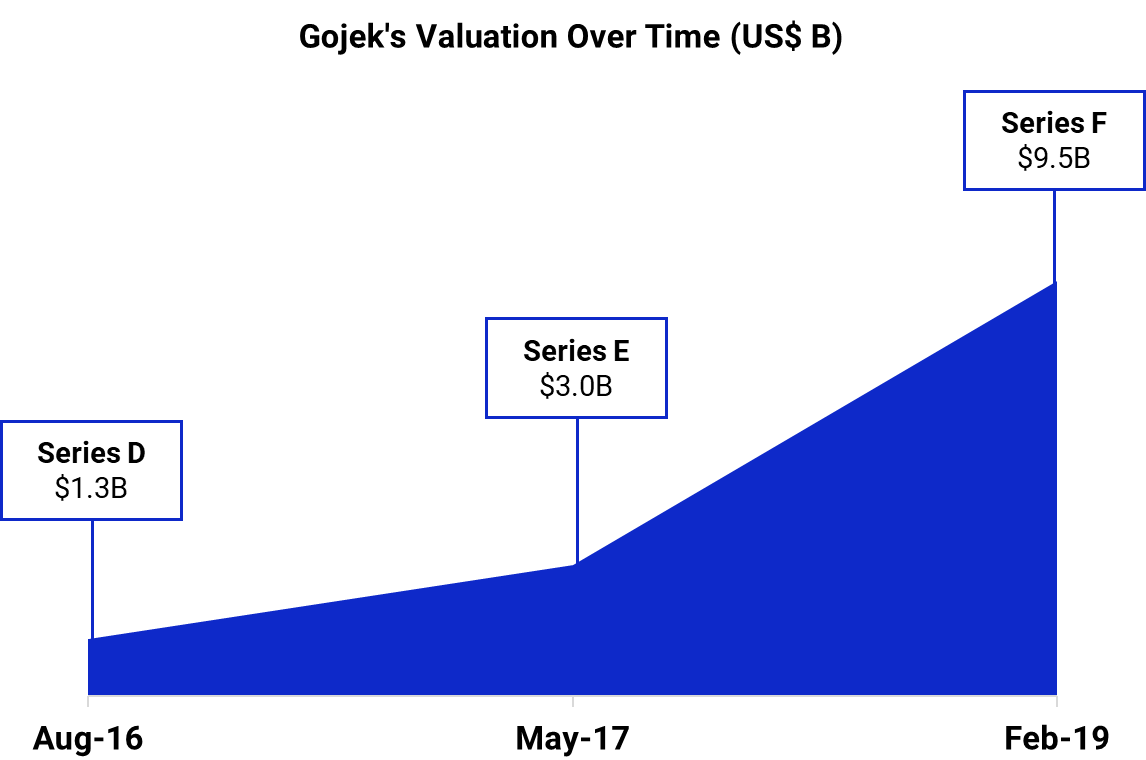 Source: Zero One
Cement duopoly status
So what's the smarter play for Grab and Gojek? Instead of joining forces, they should cement their duopoly status in Southeast Asia via multiple smaller acquisitions. As separate companies, they can use their highly valued shares as currency to snap up smaller but successful tech startups – ones that are less likely to trigger monopoly concerns from the government or the public. For example, Gojek could acquire other major Indonesian startups such as Tokopedia or Bukalapak.
Both companies can also acquire up-and-coming fintechs or maybe even buy out some small banks to help bolster their fintech ambitions.
Gojek could ensure that it dominates in Indonesia while having some share of other Southeast Asian countries and do very well. Grab can manage a weaker position in Indonesia while enjoying a stronger footing in other countries.
While the two companies will spend a lot of money to lead the race and one could become substantially larger than the other (Grab is already worth more based on recent funding round benchmarks), Grab and Gojek can still grow dramatically as individual entities, thanks to the digital economy penetration drivers mentioned above. In fact, their growth trajectory is essentially guaranteed – as long as governments don't hinder them from expanding their services.
As such, Grab and Gojek's primary existential threat isn't each other, but rather governments preventing them from becoming the super apps they aspire to be. Burning cash to compete is a small price to pay for sealing a highly lucrative and long-term duopoly status in Southeast Asia. Staying separate is the smarter course.