20 Jan 2021
Vincent Fernando, CFA
The full year 2019 financial results recently released by New York-listed Sea Ltd highlights the extreme performance disparity between its online gaming unit Garena and ecommerce business Shopee.
While Garena has become highly profitable, Shopee has been burning a lot of cash. It might be in the Singapore-based Sea's best interest to divide itself into two companies so that Garena can reach its full potential.
To be clear, Shopee has established a leading position in Southeast Asia's ecommerce space, and it's among the top five most downloaded apps in the region according to App Annie. It has also been busy creating revenue: Shopee's gross merchandise volume (GMV) soared 71% to US$17.6 billion in 2019. Adjusted revenue leapt 224% to US$942 million as the company increasingly monetized its GMV.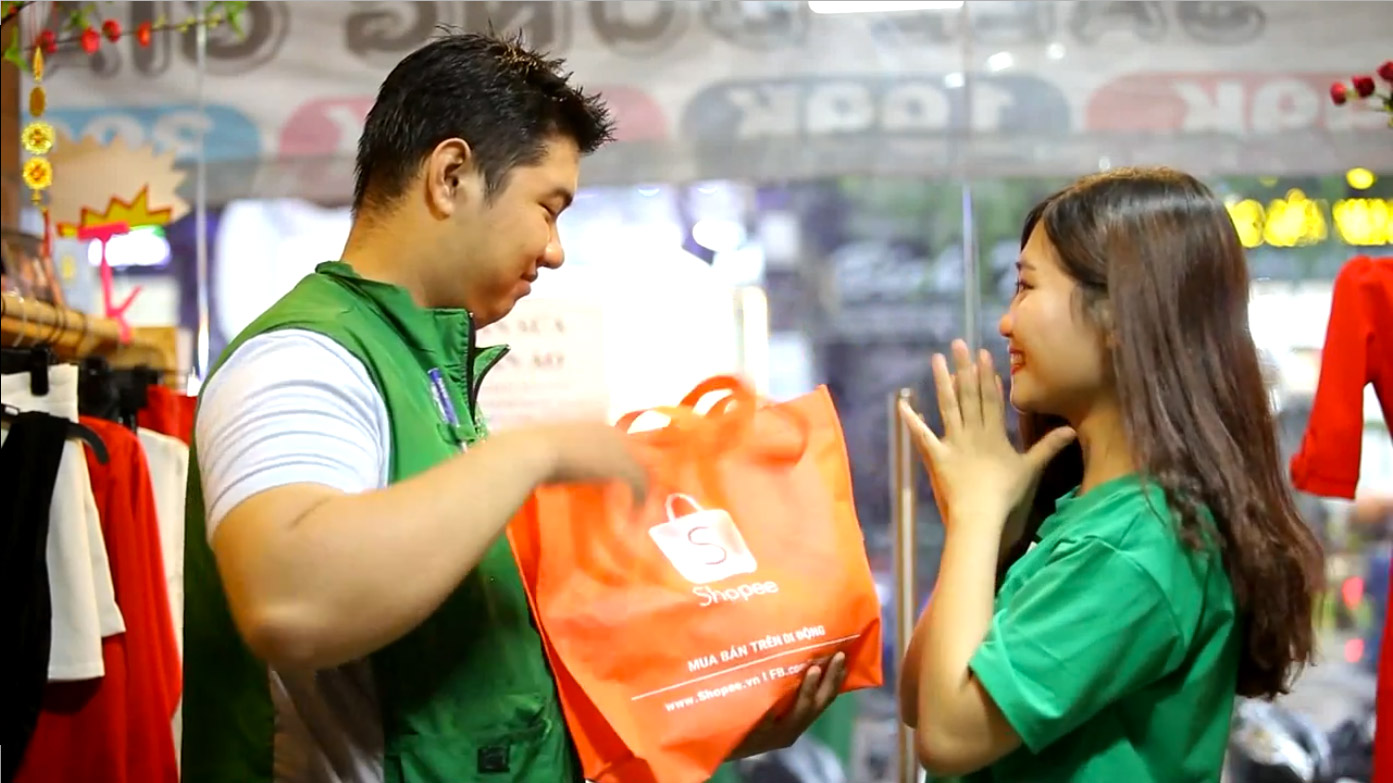 Photo credit: Sea Group
Taken together, this data presents a picture of a thriving business. However, Shopee has also lost US$1 billion in EBITDA on an adjusted basis during the year. The company also earned a negative gross margin, which indicates that it could be subsidizing product sales to obtain market share and boost its revenue.
Going gangbusters
In contrast, the latest financial results highlighted how Garena, Sea's original video game business that existed before Shopee, is going gangbusters.
Garena's 2019 revenue jumped 172% to US$1.8 billion, and it generated US$1 billion of EBITDA on an adjusted basis.
This is not only a huge number in absolute terms but also represents a 40% EBITDA profit margin. Should Shopee eventually become profitable, its margins probably won't come close to Garena's. Garena is killing it, but it's essentially fully bankrolling Shopee right now, as implied during the company's recent earnings call.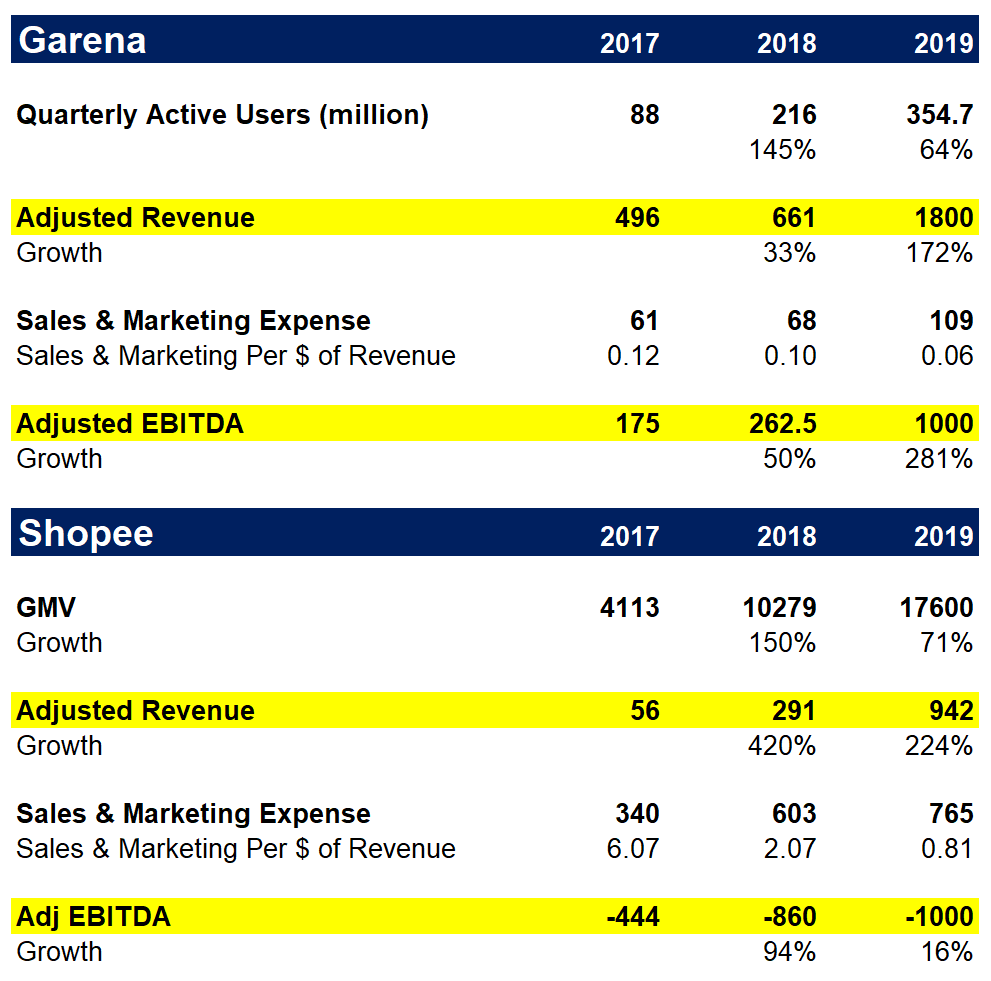 Figures in US million dollars
Sources: Sea, Zero One
Garena's cash flow should not be financing Shopee. That's not an optimal allocation of shareholder capital based on the performance of the two businesses.
For example, Shopee reported US$765 million in sales and marketing expenses during 2019 – all to generate US$942 million of revenue and lose US$1 billion of EBITDA. Meanwhile, Garena spent just US$109 million of sales and marketing expenses, and yet it achieved US$1.8 billion of sales and yielded a positive US$1 billion of EBITDA.
Back-of-the-envelope math shows substantially higher returns on capital invested into growing Garena versus Shopee. Tech in Asia reached out to Sea, but it declined to comment on this analysis.
The accepted premise in the ecommerce game is that players usually have to lose a lot of money over many years to eventually gain dominance and win. As such, Shopee's continuing losses is understandable. Part of Sea's long-term growth strategy is to leverage its ecommerce business to offer not just payments services but an entire suite of financial services should – assuming it secures a much-coveted digital bank license in Singapore. This would naturally entail more capital investment.
Injecting more capital into Shopee would only make sense if it were Sea's sole business. However, Sea also has Garena, a rapidly growing business with high profit margins that represents the company's origins and core competencies.
Major moneymaker
If Garena were a mature legacy business, then it would be practical to invest cash flow from an existing "cash cow" into a new high-growth venture like Shopee. But Garena isn't a boring old business. It is a major moneymaker that still has massive growth potential, and each dollar spent on Garena earns far more than what Sea earns by putting the same amount into Shopee. So just imagine what a giant Garena could be if it reinvested all of its cash generation back into itself instead of subsidizing Shopee.
Perhaps investment bankers and the market itself previously found Garena less sexy than Shopee. And when Sea did its initial public offering in 2017, Shopee probably made for a good story, giving Sea a reason to raise capital.
After all, Garena can grow without much capital and it has done so while having to prop up its loss-making sibling. At the same time, though, Garena can't become a bigger company because its cash flow keeps being diverted into Shopee.
So yes, Sea's strategy has worked so far and it has also been appealing to investors, particularly back when ecommerce land grabs were more attractive than video game development. But times are changing, with investors increasingly demanding that startups focus on profitability following the WeWork fiasco, which saw the co-working space operator shelving its IPO in October 2019 and scrambling to raise capital.
Garena surprise
Garena may have surprised Sea's management with how well it has performed despite receiving just a fraction of Shopee's operating expenses. Today, esports and branded-content creation have become much more popular in the tech world.
If Sea can redirect Garena's immense cash flow, then it can focus on building one of the best gaming content companies in the world. Going beyond Southeast Asia, it could enter markets like Latin America, Africa, the Middle East, and Russia instead of going head-to-head with competitors in the U.S. or Europe.
Despite Sea's success, it's fair to question whether the use of funds between Garena and Shopee adds up. And if Sea were a more mature listed company, an activist hedge fund type could even come in at some point and shake things up to split the business in two.
To put it another way, what if Sea spun off Garena and Shopee and you could choose to fully own shares in one of the new entities? Which one would you prefer to get? Based on the numbers, I'd take Garena hands down.
So while Shopee has made tremendous gains on many fronts, maybe Sea should just sell it while it's ahead to someone else such as Tencent. Then it can refocus on Garena, the business that gives the strongest long-term opportunity for Sea shareholders. Or Sea can just become two standalone companies so that Garena can realize its full potential and Shopee will be forced to support itself completely. This would also be beneficial to Sea's shareholders.