Imagine being able to pay for a cup of coffee at a Starbucks outlet in Singapore as well as a taxi ride in Japan using any digital value in your possession – be it bitcoin, GrabRewards, or airline miles. That's the future Synqa (formerly called Omise Holdings) group CEO and founder Jun Hasegawa envisions.
"Since [loyalty points] have a value, you can tokenize them on the blockchain. We can make them interoperable," he tells Tech in Asia.
Secondly, to develop OMG Network (formerly OmiseGo), its blockchain technology that's meant to disrupt the Visa/MasterCard regime dominating the payments space.
The last step would be marrying the two together and cutting traditional payment networks out of the equation. This means migrating Omise onto the OMG Network and onboarding tens of thousands of merchants onto the platform in the process. Making the marriage work and bringing merchants and users onboard at scale will be a big test.
"We're two separate companies under the same group. We would provide our services to Omise Payments just like we would if they were an OMG Network customer. Omise Payments' merchants are Omise Payments' merchants," Vansa Chatikavanij, CEO of OMG Network, said in July.
Omise, the payment gateway
Similar to the US-based payment processing company Stripe, Omise helps enterprises reduce friction for customers during the checkout process by providing a range of digital payment methods. For Omise, these include payments via credit and debit cards, e-wallets TrueMoney and AliPay, and national funds transfer services PromptPay and PayNow.
It counts Thailand, Japan, and Singapore as its main markets. Some of its big-name clients in Thailand include McDonald's, King Power, budget carrier Nox Air, and telco True Corporation. The bulk of its volume comes from business-to-consumer (B2C) transactions for small and medium-sized enterprises – which make up 95% of its client pool – though it also processes business-to-business (B2B) transactions.
Hasegawa reveals that Omise has made over 60 million transactions since its inception. That number is expected to hit 100 million by the end of this year.
Omise, which was set up in 2015, isn't profitable yet. According to public filings with Thailand's Digital Government Development Agency (DGDA), Synqa's entity in Thailand lost 115.9 million baht (US$3.7 million), decreasing by 14% from the year before, while revenue was at 549.5 million baht (US$17.4 million).
"The Thai entity is a development and operations center for all Omise (payment) subsidiaries. Investments on R&D and market are made from Thailand," Hasegawa says, regarding the figures.
Omise's Thailand business is also bumping heads with payment processing company 2C2P, which counts tech giants Apple, Facebook and ecommerce platform Lazada among its clients. Comparatively, 2C2P was profitable last year, generating US$81.3 million in revenue.
On top of handling transactions, 2C2P also helps its clients with B2B flows between suppliers, founder and group CEO Aung Kyaw Moe told Tech in Asia in an interview last year. These enterprise-to-enterprise transactions drive additional – and possibly significant – revenue for any payment gateway company.
Tapping the SME market
One of Omise's key selling points is its fast integration speeds. "For merchants, it's easier to integrate with us compared to other payment gateways," Hasegawa says.
An executive from a competing platform, who spoke to Tech in Asia on the condition of anonymity, says that Synqa – via Omise – is able to do this by riding on Visa's CyberSource payment processing technology.
According to the source, such reliance on third-party technology poses limitations. While working with CyberSouce could give Omise access to Visa's network of global acquirers and issuers, it doesn't work for merchants and financial institutions that are not part of the CyberSource network.
Hasegawa could not confirm if Omise uses CyberSource. "Omise works directly with Visa and Mastercard and their partners in a number of ways to create our services," he added.
Payment gateways that rely on third-party technology can also be restricted in the number of services they can offer clients, which could be a disadvantage when they serve enterprises that value customized support or features over ease of integration.
"Enabling payments – approving the transaction after customers key in their payment details – is just 5% to 10% of what a payment gateway company does," says the source. The rest of it involves cross-border settlement processing and enterprise resource planning (ERP) integration, as well as handling tax and supplier payments, he adds.
There are also high costs incurred from leasing third-party technology, compared to using an in-house developed solution. According to DGDA filings, Omise's total expenditure was 665.3 million baht (US$21 million) in 2019, up 56% from the year before.
Omise did not comment on what contributed to the high costs last year but says the figures of its Thai business isn't necessarily reflective of its spending since it includes factors such as devaluation of assets and restructuring.
It's possible that OMG Network will eventually help Omise wean off its reliance on third-party technologies. Hasegawa says that within the next 12 to 18 months, OMG Network will power transactions that take place via Omise.
OMG, seamless transactions?
OMG Network has held much promise since the beginning, appearing to have drawn support from high-profile names like Ethereum co-founder Vitalik Buterin and Joseph Poon, co-author of the Lightning Network, and the Central Bank of Thailand.
In 2017, Synqa raised US$25 million through an initial coin offering to fund the project. It recently bagged US$80 million in series C funding, led by Siam Commercial Bank's corporate venture arm SCB 10X.
Much like the internet that powers web services, OMG Network is the underlying infrastructure intended for a new generation of financial products and services. The network is designed to be interoperable, allowing any e-wallet, merchant, or tech provider to transact digital values of any form once they're plugged in.
If successful, the platform has the potential to leapfrog international payment giants like Visa and Mastercard, which currently command the lion's share of revenue in the international payments market, through decentralized models that eliminate the need for multiple and costly financial intermediaries.
Ethereum has been talking about scaling for years, but there's been no progress
The network can facilitate the transfer of digital value across e-wallets and payment types, and overcome the speed and cost limitations of the Ethereum network through its unique scaling solution – the only offering of this nature on the market, the company claims. So far, Ethereum's slow processing bandwidth has prohibited large-scale adoption.
"Ethereum has been talking about scaling for years, but there's been no progress and gas fees are sky high," says En Hui Ong, who used to head business development at blockchain platform Zilliqa.
OMG Network's layer-2 solution, called the Plasma, overcomes Ethereum's limitation by allowing a bulk of transaction operations to be handled on the "child chain" – in this case, OMG Network – before they are sent in batches to the "parent" Ethereum chain for final verification. It can be thought of as a carpooling of transactions that serves to reduce traffic on the information "highway," thus increasing speeds and reducing costs per "passenger."
As a result, compared to Ethereum, which can process around 15 transactions per second, OMG Network is able to process thousands of transactions simultaneously – on par with the speed of credit card transactions – with fees that are one-third cheaper than those on an average transaction on the Ethereum blockchain, Hasegawa claims.
"There are few other [layer-2] solutions that allow people to transfer ETH and ERC20 with a very high throughput: thousands of transactions per second (TPS). However, I'm confident that we are the most professional blockchain company in the industry. I don't see much competition yet," he says.
OMG Network currently supports its own e-wallet, allowing peer-to-peer transfers of the OMG token, Ethereum (ETH), and Tether (USDT), though the product is still being beta-tested. Hasegawa himself admits that there are limited use cases and users for now. "We haven't officially launched yet," he notes.
To be sure, OMG Network isn't the only layer-2 solution out there. That said, it's unique in that it also owns a payment gateway with 40,000 enterprise clients, which could translate to faster blockchain adoption down the line.
A rough start
The blockchain network, however, has had a difficult birth. Plagued by repeated launch delays and ambiguous deadlines, the OMG Network launched commercially in June, more than three years after it was introduced with much fanfare in February 2017.
Working with a new technology and building a solution that didn't exist before have also posed their fair share of challenges, leading to launch delays. "Building the OMG Network is an iterative process," Hasegawa explains.
Go Exchange, a cryptocurrency platform meant to facilitate the transfer of digital assets, would have contributed towards Synqa's broader vision of building decentralized financial services, but it was shut down within a year and a half of operations. The company has cited regulatory hurdles as a chief reason for the closure.
At nearly three months old, there's little traction on the blockchain network so far, though it's currently in talks with enterprises and potential network partners to test transactions. "We also have exchanges [regarding] integration with our network and we expect the number of transactions to increase exponentially after the integration is finished," Hasegawa adds.
He says a recent partnership with Tether (USDT), which allows for deposits and withdrawals of the stablecoin via the OMG Network, is significant because of the substantial volume of people conducting stablecoin transactions. An estimated US$212 billion worth of value was transferred or settled via Tether in 2019.
Synqa has also inked a partnership with Toyota Financial Services (TFS), an investor in Synqa's series C fundraise, to expand the Toyota Wallet. The digital money app is part of the car manufacturer's efforts to transform into a mobility company. It aims to see customers through the entire value chain, from car sales and car rentals to insurance, vehicle servicing, and more.
To that end, the Toyota Wallet will eventually incorporate payment functions as well as a potential customer loyalty function, although Synqa's level of involvement is unclear.
"The Toyota Wallet project's developments and requirements depend on each country. It's thus hard to tell how exactly we support TFS in the development of the Toyota Wallet," says Hasegawa, adding that details are still being discussed.
Lack of updates on past partnerships
Synqa has said that the newly raised US$80 million will be used to add more features to make its tech stack more attractive to merchants. However, scant details on its partnerships with large multinationals offer little comfort to OMG token holders.
"Our investors for series C are all very strategic. In the next 6 to 12 months, you will see more collaborations and deeper engagement with our new investors," Hasegawa says.
Synqa has a history of involving high-profile stakeholders. In 2018, it signed a memorandum of understanding with Shinhan Card, an affiliate of South Korea's Shinhan Financial Group, to test the latter's loyalty and rewards program using OMG Network's technology. Another pilot with Citibank Thailand trialed the use of Citi Rewards Points for digital payments. The partnership with Shinhan Card has since ceased, while Citi's "pay with points" feature is still available in Thailand.
Synqa also continues to work with "different financial institutions in Thailand," Hasegawa says.
Hype around OMG tokens and Ethereum has waned since the cryptocurrency boom of 2018. At US$1.85 as of August 3, the price of the OMG token is now a fraction of what it was in its height – over US$28 – in January 2018.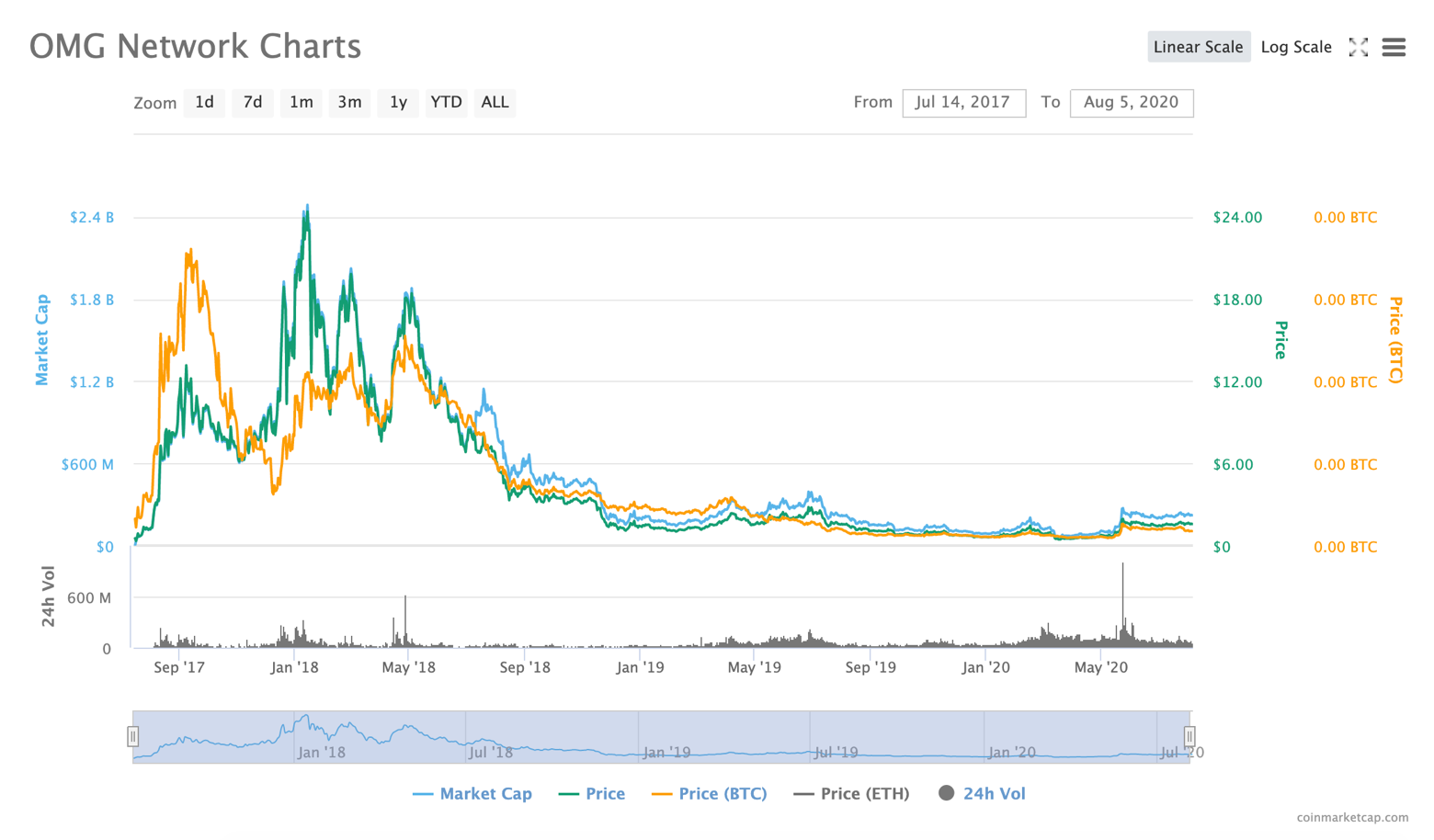 But Hasegawa says he's not bothered by fluctuations in value and interest. "The OMG token is purely a utility token, meant for staking and participating in the ecosystem. It's not intended to be a financial asset."
The tokens are supposed to allow holders to participate in the transaction validation process and earn revenues as a result. Up until then, investors can only wait.
Has the ship sailed?
Synqa is in a race against time, particularly as competing solutions launch in the market.
Fiat currency-to-cryptocurrency transactions already exist today. Blockchain payment processing companies like BitPay offer an existing digital asset management solution that enables users to turn digital assets into dollars after spending at tens of thousands of businesses through the e-wallet or a prepaid Visa card.
A recent move by Mastercard to grant principal membership to Wirex will allow the UK-based digital payment platform to directly issue Mastercard-branded payment cards to users. Cardholders can, in turn, instantly convert their cryptocurrencies into traditional fiat currency and spend them wherever Mastercard is accepted globally.
While neither of these methods are truly interoperable across payment types or networks, both have real-use cases. More importantly, they are being used by customers today.
Synqa will also have to hustle as governments race to develop national blockchain networks, which might eliminate the need for third-party blockchain solutions altogether. The Bank of Thailand, for instance, has begun exploring the idea of a wholesale central bank digital currency that could facilitate domestic transfers of wholesale funds in future.
"The longer Synqa waits and the longer it cannot execute, the less likely that its idea can be truly realized," says the industry source.
Currency converted from Thai baht to USD: 31.04 baht = US$1.