These days, Colin Chen has taken on the mantle of restaurant manager, logistics operator, and software engineer.
The owner of The Refinery, a yakitori joint located in central Singapore, has set up a delivery system using free software to supplement profits, which have plunged as the country banned dine-in eating and shut offices as part of measures to curb the Covid-19 pandemic.
Chen's plight, which he has shared in a Facebook post that has since gone viral, is calling into question the seemingly exorbitant fees that food delivery operators are charging food establishments.
With online deliveries now a main source of income – making up over 80% for some – restaurateurs are feeling the pinch from the hefty commission fees even though food delivery companies in Singapore that Tech in Asia spoke to say their rates haven't changed. In fact, while their fees seem expensive, platforms only take a small cut, with the lion's share going to riders, this publication finds.
Regardless, food establishments have turned to alternative methods to survive – whether it's sourcing their own delivery drivers, pushing out their menus on open Facebook groups to gain visibility, or figuring out an internal online ordering system. Attractive options apart from the city-state's three main players – GrabFood, Deliveroo, and Foodpanda – have also emerged, charging a fraction of the commission fees. But these alternatives often don't seem to offer the full range of services that the main platforms do.
It seems that, for now, many F&B operators have little choice but to embrace the services of the main food delivery firms.
The numbers are telling: Foodpanda, which serves 9,000 restaurants and hawkers on its app, said that the number of merchants on its platform had increased by 200% in the past month, while GrabFood has onboarded more than 1,500 merchants in Singapore since January. The number of orders on GrabFood has also increased by 20% since early April.
"They choose to work with a delivery platform like GrabFood as it allows them to onboard quickly and minimizes the upfront cost and resource needed to start and maintain an online business," a Grab spokesperson tells Tech in Asia. Grab's technical, fleet, and customer support also ensures orders are fulfilled within a given timeframe, the spokesperson adds.
Caught in a media storm
GrabFood currently charges merchants "up to 30%" in commissions for every order, while Foodpanda's fees are between 30% to 35%. These fees depend on an establishment's brand name, number and location of outlets, and type of cuisine, and average basket size, a Foodpanda spokesperson says.
Delivery operators are not planning to slash rates, however. Instead, Grab is hastening the pace of onboarding food merchants and "offering commission rebates, commission deferrals, and marketing support so they can better manage their cash flow during this period," group CEO Anthony Tan said in a press statement.
I've turned off our Grab terminal.
A new islandwide delivery service, which the company implemented in early April, has along with other measures increased the order volume for some of its merchants, such as The Loco Group, by 30%.
In April, Grab and Deliveroo introduced a 5% commission rebate, with support from government agency Enterprise Singapore. Grab is also waiving commissions on self-pickup orders, while Foodpanda waived onboarding fees and is offering zero-percent commissions for new merchants.
But struggling restaurants don't think these companies are doing enough. "I've turned off our Grab terminal," wrote Anthony Yeoh, the owner of French bistro Summer Hill. Instead, the chef called on diners to support local F&B operators by picking up their orders instead.
Delivery riders have also taken to social media platforms to voice their grievances after Grab was accused of slashing incentive payouts earlier this month and raising the number of trips required to qualify for them.
"We're not asking for [more incentives] – the least you could do in this period of global instability is offer your partners some stability – keep the previous pay calculations, keep the incentive payouts and qualifications as they were before, and keep your rider policies consistent," a GrabFood rider, who has been with the company for over two months, wrote on Reddit.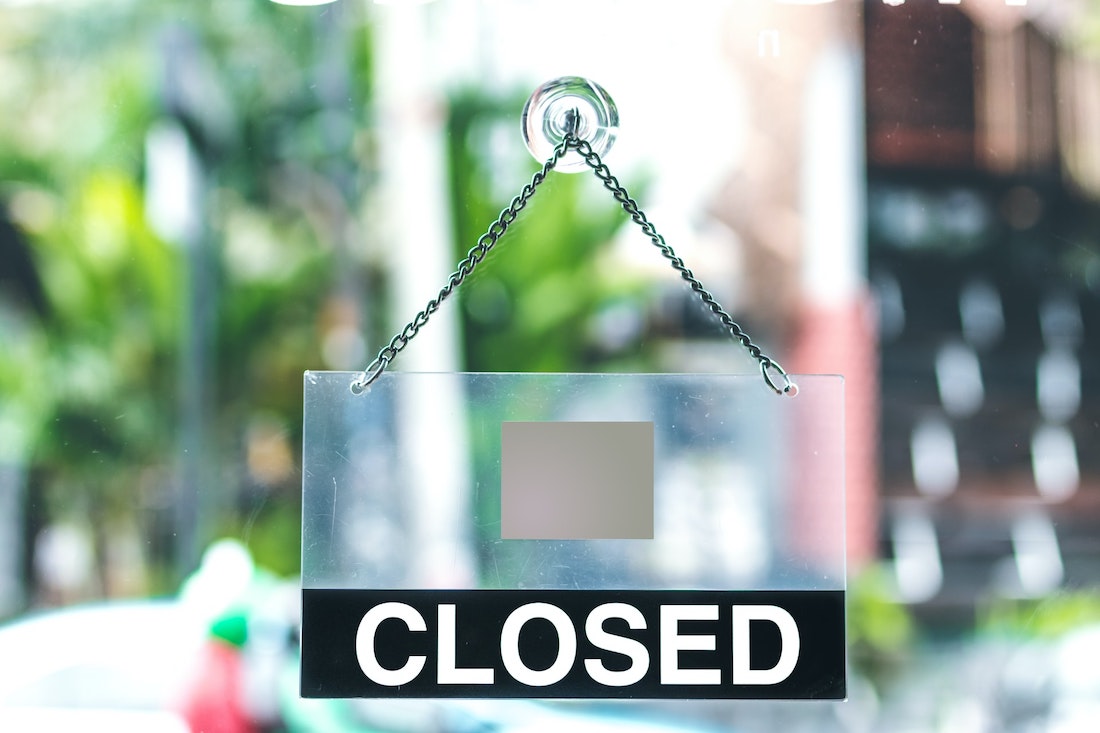 "On an ongoing basis, GrabFood projects the demand and supply conditions on our platform and adjusts partners' incentive programme to ensure there will be sufficient delivery partners to meet consumers' needs," a Grab spokesperson says.
The delivery riders' take home earnings may have taken a hit as more people, including Grab's driver fleet, sign on to the platform as delivery riders.
Are fees really that exorbitant?
Grab has since addressed merchant and customer concerns in a blog post. While the company earns a commission of between 25% to 30% per transaction on average, delivery fees go entirely to the driver.
In the example laid out in its blog post, a "majority" of Grab's cut flows back to the drivers as extra income. The rest of it goes into covering operating costs, such as maintaining its platform, managing its rider fleet, as well as running marketing promotions, to name a few.
After all, delivering food is just one of the services that Grab provides. Merchants on the platform also stand to benefit from professional services on the platform such as business intelligence and analytics, marketing tools, financing support, and digital payments.

Singapore's three main operators aren't the only ones facing heightened public scrutiny. Globally, Meituan, Uber Eats, and Grubhub, too, have drawn anger from flustered restaurants. In San Francisco, the extent of public outrage has prompted the city's mayor to cap commissions at 15%.
"Most food delivery platforms charge a 30% take rate," David Dai, a senior analyst at research and brokerage firm Sanford C. Bernstein tells Tech in Asia. The company covers leading Chinese delivery app Meituan and Alibaba-owned Ele.me, but Dai himself does not cover Grab.
A sustainable take rate, Bernstein analysis suggests, ranges between 20% to 30%.
Among the numerous food delivery platforms running loss-making operations worldwide, Meituan stands out for being profitable. The Beijing-based operator processed a daily average of 23.9 million orders in China last year and could serve as a barometer of how operators in Singapore might evolve despite notable differences in market and business models.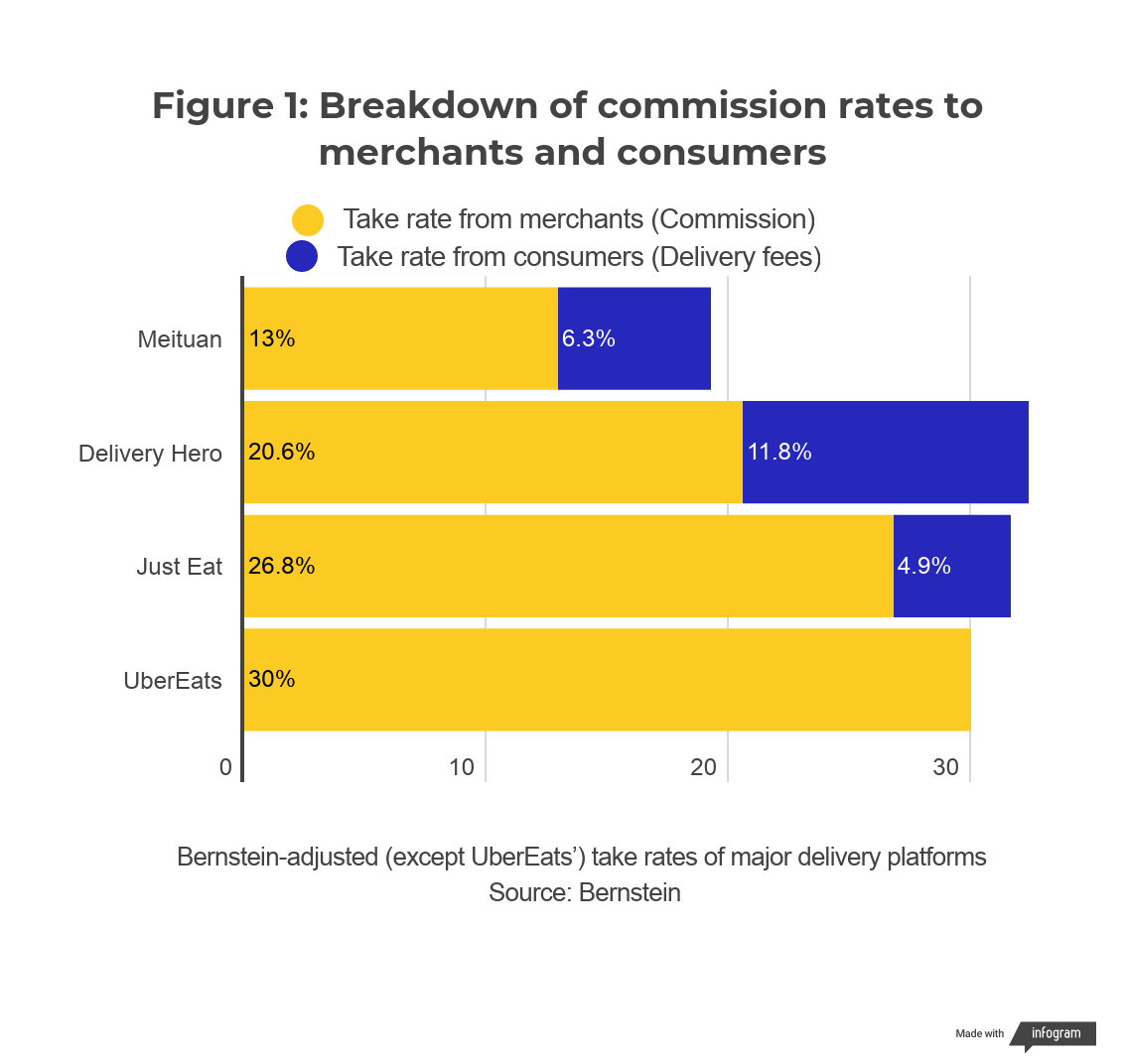 Meituan's merchant commission fee of 13% – based on Bernstein-adjusted figures – is an outlier against European player Delivery Hero's 20.6% and London-based Just Eat's 26.8%.
Despite their higher delivery fees, UberEats and Delivery Hero are both operating at a loss. "Meituan's key advantage is its low delivery expense, indicating that it has the most cost-efficient delivery system," Bernstein analysts wrote. The report cites Meituan's scale, the high urban density of its market, and low labor costs in China as significant factors.
In the industry, delivery costs are the single highest expense and the reason why food delivery operators are bleeding cash. At 7 yuan, or US$1, Meituan's per order delivery costs are significantly lower than those in developed markets where UberEats and Delivery Hero operate. Delivery expenses for the latter two range between US$4 to US$5 per order.
In contrast, players like Takeaway.com, Grubhub, and Just Eat – which largely have restaurants largely manage deliveries on their own – have higher and positive operating profit margins (see figure 2).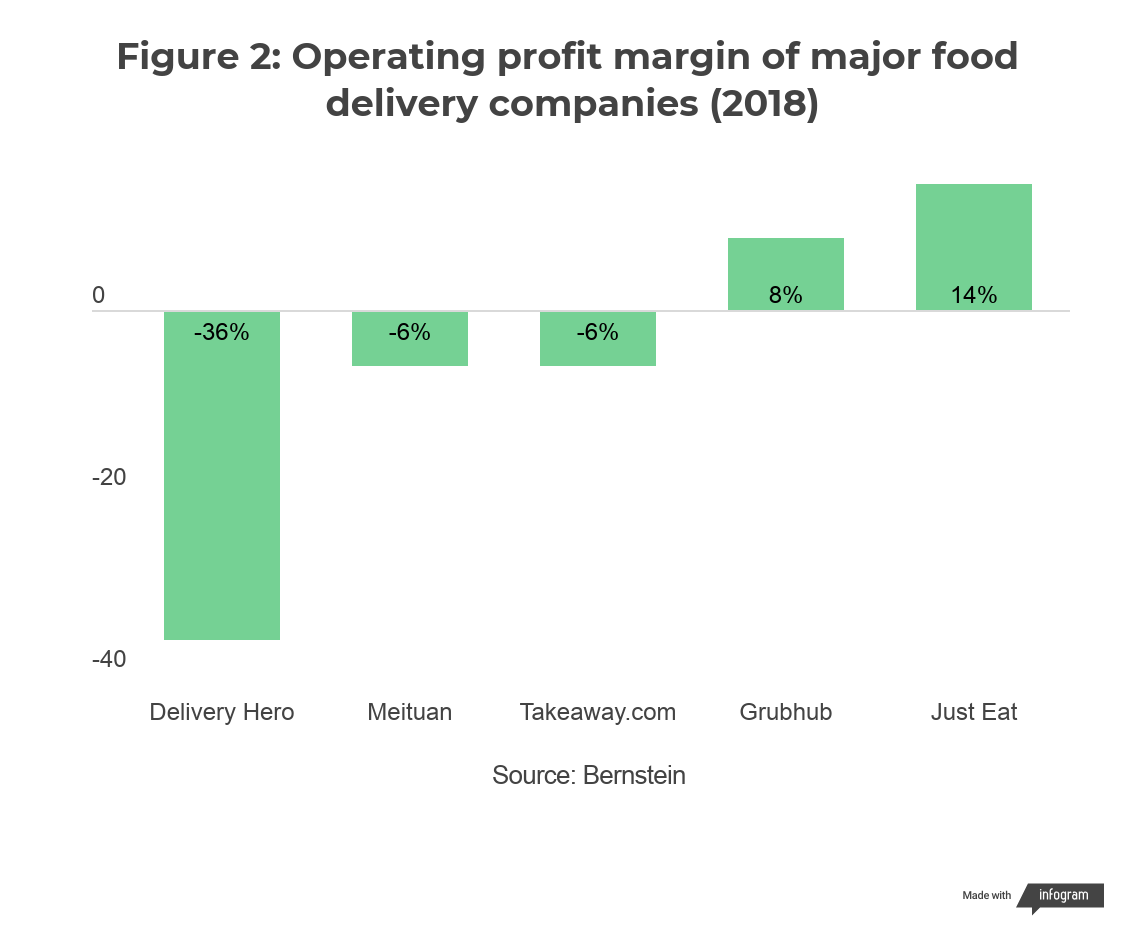 The data suggests two things: First, at around 30%, the commissions that operators in Singapore demand are on the higher end of what food delivery firms are charging globally. Second, unlike Meituan, there is little room for GrabFood, Foodpanda, and Deliveroo to decrease their fees, given that global peers who have commissions of close to 30% are still unprofitable.
Notably, Meituan has drawn flak for increasing its commissions. The platform is reportedly charging newly opened catering merchants in China during Covid-19. In an open letter, the Guangdong Restaurant Association claimed that the company was demanding up to 26% in fees.
The Chinese delivery platform has since issued a rebuttal, saying it only asks for between 10% to 20% from a majority of businesses on its platform.
A lack of alternatives?
As tough times push restaurant owners to get creative, many are exploring alternative online ordering and delivery systems.
A few notable players have emerged. Online delivery platform Oddle helps businesses build their own delivery platforms through order management and by customizing their online menus. The Singapore-based startup, which has been operating since 2014, also offers business analytics and logistics support through its partner Lalamove.
We have to stay on these channels as an additional marketing or sales channel so long as they are actively used by consumers.
"They [Oddle] are something like GrabFood and Deliveroo. The only difference is that they give us our own webpage," Livia Quek, who handles marketing and commissions for casual diner Rookery, tells Tech in Asia. The diner has recently started using the service, which Quek says, was user-friendly and easy to set up.
When a food order comes through via a restaurant's Oddle-powered webpage, orders are pushed to the restaurant for fulfillment, while the logistics requirements are directed to Lalamove. Quek says, however, that the delivery process has been "extremely frustrating" due to riders arriving late and technical glitches cropping up.
Oddle did not immediately respond to Tech in Asia's queries on its rates, but restaurateur Victor Ng told The Straits Times that the platform charges a 10% commission, while delivery fees are shouldered equally by the restaurant and the customer.
Lalamove's on-demand courier service spans the F&B and ecommerce sectors, but managing director Alex Lin tells Tech in Asia that demand for F&B-related deliveries has grown 300% since the start of April. He expects this to increase by a further six to seven times in the coming weeks, as many F&B merchants are ramping up online deliveries, he adds.
While Lalamove partners with aggregators like Oddle, it's also working directly with food merchants like hawkers, fast food chains, and restaurants. It has also received requests for ad-hoc delivery support from major food delivery operators, which Lin declined to name.
Another startup that has risen to the challenge is Chope, which launched its delivery service, Chope On, a few weeks ago – an effort CEO Arrif Ziaudeen says took all of three days to get up and running.
The service is currently in beta phase and has over 20 middle to high-end restaurants on the platform. Its delivery fleet is currently made up of transport provider SMRT's fleet of taxi drivers, many of whom are out of work as demand for cab rides plunge during the pandemic.
"Restaurants that come on board our delivery offering can access readily available features such as analytics, payments support, customer relationship management, and a targeted marketing database," which are part of Chope's existing capabilities, Ziaudeen explains.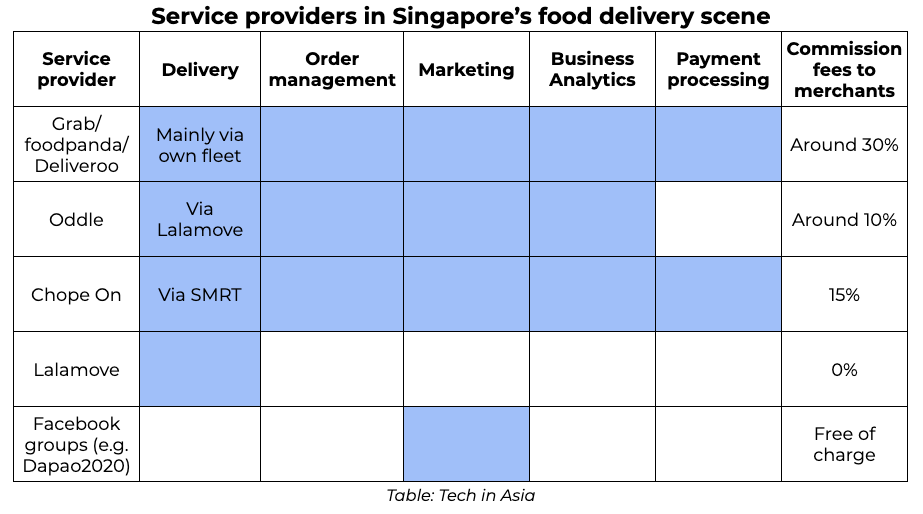 It's possible that GrabFood, Foodpanda, and Deliveroo are charging higher commissions because they're providing a more comprehensive service, though Chope's new delivery offering challenges this.
Chope's take rate of 15% per order is a fraction of what major food delivery players are charging in the city-state. But that's partly because it serves higher tier restaurants, with greater minimum order values – around S$50 (US$35) for most of its establishments.
Not all food operators think the added services warrant their high fees, though. Kelly Koh, the manager of All That Batter, a cafe that's on both GrabFood and Foodpanda, is exploring other more competitively-priced options even though half her daily orders currently come through these channels. Koh continues to liaise directly with private-hire drivers to coordinate deliveries for orders coming through phone and WhatsApp, even though this requires extra effort on her part.
David vs. Goliath
Food delivery platforms used to serve as a customer acquisition and marketing tool for F&B businesses. But they've quickly become a lifeline for restaurants that are no longer able to seat dine-in customers.
In spite of "steep" commissions, small food establishments find that they have little choice at the moment. "We have to stay on these channels as an additional marketing or sales channel so long as they are actively used by consumers," says Koh.
Now a main revenue stream, online deliveries have become an important means for restaurateurs to cover fixed costs such as rental expenses. But this places an unfair burden on food delivery operators, as the service should be seen as complementary rather than a replacement for dine-in revenue, an industry watcher who wished to remain anonymous tells Tech in Asia.
Small, independent food businesses are also flocking to such platforms to stay afloat, even though the high costs associated with these platforms may not be suitable for their scale of operations. High delivery expenses – as outlined earlier – mean that orders have to be sizable in order for trips to be efficient for both delivery platforms and merchants.
Restaurant owner Jeremy Cheok, a member of the #Savefnbsg movement which is calling for delivery commissions to be reduced to 15%, tells Tech in Asia that he still hopes delivery platforms can do more to help food establishments tide through the pandemic.
"All we want to see is the delivery platforms step up and stand in solidarity with the suffering F&B industry," he says.
Currency converted from SGD and Chinese Yuan to USD: S$1.42 = 7 yuan = US$1.