Grab recently made some of the biggest changes yet to its GrabRewards loyalty program in Singapore. This comes after similar moves in Cambodia, Thailand, Vietnam, and the Philippines.
These changes have proven controversial in some quarters. Dismayed users took to social media to air their grievances, while several personal finance sites gave a generally negative response, with some referring to the updates as a "devaluation."
So what is it that's got them all hot under the collar?
Under the new scheme, all GrabPay users will have to spend more than they did previously to get the same number of GrabRewards points. Users paying for Grab services in cash will no longer receive any points.
Here's a comparison between the points tallies under the old and "revalued" GrabRewards systems (scroll table right):



Membership tier

Old

New

Rides (GrabPay)

Rides (cash)

GrabFood

In-store purchases (GrabPay)

All GrabPay payments (including GrabPay Card)

Member
3
1
3
5
2
Silver
3
1
3
5
2
Gold
4.5
1.5
4.5
7.5
3
Platinum
6
2
6
10
4
Discount vouchers that can be redeemed for Grab services will also "cost" more GrabRewards points for all membership tiers:
| | | |
| --- | --- | --- |
| Voucher value | Previous points cost | Post-"revaluation" points cost |
| S$1 | N/A | 550 |
| S$5 | 2,200 | 2,500 |
| S$10 | 4,200 | 5,000 |
Here's a snapshot of some of the reactions on social media: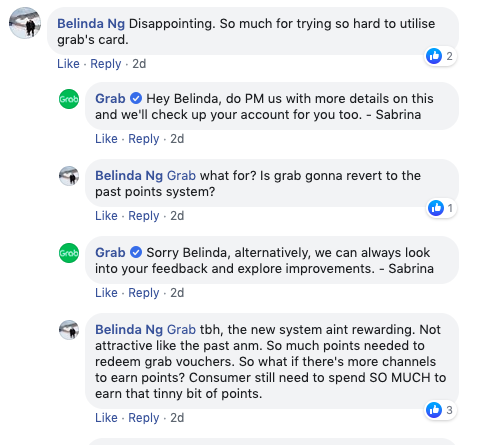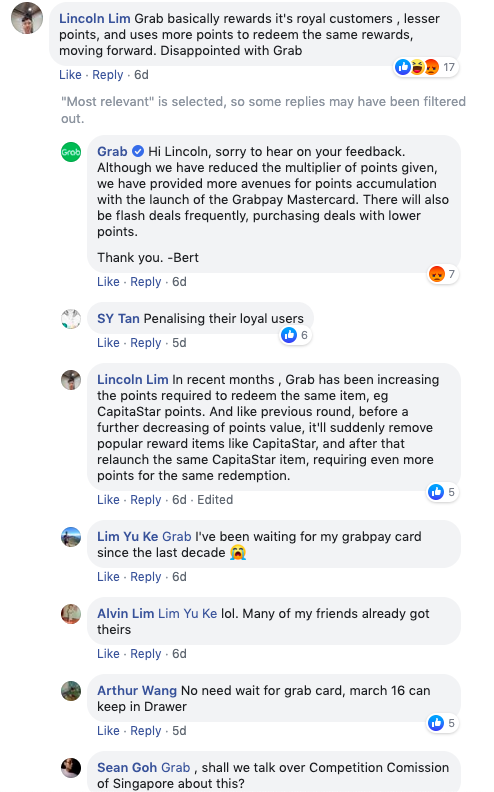 New services, gamification
Grab's defense is that while the changes means fewer points per dollar spent, it has simply reduced the multipliers on points accrual. The apparent deficit is offset by adding to the number of channels through which points can be earned.
A company spokesperson tells Tech in Asia that the changes were done "to reflect the overall growth of our ecosystem and the increased ways and places users can earn and spend their reward points." Grab was still largely a ride-hailing service when the program was rolled out in 2016, but it has since expanded into areas like food delivery and payments, providing more opportunities to amass points, the representative says.
Grab has also been introducing different ways for users to gain rewards through gamification, including challenges, flash sales, and "moment-based" campaigns.
One example is its Zodiac Coin Hunt, which went live in mid-January to coincide with the Lunar New Year period. The game gives users the chance to win weekly prizes of up to S$58,888, along with promos from participating merchants. According to Grab, nearly half its active users took part in the challenge.
GrabPay Card
Another more recent addition to the Grab services lineup is the GrabPay Card, a physical and virtual debit card launched in partnership with Mastercard and linked to users' GrabPay wallets.
Through this card, Grab users can now spend money in their GrabPay wallet internationally, both inside and outside of Southeast Asia. The physical card can be used at close to 53 million Mastercard-accepting merchants worldwide.
Users can also accrue GrabRewards points each time they spend on their card. This allows them "to earn GrabRewards points globally at millions of merchants, online, in-app, and offline," according to the Grab spokesperson.
Removing points multipliers for cash payments altogether is designed to boost the usage of GrabPay. "We want to encourage users to adopt digital payments as a way to enhance their level of convenience as they transact on our ecosystem," the representative says.
User numbers at risk?
As suggested by some of the more negative responses to the GrabRewards revisions, at least some users have indicated they will reduce their spending on Grab services or avoid using GrabPay altogether.
While Grab seems to think this doesn't present a long-term problem, it does raise questions about the company's ability to retain some of its customers who were initially drawn to GrabPay by the promise of rewards.
As with many young, high-growth, consumer-facing businesses, it initially used GrabRewards-based promos such as discount vouchers to attract users to its platform. This became particularly important for driving up the adoption of GrabPay, which is central to long-term sustainability because the service can be expanded outside of Grab's own ecosystem.
It's like a bad-tasting medicine that just has to be taken.
But such generous loyalty schemes are expensive for the companies that implement them, observes Zennon Kapron, director of fintech advisory firm Kapronasia.
With intense competition, especially on the payments side, GrabRewards "simply was not sustainable," he tells Tech in Asia.
"Although there's no perfect time to devalue a rewards program, the best time was yesterday and the next best is today. It's like a bad-tasting medicine that just has to be taken."
How this affects customer retention remains to be seen, he adds. "The average Chinese millennial watches their rewards closely so I wouldn't be surprised to see [Southeast Asians] shift away from Grab [and jump] to other platforms, where possible."
But Grab may have an advantage here: Few platforms in Southeast Asia can offer the same breadth and depth of services. While Gojek is Grab's closest competitor, the Indonesian super app doesn't offer rewards points outside of Indonesia.
What will be key is whether Grab has already reached that inflexion point of becoming an indispensable app for Southeast Asian consumers.
The course charted by Chinese payments apps like Alipay and WeChat Pay provides a point of comparison. "In China, there was a significant amount of friction in traditional payment methods," Kapron explains.
"Using a card often meant inserting, typing a PIN, and then signing. Alipay offered a much more convenient approach to payment. Although incentives did help to get both consumers and merchants onto the Alipay platform, the convenience kept them there."