20 Jan 2021
Aditya Hadi Pratama
Indonesian hospitality startup Airy is pivoting toward profitability this year, after aggressively expanding its hotel network over the last five years and becoming the country's biggest aggregator of budget hotels.
While the company believes the goal is achievable, CEO Louis Alfonso Kodoatie now has to contend with the Covid-19 pandemic, which has upended the travel industry worldwide.
"My whole experience is enough to build a profitability strategy for Airy," says Kodoatie, who spent the past decade working in the travel industry for companies such as Agoda and Traveloka. The business slowdown is an opportunity for Airy to improve its service and amenities across its properties, he says.
The startup was launched in 2015 with just two properties and a handful of hotel rooms. Today, Airy has a network of 2,000 properties with more than 30,000 rooms. According to the CEO, this is the right time for the startup to switch gears from chasing growth to pursuing profitability.
"When the number of our hotel inventories has reached a number that we want, we need to maximize the sales," he shares.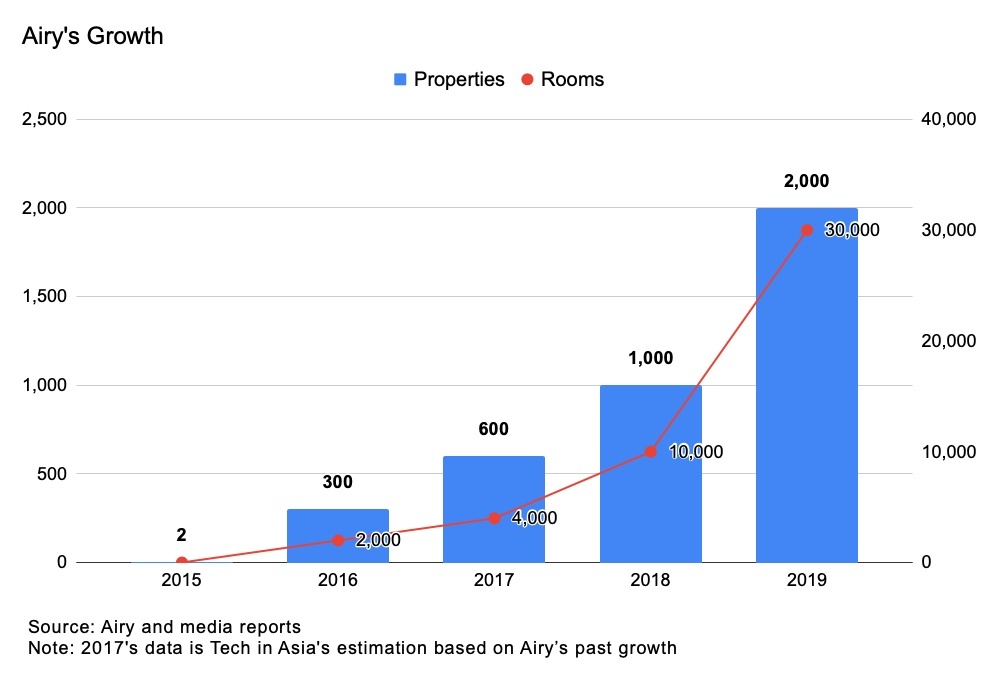 But the endeavor will no doubt be an uphill battle. Governments around the world have shut their borders, and airlines have been forced to cancel flights in an effort to curb further infections. Popular tourist destinations in Indonesia, such as Bali, are also bracing for the economic fallout from Covid-19.
Initial estimates from the Indonesian Hotel and Restaurant Association show that hotel occupancy in the archipelago decreased more than 20% as of mid-March, Kodoatie says. The numbers could get even worse, as Indonesia suspended its visa-on-arrival policy for a month effective March 27 because of a spike in infections.
"Our occupancy rate also got almost a similar hit," Kodoatie says. "However, we are optimistic that the pandemic will be resolved soon and the travel industry can recover."
Prepare to bounce back
As the outbreak rages on, Airy is evaluating which strategies it can take to adapt to the fast-changing business environment.
Among the opportunities it's exploring are increasing the quality of its properties and adopting new technologies that can help the startup provide better customer experience to its clients.
"With the right technology and service quality, we are sure that Airy can bounce back faster and have our business recovered as before," Kodoatie notes.
Another strength it can leverage is its leading position in the industry, especially with its closest competitor, Oyo, downsizing operations. The latter entered the Indonesian market in 2018 and now has 1,700 properties and more than 23,000 rooms. However, the Indian unicorn has recently retrenched about 5,000 staff globally to cut costs and focus on profitability.
While most of Oyo's job cuts were made in China, several people close to the industry have said that the company's Indonesia operations were also affected by the layoffs. Oyo currently has 1,100 employees in Indonesia, compared to Airy's 400 staff members.
Despite having fewer employees, Kodoatie claims that Airy has become the market leader in Indonesia in terms of transaction numbers.
Moving forward, the CEO wants to focus on improving not only the occupancy rate of its existing hotel merchants but also their Gross Booking Value (GBV) – or the total retail value of booked rooms for both travel agencies and hotel merchants.
To do this, Airy plans to help its hotel partners to have better pricing strategies. Budget hotel aggregators usually take a cut of between 5% and 10% from every transaction on its platform.
"Many of them [hotel partners] prefer to continuously do something that has been worked on in the past," says Kodoatie. "We have to make them believe that we can increase their revenue."
Despite the current circumstances, there's a huge potential for the travel industry across Southeast Asia. According to a 2019 forecast by Bain & Company, Google, and Temasek, the industry's growth will be driven by online bookings for flights and hotels, which will reach US$78 billion in 2025 – up from US$34 billion in 2019.
According to Kodoatie, Indonesia has tens of thousands of budget hotels across the country. Most of them are unregistered operators and less than half of these properties work with budget hotel aggregators such as Airy, he says.
"In the future, it's important for us and the government to work together to help those hotels," says Kodoatie.
Strategic partner
While Airy declined to share its funding information and the names of its investors, its tight relationship with online travel unicorn Traveloka is obvious. Other than calling Traveloka its "strategic partner," Airy was also founded by two of the unicorn's former engineers, and its past CEOs were also ex-Traveloka executives. Kodoatie is no exception.
Regardless, Airy has to face its own challenges. Aside from Covid-19, the startup must increase the retention of its partner hotels. It has already provided several technology innovations, such as self check-in stations and automation tools, to help owners better manage their properties and deliver a better customer experience.
Besides Oyo, Airy also competes against Singapore-based budget hotel operator RedDoorz, which claims to have 1,200 properties across Indonesia under its belt.
That's why it's important for Airy to keep hotel merchants happy by giving them enough bookings, especially since hotel owners in Indonesia have a tendency to go "window shopping," Kodoatie says
"They will look around, try to work with a company first, and see what they get," he says. "If they aren't satisfied with the revenue, they will move to other players."