Hoang Vu said he has recently closed his fashion-focused stores on Tiki and Sendo, arguably the two most notable homegrown names in Vietnam's fast-growing ecommerce space. The merchant cited high return rates and fees as well as a lack of support for sellers as his reasons for the move. But beyond these concerns, Vu also said that online marketplaces Shopee and Lazada as well as social media platforms Facebook and Instagram have proven to be much more effective in attracting Vietnamese consumers.
Tech in Asia spoke to five local merchants who sell on Vietnam's ecommerce platforms. They seem to prefer Shopee because it's easier to open a store and to post and advertise products. Its app and website are also user-friendly for both vendors and shoppers, resulting in higher sales. They also said that new sellers often start out on Shopee to gain sizable online traffic before branching out to other online marketplaces. (Tiki, in response, says its return rates are less than 1%, and that it has a strict onboarding process because of its focus on authentic goods.)
The stakes are high in the battle to win over buyers and sellers. After all, an online marketplace needs to appeal to both parties. Along with Indonesia, Vietnam is one of the most promising ecommerce markets in Southeast Asia, thanks to its over 97 million population and growing middle class as well as high smartphone and internet penetration. Between 2015 and 2019, the compound annual growth rate (CAGR) of ecommerce in Vietnam was at 81%, higher than Thailand and Malaysia, according to a 2019 report from Google, Bain & Company, and Temasek.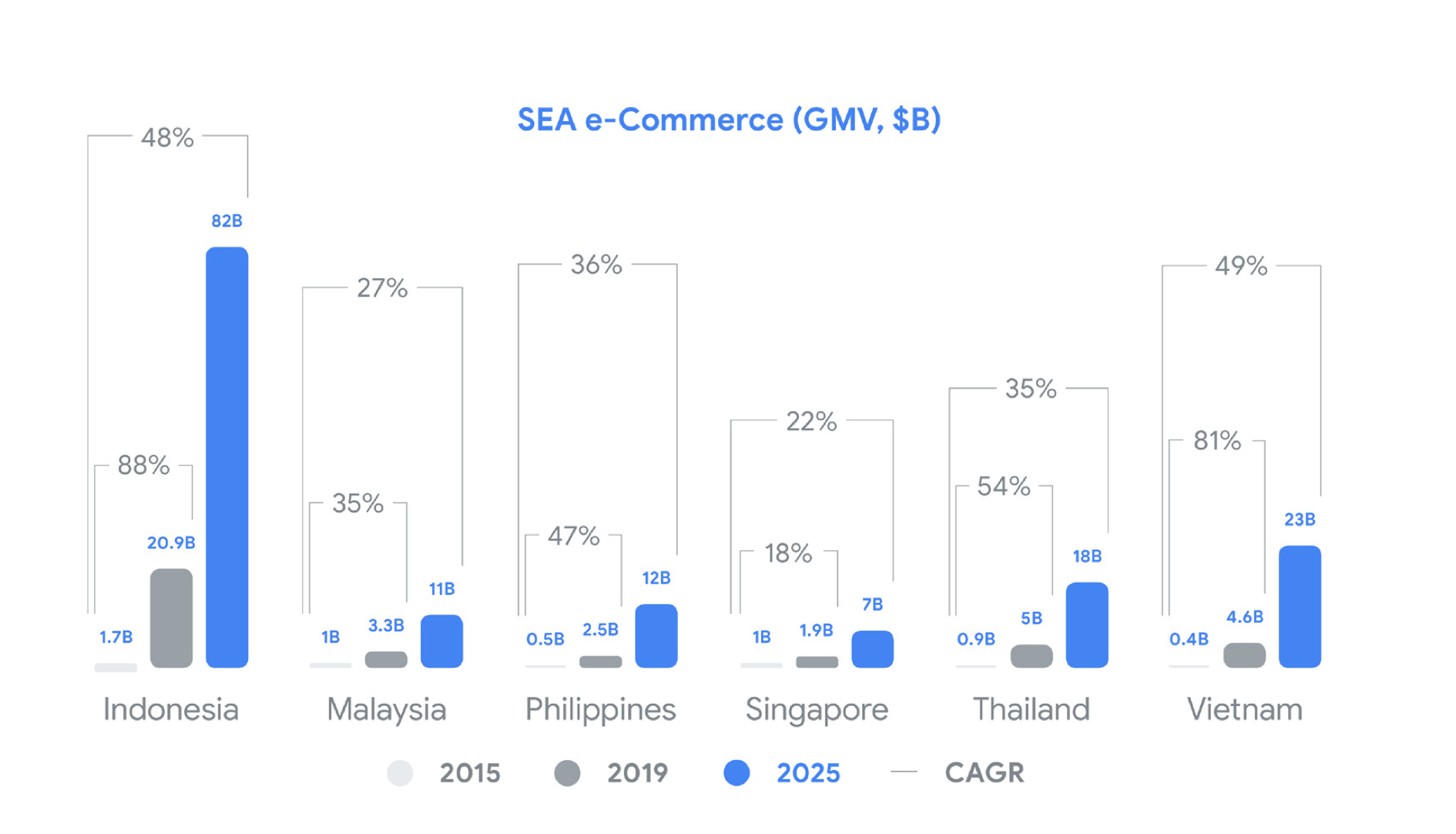 Note: GMV stands for gross merchandise volume; amounts in US$ billion
Source: E-Conomy SEA 2019 report
Vietnam's nascent ecommerce space only had 4.2% retail penetration in 2018, according to a 2019 whitepaper on the ecommerce sector published by the country's Ministry of Industry and Trade.
Thus, there's a lot of untapped opportunity.
The government is aiming to reach US$35 billion in ecommerce turnover by 2025. It's definitely an ambitious goal in the economic era after Covid-19. Competition in Vietnam is now primarily a four-horse race: local champions Tiki and Sendo, which have raised hundreds of millions in US dollars, versus regional heavyweights Shopee and Lazada.
Note: B2B refers to business-to-business, and C2C refers to consumer-to-consumer.
But with news of a potential merger between Tiki and Sendo swirling around since the beginning of this year, this competition could take a new turn.
In recent years, Vietnam's local platforms appear to have a poor track record against their international rivals so far. Grab has taken the country by storm since its entry in 2014, leaving little room for domestic ride-hailing players such as Be and FastGo. Vietnamese social networks also can't take off due to the king-like status of Facebook.
In this kind of scenario, can domestic ecommerce players escape a similar fate?
It's also worth noting that unlike Be and FastGo, which only surfaced after Grab secured its position in the market, both Tiki and Sendo got into the game much earlier than their foreign competitors. Combining these two companies, which has a valuation of well over $US100 million each, could result in the biggest merger in Vietnam's tech space and allow both players to attract even more funding to go up against their international rivals.
Given the nascent ecommerce infrastructure in Vietnam and tightening investor wallets, joining forces would at least help Sendo and Tiki survive in the long haul. However, it's not an easy task to topple Alibaba-backed Lazada and Shopee, which benefits from being a sister company to cash cow Garena.
Tough nut to crack
Like many other countries, Vietnam implemented strict social distancing measures to curb the spread of Covid-19. But it lasted for only two weeks in April, thanks to the government's effective pandemic response. Online shopping was expected to rise amid the crisis, but the results didn't meet expectations. While industry sources note that ecommerce app usage has held steady, estimated web traffic to Lazada, Tiki and Sendo decreased in the first quarter of 2020 compared to the same period in 2019. Shopee is the exception, however, with its Q1 numbers going up this year.
Dang Dang Truong, who monitors ecommerce development in Vietnam for regional firm iPrice Group, said the surge in online shopping was mostly for essential items while demand for fashion and electronics products, which have been growth drivers for Vietnam's ecommerce sites in previous years, dropped.
Even before the pandemic hit, a number of notable Vietnam-focused shopping sites had shut down in 2019, including Adayroi, the ecommerce unit of local conglomerate Vingroup, as well as Lotte.vn and Robins.vn, the online marketplace of South Korean giant Lotte and Thailand's Central Group respectively. Niche e-tailer Leflair filed for bankruptcy in May amid allegations from angry suppliers.
Ecommerce in Vietnam is promising, but being in the early stages of development means that acquiring new consumers and getting them to buy are costly for companies. Much of the spending has been driven by consumers in Hanoi and Ho Chi Minh City, who account for about 70% of ecommerce transactions nationwide. It's also expensive to deliver products to end consumers who are spread out in 63 cities and provinces.
Buyers, especially first-time online shoppers in the country's lower-tier cities, are not easy to sway. The 2019 government whitepaper on ecommerce indicated that 83% of respondents are still concerned about the quality of online products. The surveyed consumers also cited other hurdles, such as poor delivery services, complicated online purchasing and payment procedures, and higher and opaque prices compared to offline stores.
There's also the "cash is king" mentality. Among ASEAN countries, around 90% of online purchases in Vietnam are still paid via cash on delivery – the highest in the region, according to a 2019 report by Standard Chartered Bank. Indonesia and Thailand are distant second and third placers at 65.3% and nearly 48.5%, respectively.
A crowded space
Shopee, which entered Vietnam in 2016 was the last among the "Big Four" ecommerce marketplaces to set up shop in the country. Nevertheless, Sea Group's ecommerce unit has had a grip on the market, according to third-party estimates of web and mobile user metrics seen by Tech in Asia.
To entice consumers, players have to burn money for discounts, shipping subsidies, rewards for merchants, and sassy online campaigns that include popular Vietnamese celebrities. VNDirect, a local stock trading company that also provides market research, estimates that a new entrant has to spend at least 142 billion dong (US$6 million) a year to capture 1% of market share.
These platforms are also differentiating themselves from one another. While Shopee targets female shoppers in urban areas and brands itself as the place for bargains, Tiki has embarked on an Amazon-style path. TikiNow, the company's in-house logistics arm, guarantees a two-hour delivery for certain products, an offer similar to Amazon Prime.
Like Amazon, Tiki prides itself on a customer-centric approach, betting on higher-income consumers who are more willing to pay for authenticated products. In contrast, Sendo wants to onboard and tap into lower-income consumers who live outside Hanoi and Ho Chi Minh City.
Having entered Vietnam in 2012, Lazada has lost the top spot in some key metrics to Shopee in the Q3 2018, according to an iPrice report that ranks the country's top 50 ecommerce players. Lazada underwent a regional leadership reshuffle in late June. The change comes amid cultural clashes within the company and challenges with understanding local nuances, reported Reuters and the Wall Street Journal.
When asked by Tech in Asia about its performance in Vietnam, a Lazada spokesperson said the platform serves "over 70 million annual active consumers," calling it "a metric that demonstrates its leading position."
She added that "app downloads and web traffic are neither meaningful metrics" nor the company's focus. Newly appointed CEO Li Chun is also expected to "strengthen Lazada's competitive advantage through data technology application and business localization across the six countries, with Vietnam being a key market."
United front
To tackle bigger rivals, Tiki and Sendo have raised substantial funding rounds.
When Tech in Asia asked about a possible merger, both companies declined to comment. However, Tiki and Sendo have submitted an application for consolidation to the Vietnam Competition and Consumer Authority, according to the agency's 2019 annual report and people familiar with the matter.
The merger can bring together "two assets with very complementary capabilities," driving massive synergies with the potential to raise further funding, says Akshay Jayaprakasan from research firm Redseer Consulting.
Consolidation "makes a lot of sense" in Vietnam as the number of international investors interested in acquiring large, cash-burning assets has shrunk, a former regional investor who was involved in one of Sendo's funding rounds tells Tech in Asia. "I think in terms of valuation, an ecommerce company in Vietnam is still available at a better valuation than markets like India or Indonesia," the source adds.
In addition, Vietnam's "horizontal ecommerce may be too crowded at this point" to attract funding, says Jeffrey Paine, managing partner at Singapore-based Golden Gate Ventures. "Investors will be looking at other areas such as B2B commerce, social commerce, and video commerce enablers and also areas that support ecommerce – from payments to logistics," he points out.
The potential Tiki-Sendo merger was first reported by DealStreetAsia in February. The structure of the deal remains unclear, but from a regulatory standpoint, there's a good chance that the companies would have to maintain their respective brands to avoid hitting a level of market concentration that could violate Vietnam's Competition Law 2018, according to a legal consultant.
So what can homegrown players bet on to compete with regional titans like Shopee and Lazada?
In theory, the merged entity will have a wider reach across the country. Tiki has been mainly targeting digitally mature consumers in Hanoi and Ho Chi Minh City while Sendo focuses on lower-tier cities, says Redseer's Jayaprakasan.
The consulting firm's analysis suggests that both companies could potentially scale faster because they have very different business models: Tiki focuses on business-to-consumer while Sendo is mostly consumer-to-consumer. They also have a diversified portfolio of offerings across categories.
"We believe the merger augurs well for profitability and growth in the long run. With the merger, the market has three sizable players with a strong set of capabilities competing against each other," Jayaprakasan explains.
One of the challenges for Tiki is to expand its product offerings without compromising on its reputation as a marketplace for authenticated items, according to Dang of iPrice. At present, Tiki says it has about 10 million SKUs across 35 categories.
"For Tiki, Sendo might be the missing piece," points out Dang. "If we look at China, Alibaba has Taobao and Tmall. Taobao focuses on quantity and cheaper products to target first-time and new buyers, who can later move to Tmall as the demand for online buying rises."
An e-wallet can also be a crucial factor, as it enables ecommerce players to expand into financial products, which is what Alibaba has done. Tiki, however, also doesn't own a digital wallet while Sendo's SenPay was hailed by the State Bank of Vietnam as among the five e-wallets nationwide that carried out 95% of the market's total transaction value in Q2 2019.
While a Tiki-Sendo merger looks good on paper, integration at this scale would be extremely complex.
To enable faster delivery, Tiki established TikiNow Smart Logistics in September 2019. By running its own in-house logistics network, inventories and warehouses, Tiki is following not just the Amazon model but also Asian giant JD.com, one of its own investors and shareholders. In contrast, Shopee relies entirely on third-party logistics providers. In December 2019, it partnered with Grab to offer one-hour delivery for buyers in Hanoi and Ho Chi Minh City – a direct challenges Tiki's two-hour delivery service.
A Tiki spokesperson told Tech in Asia that fast delivery remains one of its core competitive advantages, adding that the company has achieved an average delivery time nationwide of only 1.5 days. "In order to do this, we have hugely invested in the fulfillment center systems in key cities across the country and built an in-house delivery fleet, along with closely collaborating with trusted third-party logistics providers," the representative says.
All bases covered
While a Tiki-Sendo merger looks good on paper, integration at this scale would be extremely complex. Even if they stick to their own brands post-merger, both sides need to leverage their respective strengths and avoid stepping on each other's toes, some industry insiders say.
On social media groups for ecommerce merchants, discussions about the potential deal have been widespread. But most sellers expressed doubts about whether this would really benefit them.
Addressing this concern, Tiki tells Tech in Asia that "merchants on Tiki marketplace are a key pillar that we have focused on in all business activities." The spokesperson adds, "We make great efforts to ensure the online business of our merchants to be as seamless, effective and convenient as possible, but still aligned with the verified process."
But ecommerce merchant Thanh Vu, who makes most of his sales from selling cosmetics and home appliances on Shopee, believes that homegrown sites like Tiki and Sendo haven't paid enough attention to individual sellers like himself. When Shopee was new in Vietnam, it reached out to Thanh Vu and recruited him to join the platform. He eventually migrated from Facebook and now also runs training workshops for other individual sellers.
His advice for local players to avoid losing ground on its home turf? "To operate a successful online marketplace, you have to care about both the buyer and the seller."