The "number one integrated business software in Singapore," proclaims the bright red Deskera ad, which can be spotted wrapped around the buses plying the city-state's roads.
Before the company achieved this level of visibility, however, its co-founder and CEO Shashank Dixit had to walk the typical founder's path first. During the startup's early days, to save cost, he'd sleep at the Singapore Changi Airport after a day of knocking on doors and selling software.
Deskera has since drawn prominent investors like Tembusu Holdings, Naver, and Jungle Ventures, and a large backlit company logo now greets visitors in its Singapore headquarters. Over the years, the India-born Dixit has even come to call the country home.
But even with its high profile, the firm wants to shake things up. Beyond opening a new office and applying a fresh coat of paint, the company is undergoing the biggest overhaul in its 12-year history.
The changes are aimed at resolving some of the persistent complaints from customers about its software and from ex-employees about the company's work culture.
They're also aimed at attracting a new generation of smartphone-wielding business owners who would have never picked up Deskera's software. "There's a tectonic shift" happening, as Dixit has put it.
I'm sick of people taunting us.
Indeed, the changes – which began before the CEO declared his intention to seek a unicorn-level valuation as part of the startup's series B fundraise – have shaken up the organization.
Deskera has laid off dozens of product and engineering staffers in India and is rebuilding part of the team in Singapore. It is also tweaking its distribution model and sunsetting its flagship products.
"We have to be on par with the best software – the Xeros and the Quickbooks. I'm sick of people taunting us because our software doesn't look good," Dixit tells Tech in Asia in an exclusive interview.
In fact, the company has written a new Deskera app from scratch using a new technology stack and is selling it under a new pricing scheme. This strategy is seeing some success: The new app has acquired around 75,000 monthly active users about eight months after it was launched.
In several conversations with Tech in Asia, Dixit has said that drastic changes are par for the course even among successful enterprise software firms. He believes that while the startup has its share of unhappy customers, its client base, on the whole, has been satisfied with its products.
The cost of growth
Deskera, which develops cloud-based enterprise resource planning (ERP) software, has seen blistering growth: Its revenue more than doubled to US$68 million in the financial year 2017, Dixit has told the media.
He now adds that the firm has since surpassed that figure, with 10% to 20% of its income coming from services.
Recently, the firm sold thousands of licenses to one enterprise customer under a white-label contract worth millions of US dollars, though a confidentiality agreement prohibits Dixit from disclosing the client's identity.
In this arrangement, the enterprise would sell a software bundle containing its own products and Deskera's – minus the brand name – to end-users.
Customers obtained through this deal won't count under Deskera's user numbers, though, as they technically belong to the enterprise.
More such partnerships have been in the works. However, Tech in Asia's interviews with over 20 ex- and current staff, customers, and competitors reveal that the company's pursuit of growth came at a price.
Deskera's product and engineering team in India struggled over the years to deliver on the lofty expectations the company and its partners set when pitching to clients. Its software was limited when it came to configuring the customers' needs. Instead, customizations for each geography had to be hardcoded, making the software hard to maintain and bug-ridden, claims an ex-employee.
The team had to meet "unrealistic deadlines," says an ex-staff. "Something that would have taken ideally one month to develop was ordered to be completed in two weeks." This caused customers to complain about features that didn't work or were missing.
Part of the problem was Deskera's tendency to hire en masse smart but inexperienced fresh graduates in India, and sources say the low pay and long hours affected company morale as well. Fresh graduates were asked to work even on Saturdays.
Employees also had to deposit a sum of money as part of a two- or three-year bond – a common but not necessarily effective practice among software companies in India. Appraisals were given late, which would then delay salary increments.
Sales promises
When it came to acquiring customers, Dixit says Deskera relied heavily on a network of tens of thousands of partners. Most of its sales and implementation were made through this network, and its tie-up with major software distribution platform Ingram Micro accounted for 25,000 of those partners, the CEO claims.
As the sales team hustled for deals, potential customers were promised features that were not yet built and, in many cases, an implementation period (when the software is integrated into the organization) of no more than three months.
These promises were sometimes not kept. "We signed up four years ago, paid 100% upfront, and it's still not fully implemented and cannot do half of what was promised," says a small-business owner who purchased the product. Another customer used the software for eight months before eventually asking for a refund.
Another issue was how a large number of customers in Singapore had used a government grant – available between 2010 and 2018 – to defray the purchase of Deskera software. A number of them didn't really need it but couldn't resist taking advantage of the grant's lax approval process, claims an ex-sales staff.
Dixit, however, says clients are mostly happy with the software. He cites an internal survey conducted among a random sample of customers in October 2019 by business consulting firm Frost & Sullivan, which says clients gave the software an average score of 4.08 out of 5. Frost & Sullivan called it "a highly positive rating," he shares.
A cafe franchise, which still uses the software today, tells Tech in Asia that it has spent a five-digit US dollar sum on the system (half of it subsidized by the grant) and has had an overall positive experience with it.
"During the first six months, there were some teething problems and bugs [but] things got better after the first year. Service was good and quite prompt," says the business owner.
"It got very personal."
Deskera also battled complaints from employees in Singapore. Common themes emerged among ex-staff between 2015 and 2020, and a spate of resignations toward the end of 2019 and at the beginning of this year occurred for various reasons.
Even though employees in Singapore were well-paid, some were not happy at how managers had treated them.
A few complaints centered around the micromanagement of lunch hours. One employee, for instance, was reprimanded for being out for longer than an hour, even though it was for a meeting with a potential partner. "There's a lack of trust," the person says.
Several ex-staff were also berated in front of the whole office for returning from lunch a bit later than the allotted time – never mind that it was during a slow season. "It got very personal, and we couldn't tolerate that kind of behavior," the person recalls.
Sources further complained about a manager who would deny leave applications despite an employee having a valid reason, and how non-sales staff was made to do cold calls to offer free software licenses. The latter practice, however, isn't uncommon in the startup world.
At times, employees weren't given clear instructions. With departments working in silos, orders from different managers were often conflicting.
Dixit concedes there were some acrimonious departures due to disagreements over employee stock options, but he claims that the people who left were junior staff whose departures were not a blow to the company. He chalks up the conflicts to Deskera's fast growth – it doubled its headcount in the past 12 months – which led to new hires that felt like a "cultural or ambition mismatch."
"I know that we don't get all things right all the time, and I am sorry that occasionally this leads to disappointments," he says. "We will take steps to ensure this does not happen again."
Some ex-staff, however, enjoyed their stints at the company. "It really depends on the boss you get," says someone who worked out of its Singapore office.
"Given a chance, I'd be pleased to be a part of it again," says a marketer who worked in the company's Pune, India office.
A blessing and a curse
Deskera's issues aren't unique. Like its peers, the startup makes most of its money through "channel partners," Dixit explains, and it's a dominant model among enterprise software companies.
With this business model, Deskera's partners take a 25% cut on each sale. If they provide add-on services such as implementation or customer service, they take a bigger commission.
If they build their own features on top of the software, they get to charge – and keep – a markup on top of the base pricing.
The approach allows companies like Deskera to access the market without having to invest in a large headcount, Dixit adds.
We're not getting a good look at customers.
Partner aggregators like Ingram Micro also serve as middlemen who process and collect payments on behalf of the software provider. This is a necessity, given that there's "low credit card usage for business-to-business transactions, even in Singapore," explains Dixit; only 2% of the population in India, which is Deskera's biggest market by client base, owns a credit card.
But the method brings its own headaches. For one, Dixit claims that Deskera has little control over what the channel partners say or do, contributing to the complaints.
The company also has limited data on its sales process and clients. "My problem is not revenue. My problem is not growth. My problem is that I can't control it. And as a SaaS company, we're not getting a good look at customers."
Every ERP software firm – even giants like SAP, Oracle, and Netsuite – faces the same challenges as a result of their reliance on channel partners, who are often "interested in making money, [but are] not interested in improving the product or improving the support," Dixit says.
Deskera's business has its inherent limitations as well. "ERP software is just bad generally," says a former manager at a major Silicon Valley firm who now runs a startup. "They're often bulky and not user-friendly. Any time you might save [from using one] is spent wrestling with the software."
In her current stint, she prefers specialized software such as Xero for accounting and Zoho for sales. While she thinks an ERP software would make more sense once a company reaches over 150 people or US$20 million in annual revenue, she still prefers to "buy function-specific tools and have them all integrate with each other via an API."
Even large tech companies struggle with off-the-shelf ERP software, with many opting to build their own, she says. "If I'm a tech company, why would I trust SAP or Oracle over my own engineers?"
The hardware manufacturing firm she used to work for managed its supply chain with both spreadsheets and ERP software. "For every transaction that was recorded in our ERP system, I feel like two more happened outside of it," she recalls.
Similarly, a businessman operating ecommerce and retail stores tells Tech in Asia that he relies on spreadsheets and offline software to manage store operations, and finds switching to ERP software costly due to the complexity of data migration.
These concerns would mean that Deskera has a growth ceiling since it specializes in serving small and medium-sized enterprises. Dixit himself says that his company's software best suits firms that manage inventory, such as retail and food businesses.
He acknowledges that Deskera can do better, and addressing these issues would require nothing less than an extensive overhaul.
Beyond cosmetic surgery
As a first step, the company has rebuilt part of its engineering and product team in Singapore, which meant laying off dozens of employees in India.
While India is famous for producing strong enterprise software firms, Deskera believes it will have an easier time building a product and engineering team that can create world-class software in Singapore, says a source familiar with the deliberations.
Dixit has previously explained that the country "offers some niche technology abilities. Singapore developers are advanced when it comes to creating high-valued, non-commoditized stuff."
The move was also made to bring the core intellectual property closer to management, which sits in Singapore. The island-state serves as an ideal "lab for SME innovation" due to the sheer number of small businesses that are reachable within a short travel time, the CEO tells Tech in Asia.
But rebuilding the engineering team proved to be a messy task, and one employee in India found himself receiving the short end of the stick.
As the company whittled down its India team amid the pandemic-induced lockdown, he thought of seeking another job in case he would get laid off next, but a promise of a transfer to Singapore made him stay put.
It didn't happen in the end, though. "We don't have any work for you," the employee was told.
The reality was that Deskera was rewriting its ERP software using different programming languages.
From Java, it shifted to Go. Instead of using iOS's and Android's respective native languages, which had caused problems with app notifications, it switched to React Native, which works across platforms.
"We had to let go of people who weren't trained on the new stack," Dixit says.
The company was also seeking engineers who could do more than write code. "If you can't tell your story, [if] you can't communicate what you do, then maybe you're not the right engineer for us," the CEO says. As such, Deskera's engineering team now maintains a blog.
The new app, which launched in October 2019, looks modern – a vast departure from the old version's Windows-era aesthetic.
On the business front, Deskera is reducing its reliance on channel partners and aims to sell 50% of its software through direct sales. Channels will still be involved, but their role will be restricted to sales.
While the move seems drastic, Dixit says it's pretty common among successful enterprise software firms.
Zoho, for example, went through two transformations before becoming a software-as-a-service company. Jira, the popular bug tracking software by Atlassian, began as a downloadable program before it moved to the cloud.
Dixit believes the time is ripe for Deskera to change. Its partnership model is a remnant of a past when enterprises primarily shopped for software by making phone calls. "That supply chain is vanishing" as more businesses buy software online now, he says.
Another trend that the company wants to capitalize on is e-wallet payments, which is surpassing credit card transactions in India. Dixit believes this trend will make it feasible for software makers to sell directly to Indian businesses, who now have a convenient means to pay.
To ride on the rising wave of tech-savvy business owners, Deskera is doing something it's never done before: Offering its mobile ERP app for free to one user per company, forever. Businesses that want to grant more employees access to the app will need to pay a fee.
The goal of the new app is to allow people to run their businesses entirely on their phones. Dixit says there's never been a mobile customer relationship management or ERP app as complete as Deskera's. Aside from tracking customers, expenses, invoices, and claims, the platform also has a chat feature and will soon launch a marketplace where businesses can buy and sell supplies.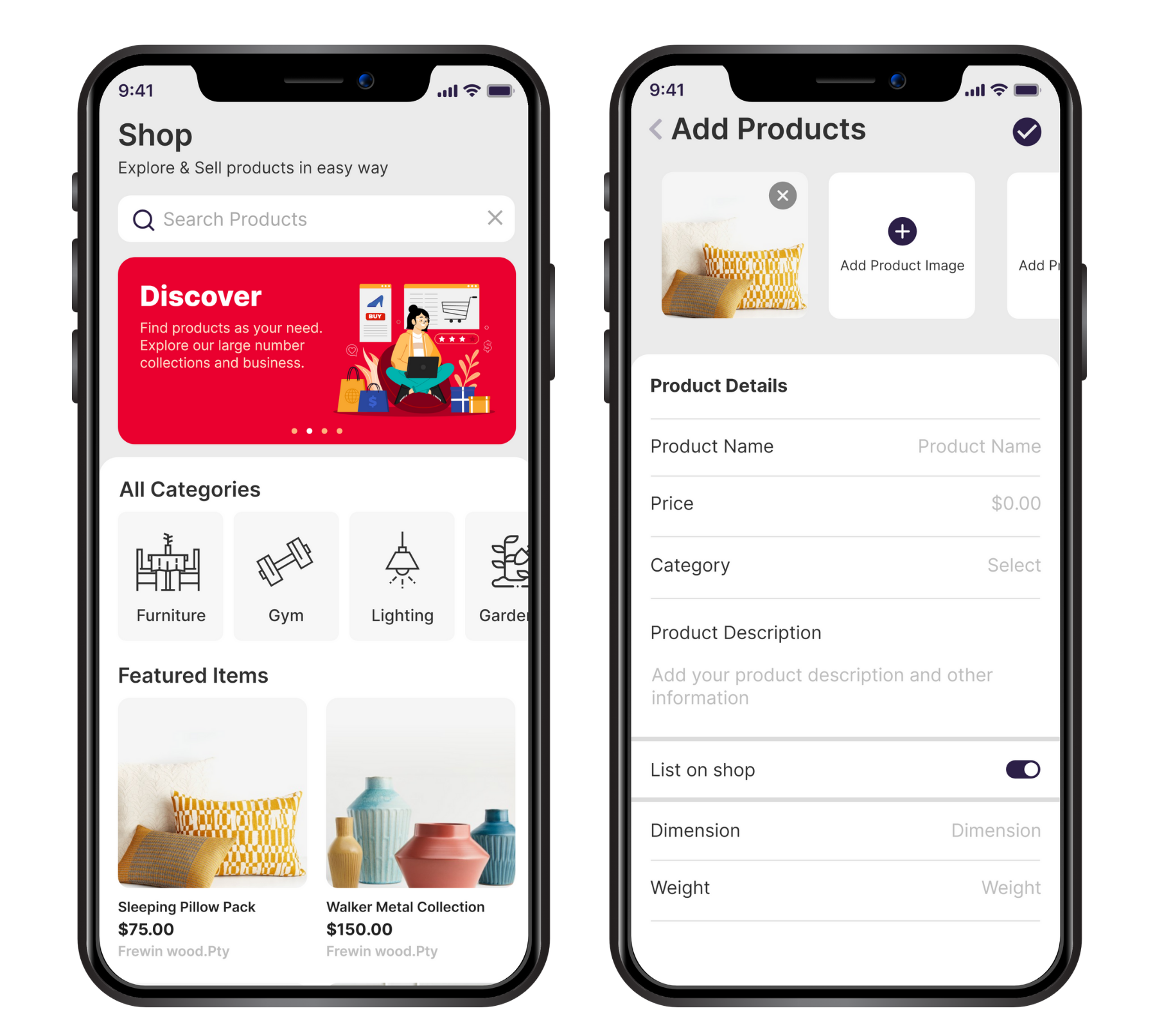 Users have created 1.5 million invoices through the app between January and May this year, Dixit reveals. That's about eight invoices per user, most of whom come from India. If the company can bring 10% of those users onto its US$468 a year plan, that will mean an extra US$8.8 million in revenue.
But while the new app appears to be drawing plenty of new customers, migrating old ones over will be tricky. With much of the friction found in data transfer, the company is exploring using machine learning as a means to automate this process.
Unicorn hype
With its new vision, Deskera sought "a valuation in the unicorn range," the CEO previously told Tech in Asia, adding that it had received a term sheet that brought it close to that market value.
While Dixit confirms receiving multiple offers, he maintains that he wasn't planning to move forward with any of them.
"There was no serious investment discussion. There was no banker involved," he now says. "We wanted to obviously talk about being a unicorn, but there was nothing serious."
Instead, it was more of a "dipstick survey" to gauge how the market valued Deskera, which then became "overblown" into a funding round, he claims.
We're all partners in this crime.
Dixit says his company doesn't need more investment money. "If you're an entrepreneur, I'll tell you not to raise capital," he said last year at a DealStreetAsia event attended by fund managers.
For enterprise software firms, he believes it's better to let the customers be their investors. In Deskera's case, the company raised a series A round only in 2018, a decade after its founding, and Dixit says a large part of that round went toward paying back earlier backers.
At the panel, he lamented a culture where private "soonicorns" and unicorns are held up as heroes. He also declared paper valuations as the worst measure of respect.
"We're all partners in this crime" of pumping up valuations, he told the room. The media "won't even write my story if I say I'm not a unicorn, so I have to start with, 'Oh, I'm going to be a unicorn' […] People won't read this news unless it's about a unicorn."
For him, the true measure of a company's worth is a public listing. And even though his first attempt in 2016 didn't pan out, this goal is still in his sights.
"If you do an IPO, you get a million people to agree on your value [and] that's your value," he says. "Anything else is just paper money."