JD.id's recent declaration that it's become a unicorn has been met with doubts from Southeast Asia's industry insiders.
"The concept of paper valuation has reached new heights," says a senior executive from a rival firm.
Skeptics have reason to question the claim: Easily accessible numbers portray JD.id, the Indonesian arm of Chinese ecommerce giant JD, as a small player that's lagging behind its competitors.
The way in which JD.id was valued also aroused suspicion.
JD has declined to comment, while JD Indonesia's executives did not respond to Tech in Asia's messages.
The ecommerce company's valuation seems to be linked to another unicorn: Indonesian super app Gojek.
In October 2018, JD was revealed to have joined Gojek's series E round.
Three months later, The Information reported that Gojek was in talks to invest in JD.id at a valuation of over US$1 billion. The super app was also thinking of buying a majority stake in a separate entity, JD's Indonesian logistics joint venture, J-Express.
A source familiar with Gojek tells Tech in Asia that the company did not invest in JD.id in the end. Instead, the two firms signed a commercial agreement. Meanwhile, J-Express now says on its website and LinkedIn page that it's a subsidiary of Gojek.
Gojek has declined to answer Tech in Asia's questions.
No numbers to back it up
Even if an investment was made, JD.id's user engagement numbers do not back up its claim of being a unicorn.
An executive at a competing company says, "We don't bump up against JD.id much."
Citing confidential data, he adds that JD.id's user numbers are in "distant fifth" in the country and have been "static" year-on-year.
According to App Annie, JD.id is the 10th most popular free app on Google Play's shopping category in Indonesia, well below its rivals.
"I'm not sure if [Indonesia is] still even a big focus market for them," he says.
The number of visits to JD'id's website lags far behind the country's more popular marketplaces like Bukalapak (valued at US$2.5 billion), according to SimilarWeb's estimates. This is despite the fact that the popular Gojek app has a tile that links directly to JD.id.
However, it's worth noting that the vast majority of online shoppers buy things on mobile apps, according to a source. Still, website traffic could be a proxy for the company's overall popularity.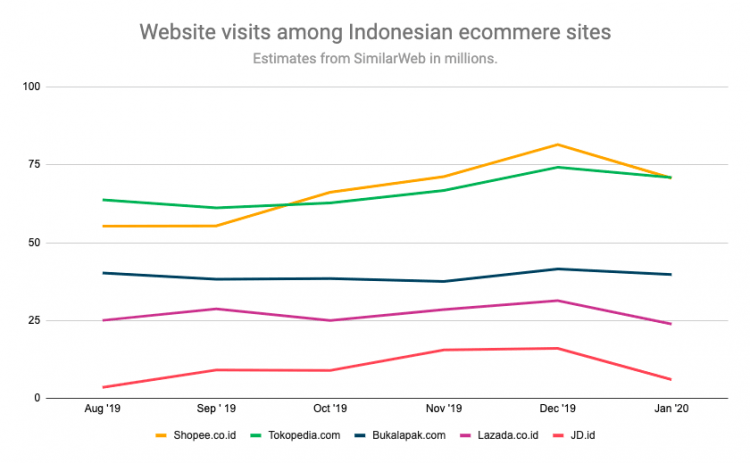 Unlike Tokopedia or Shopee, JD makes deliveries only through its own logistics network – an approach that requires significant investment. That may explain why its activity, according to the executive, seems focused on the Jakarta metropolitan area, the most developed part of the country.
Looking at the transcripts of JD's earnings calls over the past year, the company did not appear to have discussed its Indonesian business at all. It also doesn't break down its international revenue as a distinct category.
Putting on a show?
Even if JD.id was somehow able to justify its hefty price tag, the timing of its confirmation seems tone-deaf, especially after investors have started to take a dim view of sky-high numbers.
A senior executive at an ecommerce logistics firm suggests that the figure was put out there to make JD.id seem bigger than it is.
"It's like MatahariMall," he says. The ecommerce venture, part of family-owned conglomerate Lippo Group, fizzled out after claiming that it had raised a working capital of US$500 million.
The eye-popping number was later called into question.
History, it seems, has a way of repeating itself.