Luckin Coffee was hailed as a success story last year when the Chinese startup debuted on Nasdaq. The company was a growth miracle: Founded in October 2017, it reached the coveted unicorn status in less than a year and went public in just 17 months. In China, Luckin was the only homegrown coffee chain to challenge the longstanding dominance of US giant Starbucks.
In hindsight, Luckin's success story was too good to be true. Investors can be blinded by the lure of rapid growth among Chinese startups, observers tell Tech in Asia. It eventually emerged that Luckin was operating on an unsustainable cash-burning business model and overstating its sales figures.
In China's hyper-competitive business culture, tech startups are pushed to expand with a "grow-at-all-cost" mindset. But when that drive is coupled with weak corporate governance, it can lead to trouble.
While doing deep due diligence is costly, it's an important step in evaluating speculative high-growth companies like Luckin. After all, the real victims when things blow up are retail investors who are vulnerable to risks rather than venture capital firms that can sell their stakes in a company much earlier to avoid losses.
Fall from grace
Investment due diligence firm Muddy Waters Research received an anonymous report in February alleging that Luckin Coffee's sales figures were exaggerated.
In early July, Luckin completed its independent internal probe into the sales fraud. It found that a group of employees began creating fake sales transactions in April 2019 – a month before the company made its Nasdaq debut. As a result, its 2019 numbers were inflated: revenue by US$300 million while its costs and expenses by US$190 million.
One of the ways the company cooked the books was by recording sales of vouchers that could be exchanged for cups of coffee. Some of these vouchers were purchased by individual accounts, but vouchers redeemable for tens of millions of cups of coffee were sold to companies linked to Lu, who was then co-founder and chairman of Luckin, according to a Wall Street Journal report that cited internal documents and public records.
Before the scandal, Luckin was the darling of capital markets. It opened more than a thousand stores within the first few months of its existence, setting up in office buildings, school campuses, and central commercial areas across major cities in China.
Lu was regarded as a serial entrepreneur who controlled two other public companies in China: Hong Kong-listed vehicle rental service Car Inc. and ride-hailing startup UCar, which was listed on The New Third Board.
Given these favorable odds, what could go wrong?
Plenty, apparently, if one heeded the warning signs.
Red flags
The company relied on cash-burning promotion tactics that turned out to be unsustainable in the long run.
It's no secret that the Luckin brand was built around giving out free drinks and discount vouchers. Relying heavily on promotions like "buy 10 and get 10 free" and price cuts that went as steep as 92%, Luckin was able to quickly build a large pool of users.
Known as "fission marketing," this strategy focuses on building up internet traffic through attractive promotional deals and rewards to encourage consumption and new referrals. Luckin chief marketing officer Yang Fei calls it a key "growth hacking technique," one that was also used by UCar. Yang favors this approach so much that he even published a book in Chinese about it.
In 2015, Yang was sentenced to 18 months in jail for violating Chinese advertising law at iWOM, a marketing startup he co-founded. Soon after his release, Yang was named the CMO of UCar.
Luckin was doing whatever it could to achieve fast growth. The company revealed that it burned through US$150 million dollars in the first six months of operations. A big chunk of that money went to paying for vouchers of free or discounted drinks while another part went into offline expansion.
In less than three years, the Xiamen-based chain claimed to have opened 4,500 operational coffee shops – or more than four stores in one day.
The reason these types of fraud occur is that trust is built on the back of friendly relationships.
To support these cash-burning efforts, Luckin needed to swiftly get investments. Prior to going public, the startup – then in its third year – raised US$550 million from four funding rounds and secured another US$645 million from the IPO.
Leading up to the IPO, Luckin was involved in transactions including an enormous margin loan taken out by Lu, according to Matthew Graham, CEO of fintech investment firm Sino Global Capital. Margin loans allow you to borrow money to invest in approved shares or managed funds. Transactions like this tend to be a significant red flag, especially in conjunction with an IPO in the US. Relative to the size of Lu's holdings as Luckin's then-chairman, the loan amount was sizable. This didn't seem like the behavior of someone who believes in the company's long-term prospects.
On top of that, Luckin's business model and strategy didn't make sense and seem sustainable, notes Graham. Heavy discounting and "buying" customers wouldn't work if a company doesn't focus on keeping them once the discounts end. Luckin' extravagant marketing spending and user retention problems have drawn media attention before.
Graham also observed that around the neighborhood of his office building in West Beijing, where Luckin stores are densely distributed, none of the shops were working at or near capacity.
In a Twitter post last April, Graham wrote: "Luckin Coffee will collapse. I'm calling it. Three years tops."
Similarly, China Market Research Group (CMR) director Ben Cavender tells Tech in Asia that when his firm conducted store checks on Luckin for a client last year, it found that many of the products that Luckin had credited for its growth weren't big sellers or present at many locations. In fact, several shops didn't record any sales of non-coffee beverages or food items, despite the startup's claim that some of these products were major growth drivers, said Cavender.
The Luckin team, namely the recently ousted Charles Lu and a handful of top-level management staff, also set off warning bells, given that many of them were implicated in or removed from their roles because of the sales scandal.
Investors would have been wise to look closely at the startups that they previously ran as this likely would have led to increased scrutiny of Luckin's numbers and operating model.
UCar, for example, didn't have the best track record even before the Luckin fiasco. Though it employs aggressive pricing strategies, it remains unprofitable and has shriveling revenues.
Lu's career history should have also sounded the alarm. Before his big break with Car Inc, he founded UAA (Joint Automobile Club) in 2005, which provided car service, repairs, and insurance. With a business model largely inspired by US-based insurance firm AAA, the club received an initial investment from tech firm Lenovo.
Though UAA offered insurance products at prices below its competitors', they had limited coverage and the quality was poor. UAA simply couldn't compete with local providers in China and the club couldn't figure out a way to retain customers. Still, Lu squandered tens of millions of yuan on advertising and promotional efforts in Beijing alone.
UCar's finances were similarly unhealthy before Luckin's fraud even came to light, says Kuang Yuming, founder of Lens Company Research, an agency that focuses on Chinese public companies. Under Lu, the loss-making UCar spent US$614 million to acquire a controlling stake in embattled German automaker Borgward in early 2019. The company racked up hefty losses under its previous owner Foton. In the first eight months of 2018, Borgward lost around US$228 million after losing US$384 million in the year prior, according to information disclosed by Foton.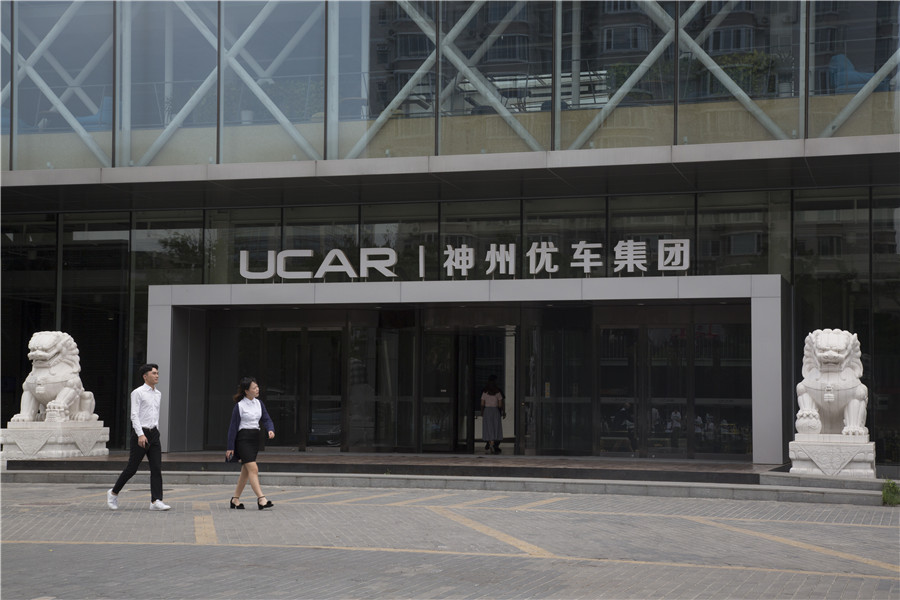 It was not a strategic move, but the deal helped Lu tell a more convincing story of success. UCar could have used this cash to bail itself out of the crisis instead, notes Kuang.
Founded in 2015, UCar is Car Inc.'s subsidiary-turned-parent. But while Car Inc. is currently profitable, UCar has been losing money. According to UCar's financial report for the first half of 2019, revenue dropped nearly 49% to US$273.71 million compared to the same period in the previous year, with a net loss of US$92.9 million.
A disintegrating business empire
On the surface, UCar and Luckin operate independently. But according to industry watchers, Lu treats these companies more as personal fiefdoms than corporate entities. This means that when one's in trouble, the others are likely to suffer from the fallout.
Car Inc. took a hit in April when its stock price tumbled 72% due to its ties with Luckin. During the same period, UCar suspended its shares for a month. The company is likely going to be delisted after missing the June 30 deadline for filing its annual financial report, which is required for all companies listed on the Nasdaq-like New Third Board.
Even though these entities are technically separate, the lines are blurred. For instance, an employee could be working on projects for Luckin and Car Inc. at the same time.
According to Chinese media, whenever Lu starts a venture, he often disproportionately allocates workforce and resources from existing entities into his new business, raising questions of conflicts of interest.
For example, when UCar acquired the Borgward brand in 2017, part of Luckin's marketing and sales team were relocated to support the new business, reported Chinese media.
Some business units were merged and relocated to Luckin in April, an employee who previously worked in platform infrastructure department at UCar tells Tech in Asia. Many of those who remained at UCar will likely be laid off, the person said. Another UCar employee confirmed this assessment.
The problem with lightning-fast growth
Luckin's billionaire founder is a distinctive and unapologetic character. In the first few months after the anonymous report was released, Lu was outspoken about believing in Luckin's business model and criticized Nasdaq's delisting notices, which were served in May and June.
In Chinese media, Lu is often compared with beleaguered Chinese tech tycoon Yueting Jia, founder of electric vehicle startup Faraday Future.
Both Lu and Jia came from nothing and aspired to be known in the business world. They're also persuasive talkers who can sell a good story.
Lu's companies follow a strategy that focuses on fast growth and IPOs. This sped-up process means investors have less time to do thorough due diligence.
There will be pressure to rush into deals that look promising without full due diligence.
Among his ventures, Car Inc. was Lu's first success. It went public after seven years, significantly longer than to UCar and Luckin, which took 18 months and 17 months, respectively, to do an IPO.
While there's nothing inherently wrong with a fast-growth approach, it tends to mask issues with the underlying fundamentals of a business, observes CMR's Cavender.
Graham of Sino Global Capital concurs, adding that though high growth isn't necessarily a cause for concern, investors should step up its efforts to know how the company is achieving this. "Unfortunately, with the large amount of private equity funding that is on the sidelines waiting for deals, there will be pressure to rush into deals that look promising without full due diligence," he says.
Lu's playbook often begins with jumping on the bandwagon of a hot trend. UCar, for example, rode the mobility and electric vehicle wave while Luckin adopted the new retail concept that has become popular in China in the past few years. However, there's a fine line between buying into the hype and creating a working business model based on a new technology or a novel idea.
The next phase is to raise multiple rounds quickly to finance its cash-burning expansion and user acquisition efforts. Joy Capital's Liu Erhai and Centurium Capital's Li Hui became important figures in all three businesses. And the end goal, of course, is for the companies to go public.
The corporate governance standards of Chinese businesses have long been questionable to the outside world. The opaque information sharing as well as lack of guidance from the Chinese government level are among the many reasons for this suspicion.
Another possible explanation to why Luckin was able to pull off the fraud is CEO duality, which refers to a situation where the company CEO and chairman roles are held by the same person. The chairman is the head of the board of directors, and the board is tasked with monitoring how the CEO runs the company.
CEO duality is common among companies that have grown rapidly and still retain the founding team in their roles. Pinduoduo was a case in point, until founder Huang Zheng resigned as CEO earlier this month.
While CEO duality can mean faster more efficient decision-making, it can also be an issue as it reduces the checks and balances needed to avoid giving top-level management excessive power. It can also erode corporate governance.
Lu and Qian, Luckin's former chairman and ex-CEO, have a close relationship. Qian worked with Lu for 13 years and served as UCar''s chief operating officer as well as the co-founder of Car Inc.
Insufficient checks
Luckin's fall from grace is no doubt dramatic, but it is not unique. Overstating figures to defraud investors is widespread in China, according to legal and investment experts.
Dan Harris, a lawyer at Harris Bricken, a firm that specializes in China investments, tells Tech in Asia in an email that it is common for Chinese companies to keep inaccurate books.
He points out that it's easy to assume that getting on a US exchange means certain minimum requirements have been met, according to Harris. However, many investors don't realize that the requirements for Chinese companies to list in the US have been relaxed. In contrast, there are certain exemptions to financial oversight that a US company wouldn't receive. This creates a potential regulatory gap in which there's minimal transparency, Harris says.
Due diligence is costly: It takes a lot of man hours by qualified professionals and may appear unnecessary when everything appears to be fine, explains Chris Devonshire-Ellis, chairman and founding partner of professional services firm Dezan Shira & Associates.
Any suggestion that "We don't need to spend this money" when discussing operational or other audits is almost certainly a sign that there's something fishy going on, he says.
"The reason these types of fraud occur is that trust is built on the back of friendly relationships, with personnel designated to conduct operational checks having their heads turned," adds Devonshire-Ellis. In fact, more cunning mainland Chinese often use this tactic on overseas Chinese, who are usually not trained to deal with the "deliberate ruse" that often involves banquets, drinking, invitations to premium events, gifts, and women, he says.
In theory, it should be easy to spot areas where red flags should have been raised during due diligence. But in practice, it's difficult to do when there are time constraints and when underwriters or investors are competing for lucrative investment opportunities or underwriting slots.
Sino Global Capital's Graham also thinks that sometimes, there's simply too much momentum and appetite for an investment that concerns are downplayed.
Then there's the irresistible appeal of China. Investors can get caught up in the growth story, particularly since Chinese tech IPOs have been so hyped up in recent years.
"This is especially true in a market like China where an interesting business model is likely to attract a lot of competitors. Investments into those competitors lead to a lot of cash burn but no profits," notes Cavender of CRM. The boom and bust of dockless bikes in the country illustrates his point.
That said, fraudulent companies are hardly unique to China, with Wirecard and Enron as examples.
The aftermath
As UCar as well as three other auto services controlled by Lu are struggling financially and undergoing internal restructuring, some employees are hoping to relocate to Luckin as they see a better future there.
But after a recent court ruling, Lu lost control of all his shares in the embattled coffee company.
In an attempt to do damage control, UCar agreed to sell a 17.1% stake in Car Inc. to private equity firm Warburg Pincus in two tranches for HK$1.12 billion in April, but the second part of the deal fell through.
In June, UCar agreed to sell all 21.26% shares in Car Inc. to Beijing Automotive Group. The move would help sever financial ties between Lu and Car Inc and save the company from suffering further from Luckin's troubles.
Despite attempts to distance himself from Luckin and Car Inc., Lu's influence still lingers. Guo Jinyi, Luckin's new CEO and chairman, served as Lu's assistant when he was chairman at Car Inc.
At this point, Kuang of Lens Company Research thinks that only one is for sure. "Lu has lost his control over Luckin, and it is only a matter of time before creditors demand Lu to liquidate all his shares in the UCar exit," he says.
Whether Luckin will survive this ordeal will depend on how it can negotiate and reach an agreement with investors, said Kuang. At present, the company is dealing with expensive investor compensation claims and facing class action lawsuits filed by investors.