As Southeast Asia's tech unicorns Grab and Gojek reach ever-higher valuations, investors have been looking to cash out.
Since last year, minor as well as early investors in these two firms have been trying to off-load their stakes, sometimes at deep discounts, multiple people keeping track of the private secondary market tell Tech in Asia.
Some exceptions aside, Gojek's shares tend to be priced at a larger discount on the valuation compared to Grab, according to our analysis of data from six sources who are privy to the secondary market.
While discounts on individual trades can be affected by perceptions of an organization's performance, that is by no means the only factor, observes a broker who deals in both companies' shares. He adds that Grab is known to keep a tight rein on its secondary share prices.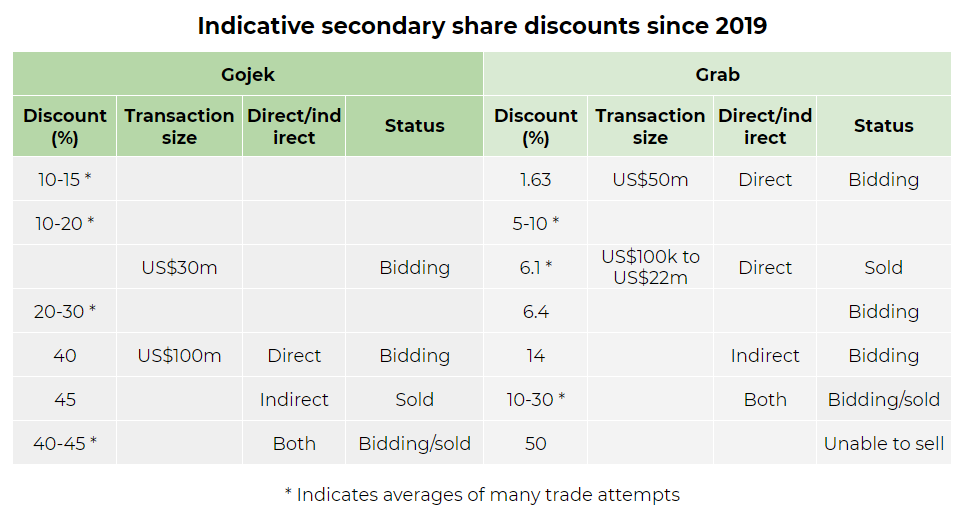 The trading activity is set to accelerate. Investors are feeling jittery as the global market sees its worst free fall since the 2008 global financial crisis. More sellers in the secondary market are now competing for a limited pool of buyers and driving down share prices, a source notes.
Now might be a good time for investors to sell at least a portion of their shares – Grab and Gojek are currently worth billions, which means early backers stand to make a lucrative return even at a big discount.
Not wavering
Gojek's most powerful shareholders, however, are standing their ground. "Nobody who's of any importance and holds any decent number of shares has sold or is looking to sell," says a prominent investor in the firm who wishes to remain unnamed.
Some of them have also reinvested in the company through its recently announced US$1.2 billion round, insiders close to the company say. One firm, which was an early backer of the super app, tells Tech in Asia that it hasn't sold its shares and isn't planning to.
Gojek's and Grab's biggest investors, of course, have a pragmatic reason to hold the equity: Because they came in at higher valuations, a discounted sale would be unattractive or even loss-making.
People familiar with Gojek are denying that there's been any secondary sale. But unlike a public stock exchange, it's impossible to have a full view on trades or prices on the private secondary market, where shares of pre-IPO companies are traded.
For example, a source says that a broker had received a request to sell a sizable US$100 million stake in Gojek – or about 1% of the company – at a steep 40% to 45% discount on its most recent valuation of US$9.5 billion.
Three people close to Gojek tell Tech in Asia that they've not heard about this event, but it's possible that the broker may not have floated the request to them yet.
On Grab's side of things, a seller had tried to offload his shares at 50% discount but did not succeed. We were unable to ascertain more details about this offer.
See: Grab and Gojek's investors visualized on an interactive network graph
Secondary share trades of private companies often command millions of US dollars and are restricted to companies' employees, high net worth individuals, and investment funds.
They're also usually done through brokers or nascent exchanges such as Singapore's Fundnel.
Because of these challenges, discounts are often used to entice buyers, "otherwise, they'll just come in at the new fundraise," notes a private equity executive who's opted to remain anonymous.
Cat and mouse game
The reality is that making a direct sale (selling shares on Grab's or Gojek's cap tables) at a steep discount is difficult.
These companies, which are far from distressed, can often block any new investor from joining their cap table through a right of first refusal. They're likely to push back on any trade that carries a heavy markdown, as it sends the wrong signal to the market.
But there's a way around it: an indirect sale. A few limited partners – investors in the funds or special purpose vehicles (SPVs) that have backed Gojek – have already sold their shares at a 45% discount, a source reveals. Meanwhile, Grab shares from an SPV are selling at a 14% discount, another person notes.
These types of transfers won't leave a trace on a company's cap table. Instead, these investors are trading shares in the funds that own a slice of the firms. Such trades are harder to track and block, although most buyers would still inform the company involved to avoid jeopardizing the relationship, a broker says.
"There's a chance they may get found out if they don't disclose," he adds.
Tech in Asia could not determine the identity of some of the sellers nor the number of shares they've sold or are looking to sell. Gojek's investors, speaking on condition of anonymity, admit that they have no visibility into those SPV trades.
A thick fog
The opacity of the private secondary market means exact benchmarks are hard to come by. But several rules of thumb apply: A final discount beyond 30% would be atypical, according to sources familiar with private secondary share sales.
Benjamin Twoon, the chief operating officer of Fundnel, says that discounts of 50% to 60% would apply to distressed assets like bankrupt firms, for example.
Meanwhile, discounts of up to 40% can become common in an economic downturn, a broker says.
But a company's share price should be interpreted with care, as a deep discount may also have nothing to do with the state of an organization.
The discount may start out high but drop later on if an offer sees stronger-than-expected demand.
Gojek is looking to change the narrative and boost employee morale after months of uncertainty, which may have reflected in its secondary share prices. It faced a difficult regional expansion, the resignation of its founder-CEO, and rumors of a potential merger, which it denied.
The super app recently announced a US$1.2 billion cash infusion in its still-open series F round, which may kick-start new attempts by investors to sell shares from the decacorn.
A Gojek spokesperson has declined to comment on "rumors and speculation." Grab declined to comment as well.
While now might be a good time for some investors to unload their shares, recent news like WeWork's botched IPO and the Covid-19 outbreak could make that tougher.
Fundnel's Twoon says that he saw an even mix of buyers and sellers in the market last year. That's changed, as more sellers have entered, bringing the ratio to around 8:2 today, he says.
The increase in sellers and discounts may have something to do with how companies are being forced to postpone their public listings.
According to a source, a Gojek investor has been trying to unload US$30 million worth of shares since the end of last year with no luck.
See: Gojek says transport business has been profitable, denies layoffs
The plummeting share prices are good news for buyers, though. While investors are more reluctant to fund early-stage startups, buyers are prowling for good deals with mature firms, a broker says.
Grab and Gojek shares are hot commodities at the right price, though one source says Grab shares are seeing more buyers and sellers. Nonetheless, investors tell Tech in Asia that they would immediately snap up Gojek shares at a 40% to 45% discount.
One buyer believes that the archrivals are solving real problems in the region and are worthy companies to back – a person acquiring Grab's or Gojek's shares at half price could still yield a good return even if they sell at 30% off.
"If you put US$100 million in the bank, there's no way you can get a 20% return," the buyer reasons.