Imagine this: You are an early employee of a startup like Grab or Traveloka who joined the company with a stock options plan. Years later, the startup has entered decacorn territory, now worth over US$10 billion. But until the company lists on a public stock exchange or gets acquired, there are limited avenues for you to cash out.
As companies choose to stay private for longer, the wait time for founders, former and current executives, early institutional investors to get returns on their investments have also increased.
An initial public offering (IPO) opens up a much-needed liquidity channel for both existing investors as well as new ones, but it's a costly and time-consuming endeavor. At the same time, the abundance of venture capital and private equity funds are delaying the need for companies to list in order to obtain growth capital.
Private exchanges, which allow the trading of securities for non-listed companies, helps investors and other stakeholders to realize paper gains ahead of potential IPOs.
It's a relatively new phenomenon in Asia but has been around in the US since 2003, when the Nasdaq set up its own private secondary exchange with the aim of providing liquidity and financing to companies at earlier stages of their life cycles. Since then, the Nasdaq Private Market has provided secondary liquidity worth over US$23 billion for over 33,000 stakeholders.
Closer to home, we're seeing a similar trend. 1Exchange, Singapore's first regulated private securities exchange, launched in 2018 and counts the Singapore Exchange (SGX) as a strategic investor and shareholder.
"We wanted to create a private exchange which would allow private growth companies to remain private yet enjoy the benefits of listing, which is liquidity and global investment outreach," 1Exchange CEO Choo Haiping tells Tech in Asia. For SGX, which attracted 11 out of the 126 IPOs in Southeast Asia last year, it was a tactical choice.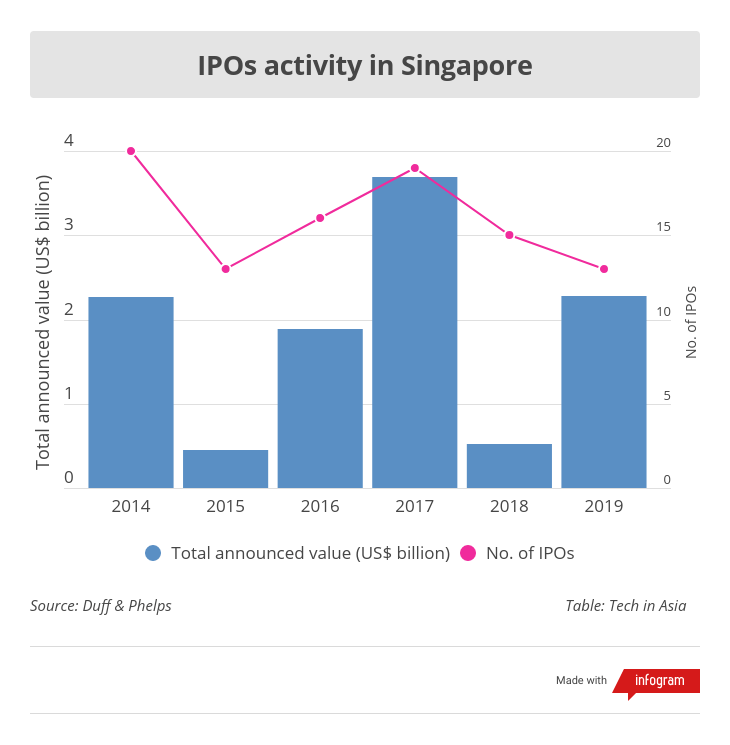 Avoiding a 'painful' IPO process
Becoming a public-listed company has long been regarded as the pinnacle of a business' growth journey. For many entrepreneurs, it's validation of years of hard work.
But the premium that these firms are placing on a public listing is changing as other viable sources of funding sprout up.
"When you do an IPO, you have to create a prospectus, hire investment bankers, lawyers, auditors, and so forth," says 1Exchange's Choo. "You could raise US$5 million to US$10 million, but your fees could range from US$1 million to US$2 million." For small and medium-sized enterprises (SMEs) or growth startups, this is a huge portion of their fundraise – roughly 10% to 20% – he says.
Private equity is increasingly attractive as an asset class. Over four-fifths of family offices invest in private equity, and on average, 19% of their portfolios are allocated to the asset class, according to a UBS report. Last year, private markets fared the best of all asset classes for family offices globally, with Asia Pacific's performance of 19% outstripping the global average of 16%, according to the report.
As investors become more sophisticated, they are increasingly inclined to invest in companies through direct approaches, which can save them up to 2% on platform management fees a year, Daniel Lin, CEO of crowdfunding platform FundedHere tells Tech in Asia.
One of FundedHere's products targets small listed companies (valued between S$20 million to S$50 million) on SGX's Catalist board – the exchange's second board. Lin says FundedHere can help companies raise sums of S$1.5 million to S$3 million (US$1 to US$2.1 million) within 30 days. The platform syndicates accredited investors and facilitates their subscription to plain vanilla private bonds.
Alternative investment platforms
Fundnel, a private investment platform based in Singapore, is one of the three founding members of an upcoming private exchange – Hg Exchange. Currently pending regulatory approval from the Monetary Authority of Singapore, the entity is expected to launch later this year.
Terms of the exchange, such as its listing requirements, will be jointly determined with its two other founding companies, stock brokerage and financial advisory firm PhilipCapital and investment management firm Prime Partners.
Hg Exchange is a member-only platform – a model that will optimize the liquidity and quality of its listings, says Benjamin Twoon, Fundnel's chief operating officer.
"It's member-owned, member-driven," Twoon says. "If you were a corporate finance firm looking to list one of your clients, you would gravitate toward bringing companies [to list] on this exchange because you own a stake."
Being a blockchain-driven platform, Hg Exchange also touts time and cost efficiencies. "Everytime there is a listing, a set of tokens will be issued, which will represent correspondingly to an equity ownership," Twoon explains. With a digital custodian, trades would not need to go through a central depository for clearing and settlement, reducing overall fees.
Fundnel's own platform offers unlisted securities in growth and pre-IPO stage firms as well as secondary shares. The firm offers a mix of hybrid products, ranging from pseudo debt-equity products, convertible bonds, mezzanine-type financing, to equity funding solutions for SMEs.
The company has facilitated two secondary transactions for Grab so far, and says it's seeing high investor demand for secondary shares in the ride-hailing company, Ant Financial, ByteDance and Impossible Foods. It completed US$20 million in secondary deals last year. Alternative foods and green technology segments as well as companies that are already making a profit are also leading in terms of investor interest, according to Fundnel.
Its big-data-driven software accelerates the fundraising process to two months by automating the due diligence process. In contrast, the traditional IPO process can take up to 12 months and is "more data than tech," says Twoon, who has a background in corporate finance.
Upon completion, Fundnel charges its clients an average "success" fee of 2% of the amount raised, a fraction of the 10% to 20% in fees an IPO would entail.
Since its inception in 2015, Fundnel has completed 41 transactions, with the total value of deals launched exceeding US$1 billion. Companies who have successfully raised capital via the platform include Vickers Venture Partners, Dymon Asia Ventures, and SpaceX.
Springboard to an IPO
In 2019, Southeast Asia's exchanges hosted 126 IPOs, raising a collective US$8 billion in proceeds, according to data from Dealogic and Ernst & Young.
| | | |
| --- | --- | --- |
| Country | Number of IPOs | Proceeds raised (in US$) |
| Indonesia | 54 | 1.1 billion |
| Malaysia | 29 | 0.5 billion |
| Thailand | 27 | 3.3 billion |
| Singapore | 11 | 2.8 billion |
| Philippines | 4 | 0.4 billion |
Southeast Asia lPO listings in 2019 / Source: Ernst & Young, Dealogic
While Singapore ranked fifth globally as an IPO destination among foreign companies last year and is a popular listing choice for real estate investment trusts (REITs), SGX has long struggled to attract tech listings. In 2017, homegrown companies Razer and Sea listed on the Hong Kong Stock Exchange and New York Stock Exchange, respectively.
"There's a strong correlation between size and liquidity, and it has to do with the number of shareholders," FundedHere's Lin says. A general difficulty for many listed companies below a valuation of S$100 million is that they either "don't have many shareholders to begin with or controlling shareholders own a significant amount of shares – ranging from 30% to 70%," he explains.
1Exchange's first and only private listing to date, Aggregate Asset Management, went live in July 2019, with S$5.6 million (US$4 million) worth of tradable equities.
"In the first three months of [Aggregate's] trading, about S$400,000 to S$500,000 (US$283,000 to US$354,000) was traded," Choo notes, adding that it has done "pretty well." A second listing is expected to close by next quarter, subject to macroeconomic conditions.
For SGX, despite perceptions of low liquidity at the exchange, its global head of equity capital markets, Mohamed Nasser Ismail contends that it has "sufficient liquidity" in areas where there is investor interest.
"There are sectors that are showing good growth – areas like REITs, healthcare sector, certain consumer verticals, tech – they are doing well and garnering investor interest," Ismail tells Tech in Asia.
One example is precision engineering company Grand Ventures Technology, which listed on the SGX's Catalist board in January 2019. "It came in at a valuation of 13x PE (price-to-equity ratio). Today, it is trading at 20x PE," he adds.
SGX's stake in 1Exchange was no accident. "Having a platform like 1Exchange positions SGX, as well as Singapore, as a go-to capital market in the region," Ismail says.
While the hope is to improve the chances of companies performing well once they transition from the private to public market, SGX says it does not mandate that companies on 1Exchange eventually list on SGX.
"We see the platforms as being complementary and serving different needs for different periods of growth for every company," Ismail says. "It enables us to work with companies to prepare them to meet the rigor of the public market. That process is important to improve the chances of companies performing well once they transition from private to public market."
He adds that as companies mature, they will inevitably need to enter the public domain. "A listing is not only about [raising] money, it's also about achieving a level of transparency, access to retail investors, governance, risk management, internal control, running an organization in a sustainable way, and growing it in a responsible and transparent manner," Ismail notes.
Currency converted from SGD TO USD: S$1 = US$0.71