This story is a joint effort by Stefanie Yeo, Nicole Jao, Willis Wee, Maria Li, and Terence Lee.
The best startup ideas often sound stupid. Even Y Combinator founder Paul Graham was wrong about Facebook. "One of my most valuable memories is how lame Facebook sounded to me when I first heard about it. A site for college students to waste time? It seemed the perfect bad idea," he recalled in a post.
A powerbank rental service probably belongs in that category: It's either a brilliant or foolish idea. For a while, people were heaping scorn on it, with a son of a Chinese billionaire even promising to eat poop if the idea ever took off.
He's since deleted the social media post where he made that declaration, and it's a good thing he did. The shared powerbank sector in China is now a US$1.1 billion market, and the devices have become commonplace in malls and restaurants all over the country. Even Meituan-Dianping, which bowed out of the space some years ago, is jumping back in.
But will this be a lucrative opportunity in Southeast Asia as well? Does it make sense from a financial standpoint?
In this report, Tech in Asia explores in detail the pain point that the model is solving as well as its unit economics and market opportunity. We believe there's more to it than meets the eye.
Why do shared powerbanks matter?
We can all relate to the problem of having our smartphones run out of juice. To prevent this from happening, we carry around powerbanks, cables, and wall chargers – sometimes all at once – to ensure that we're never caught unawares.
That being said, poor battery life is still a reality because batteries have not changed much since the days of the Nokia 3310, which was launched in 2000. Even as our phones have gotten smarter and faster, what powers them has remained largely the same.
Lithium-ion batteries, which are rechargeable and typically used in consumer electronics, will continue to power most of our devices. Mahdokht Shaibani, a research fellow at the Monash University's Department of Mechanical and Aerospace Engineering, believes that in the next five to 10 years, "we will continue seeing lithium-ion batteries in portable electronics such as smartphones."
Shaibani is just one of the many researchers looking to unearth the next stage of battery tech. But even though there has been a lot of work done in the field, it's unlikely that a huge breakthrough will come to the market in the near future. And with the advent of 5G networks, which consume more power than 4G, any advancements on battery life could be canceled out, anyway.
As such, we probably won't be leaving the powerbanks and charging cables at home anytime soon.
On the surface, shared powerbanks don't make sense – after all, the devices are relatively inexpensive, and you likely have several lying around at home already.
But with the sharing model, people don't have to worry about charging their powerbanks and carrying them around – they can just pick one up from a charging station whenever the need arises and drop them off at another station when they're done with it.
"Every week, I probably use it three or four times," an MBA student in Shanghai tells Tech in Asia. Powerbank-sharing is "miraculously convenient and easy to use" in China, he continues.
Rise of shared powerbanks in China
Shared powerbanks started popping up in China in 2016, riding the wave of the sharing economy boom. With the rush of funding for startups in the space, charging stations became ubiquitous in busy commercial and business areas.
At the height of the trend in 2017, Chinese media reported that venture capital firms poured an estimated US$170 million into powerbank-sharing businesses within a 40-day period.
Starting from recreational and food and beverage (F&B) establishments, including restaurants, movie theaters, and karaoke bars, powerbank-sharing quickly expanded into public spaces like train stations and airports across China.
However, stiff competition in the market triggered a price war, which subsequently shifted the landscape. Smaller operators pulled out, leaving only four surviving players: Monster Energy, Xiaodian, Jiedian, and Laidian.
After that, the powerbank-sharing hype in China ebbed and growth slowed. Still, according to a report by Trustdata in 2019, there are now more than 2 million high-frequency users who rent a powerbank at least once a week on average.
And there is still room for growth. Transaction volumes are estimated to reach US$2.1 billion in 2020, up from US$1.1 billion in 2019. Similarly, the sector's user base is projected to reach 408 million, up from 305 million in 2019.
Recently, the industry has once again attracted the attention of Chinese tech giants like Meituan, which announced its reentry into the space in August last year. The food delivery platform forayed into powerbank sharing in 2017 but decided to pull out after less than three months, citing a "lack of synergy with other businesses."
User experience
In China, the entire user flow – from signing up for and using a shared powerbank – is seamless and can be completed within apps like Alipay or WeChat.
Users, however, need to have a valid Chinese mobile phone number in order to sign up.
Lightweight versions of powerbank-sharing apps (or mini programs) are also available inside Alipay and WeChat.
With the two apps, users can top up their powerbank account and pay for deposits – usually US$15 – which are required by some operators. Such payments can be a hassle as each competing brand would require a separate deposit.
However, operators have begun to waive these fees as long as users meet a certain credit score on Alipay or WeChat Pay's credit scoring systems. This was a key driver of growth, according to industry watchers.
Despite forgoing deposits, a report shows that only less than 1% of users fail to return the devices they rent.
Powerbanks in China are typically free to use for the first 30 minutes, with charges of around 1 yuan to 3 yuan (US$0.14 to US$0.42) for every subsequent hour after that. Areas with high traffic, though, often command higher fees.
But regardless of the convenience that the service offers, there are still plenty of challenges for consumers.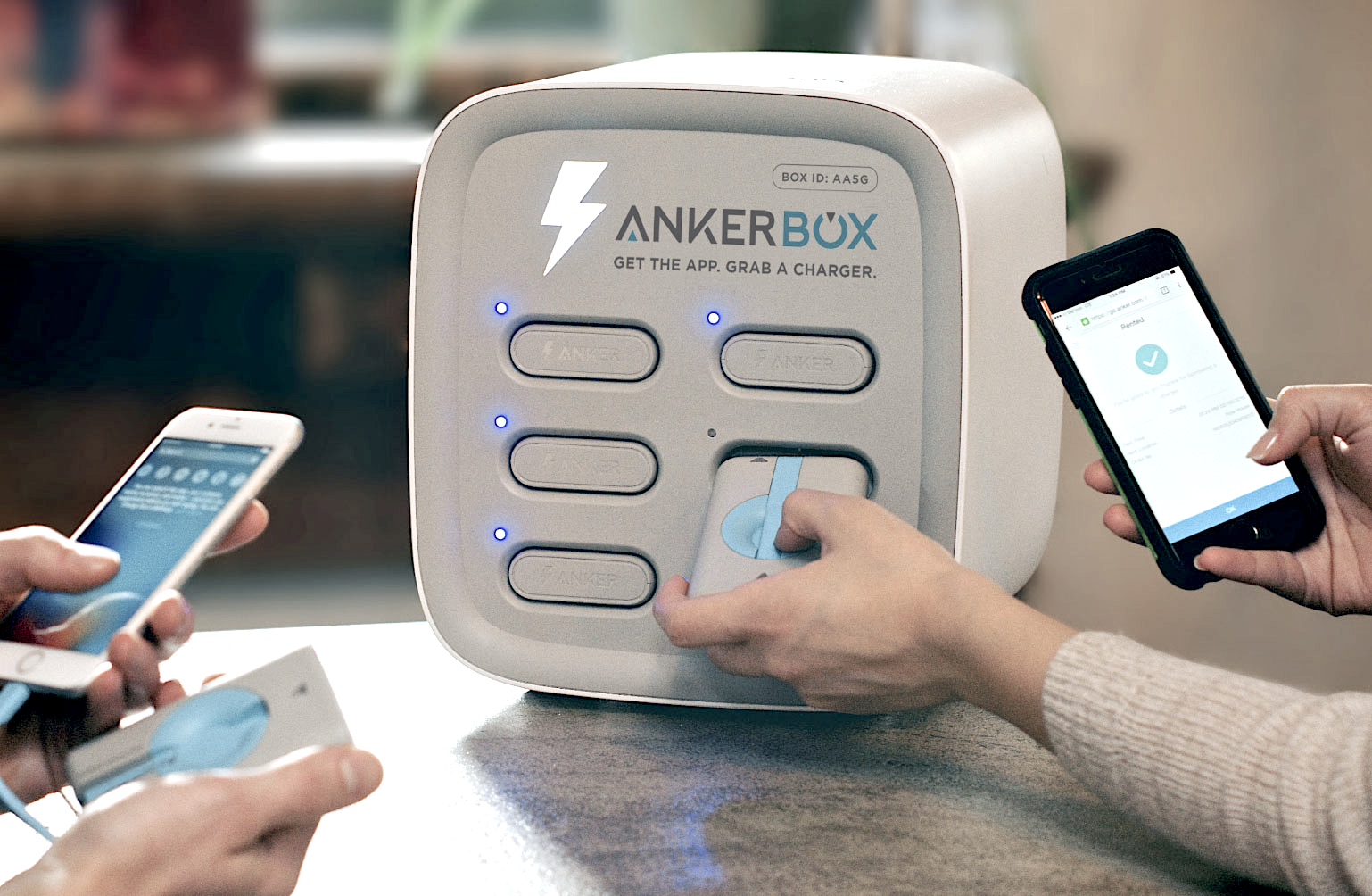 A Beijing-based developer who works in the tech industry says he's a heavy powerbank user and usually rents the portable devices from malls close to his workplace. He notes, however, that insufficient coverage and deployment of charging stations is an issue. "There was one time when I needed to return the powerbank, and every slot on the charging station I rented from was in use. By the time the mall was closing, I still couldn't find a slot."
Despite this, powerbank-sharing has reached over 50% penetration in places like restaurants, shopping malls, train stations, and airports in China.
On another occasion, the same developer says he had rented a powerbank before going to a movie with some friends. After exiting the cinema, he found that the entire mall was closed – including the powerbank charging station.
Similar frustrations include charging stations located in hard-to-find locations. "Once, I was at a shopping center and I ended up wasting a lot of time trying to find the charging station operated by the platform I rented from," said a user, "It can be quite frustrating."
How they make money
At present, powerbank-sharing platforms get around 97.2% of their revenue from the rental fees collected from consumers, according to an analysis by consumer insights firm iResearch.
Though operators have been seeking other sources of revenue, such as ads, the business is still nascent.
Powerbank-sharing companies in China currently use a mixture of three approaches: the direct sales model, the service provider model, and the franchise model.
IResearch adds that of the four largest powerbank-sharing platforms in China, the direct sales model accounts for the largest portion of income from rental fees (72%). The service provider model and the franchise model account for 19.3% and 8.7%, respectively.
Powerbank sharing in the rest of Asia
By addressing a universal problem, powerbank sharing has expanded beyond China's borders. Here's a look at the key players in other markets:
Regardless of its presence in many cities, the service is still nascent and relatively unknown outside of China – especially in Southeast Asia.
"No one knows about it, just like ride-hailing a few years back," explains Dylan Wong, CEO of powerbank rental firm Rush. In his view, educating consumers in the region about the existence of the service and how to use it is the first step businesses need to take.
The friction in the sign-up process is also a major hurdle. Unlike China, where the ubiquity of WeChat and Alipay and their associated credit scoring systems streamline the registration process, onboarding users is much more troublesome in areas like Southeast Asia.
There are no centralized credit scoring databases in the region, which means users need to pay deposits first before accessing the service.
Furthermore, China's powerbank-sharing companies benefit from the ease of cashless payment options like WeChat Pay and AliPay. Meanwhile, Southeast Asia has a large unbanked population, and e-wallet usage is still in the early stages – another barrier to powerbank sharing taking off in the region.
User response to powerbank sharing in Southeast Asia has so far been mixed. Common complaints, as seen via app store reviews, include gripes about the app not registering a returned powerbank, getting faulty devices, and charging stations not being reflected accurately on in-app maps.
Unit economics
Tech in Asia tested the financial fundamentals of the shared powerbank business model using data from Chinese industry reports and our own analysis and fine-tuned our calculations based on feedback from operators. To simplify things, we've assumed each powerbank rental is for one hour.
Cost
On a per unit basis, there are two primary cost categories associated with operating a shared powerbank business:
Hardware and logistics (60%)

– This involves the cost of procuring the actual powerbanks and getting them to the final in-store location across Southeast Asia. We've included end-to-end expenses, allocating 20% for replacement and maintenance and 15% toward disposal fees for units that have become unusable (considering we're dealing with lithium-ion batteries, and there are likely to be regulations around their disposal).

Merchants and selling (40%)

– These are the operational expenses associated with running the business like the cost of renting merchant locations, business development fees to acquire new merchants, marketing expenditure for new users, and payment gateway fees.
We have explicitly excluded the cost of development and maintenance for the app itself. This is based on the assumption that the platform scales regardless of the number of powerbank units in the network and thus wouldn't contribute to a company's unit economics.
Revenue
This assumes a no-deposit model with an average US$0.30 per hour charging fee.
Break-even point
In order for a company to achieve break-even point in its first year of operations, each of its powerbanks would have to be rented out for 302 hours.
However, since most of the expenditures are absorbed at the beginning, the break-even point would be lower in subsequent years.
Considering most powerbanks advertise a lifetime of 500 cycles, the unit economics indicate that a profitable business model is possible.
Unit economics breakdown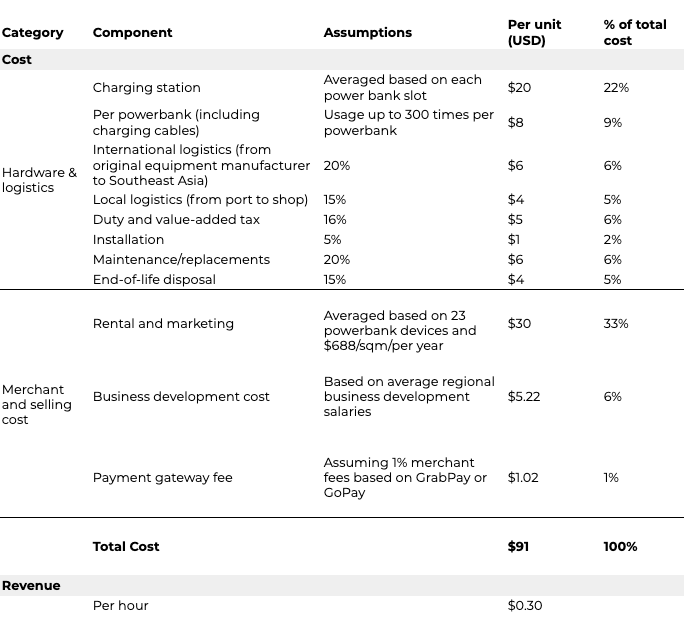 To test our assumptions, we ran a few other scenarios:
Rental space costs:

Just like Meituan in China, a powerbank operator can significantly reduce costs if they're able to negotiate free or reduced rental space charges from merchants in exchange for certain perks. Assuming a 75% reduction in the rental and marketing costs, this delivers a 25% improvement in the break-even point.

Payment gateway:

In the base case, we've assumed a 1% payment gateway fee, presuming that the company uses a local e-wallet such as GrabPay or GoPay. While these options are affordable, integration on the software backend remains a challenge. If a powerbank rental firm were to instead go with Stripe as their gateway, a microtransaction cost would be a lot higher (averaging US$0.10 per transaction + a 5% variable fee). With only US$0.30 revenue per hour, the payment gateway costs would eat into the unit economics, leaving razor-thin margins.

Supply chain:

Given that this is such an asset-heavy business, running a clean and efficient supply chain will be critical to success. Holding all else equal, if any operator could improve their supply chain costs by 10%, then they would see a 6.6% cost reduction at the unit economics level.
Unit economics: Scenario analyses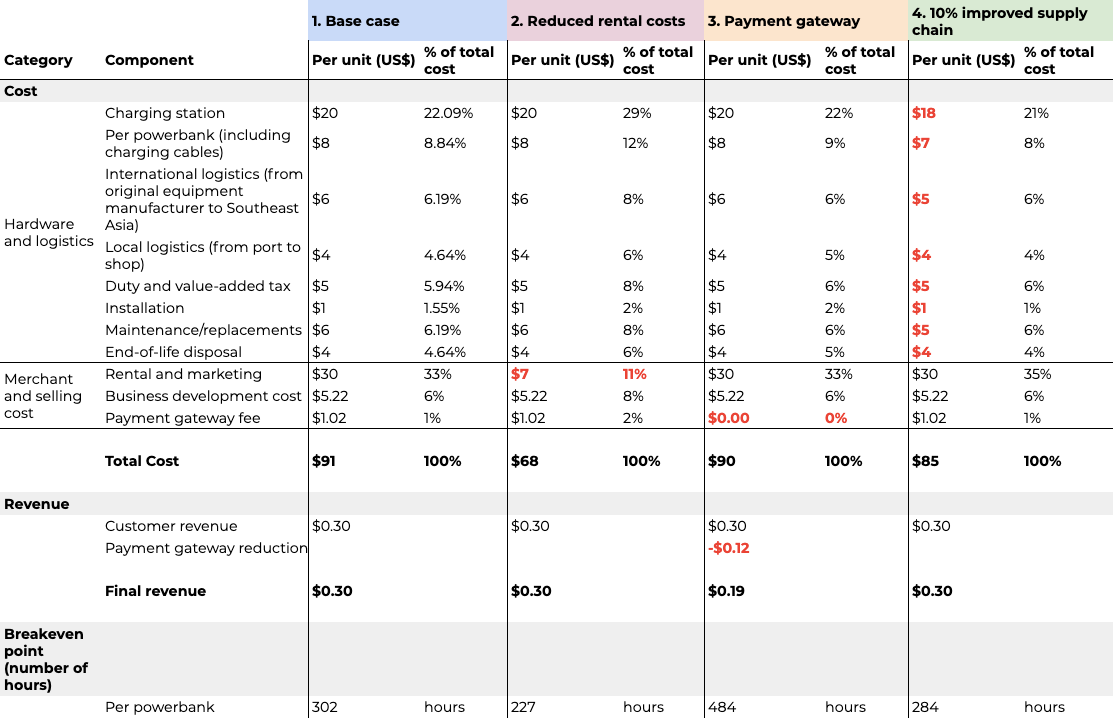 Market opportunity
Supposing that shared powerbank startups achieve 100% penetration – which essentially means there are charging stations installed in all possible point-of-sales (POS) channels – Southeast Asia would represent a US$658 million total addressable market. Here's the total possible number of charging stations and powerbanks in circulation across Southeast Asia:
The table below summarizes the total addressable market (TAM):
In reality, it is impossible for shared powerbanks to hit full market penetration. So to understand what's realistic in Southeast Asia, we took a look at China's well-documented powerbank industry.
We believe the biggest driver for growth is capital, as it helps catalyze the industry's network effects. For China to hit 29.14% user penetration, it took four years and US$363 million in venture capital funding. If Southeast Asia wants to achieve the same results, it would require US$170 million in funding.
That said, raising US$170 million is a tall order in this region. Instead, we'll assume that the combined capital raise for Southeast Asia's powerbank startups will hit US$50 million, giving a lever ratio computation of US$50 million / US$170 million. A lever ratio of 1 means that Southeast Asia will raise US$170 million and hit 29% penetration rate in four years.
How we calculated market opportunity:
We worked backward to calculate the linear growth of powerbanks in circulation in each POS channel. In malls, for example, China hit 60% penetration in four years, so for Southeast Asia, the best result in the same timeframe is 273,600 x 60%. That's 164,160 powerbanks in circulation across the region.
Assuming linear growth, Southeast Asia would add 41,040 powerbanks in malls each year. We repeated the first two steps for all POS channels.
The more capital the sector raises overall, the faster the growth. It took US$363 million of venture funding to achieve 29.14% user penetration in China, so if we prorate that to Southeast Asia's population, it would take around US$170 million to achieve the same result. Realistically, if the total fundraise for the region's shared powerbank startups in four years is US$50 million, then the growth in user penetration would be reduced by (1 – 50/170) = 0.706 or 70.5%.
Challenges
The challenges associated with scaling a powerbank business in Southeast Asia are numerous, especially in comparison with China's experience.
Lack of a mature digital payments ecosystem
A critical factor that led to the rise of shared powerbanks in China was the ease of access to a unified and digitized financial system. This drove market adoption in three ways:
Chinese players could piggyback their efforts off fairly sophisticated fintech platforms like Ant Financial, which created a private credit scoring system called Sesame Credit. This gave powerbank operators a quick and easy way to assess their borrowers credit score and remove the need for deposits.
Digital transactions are increasingly the norm in China, and powerbank rental firms often allow users to pay via Alipay, WeChat Pay, and other e-wallets. This removes the friction stemming from having consumers key in user details and credit cards information into their apps.
Perhaps the most important difference is that the average Chinese user now relies on their smartphone and e-wallets for their daily transactions. Few people in China use cash or credit cards, and this very user behavior increases the demand for shared powerbanks. After all, running out of battery becomes a serious issue when it means you can't pay for your daily transactions.
In contrast, the digital payment ecosystem in Southeast Asia is still nascent. This makes user acquisition for powerbank-sharing businesses tougher, as consumers have to pay either a deposit or verify their bank accounts first before using the service. It also means that the user behavior has yet to mature to the point where there is mass demand for such a product.
Another primary challenge: the fees associated with payment gateways. In China, most transactions on WeChat Pay and Alipay are free on the consumer side. On the merchant side, fees are around 0.6%.
"Transaction fees for [credit cards] in Southeast Asia is the biggest killer for small-transaction businesses like us," says Jiarong Foo, CEO of PowerNow Asia.
There are ways around these costly fees, however. According to Alexander Foo, chief technology officer at powerbank rental service Wattah, such payment gateway charges are the reason why a number of powerbank-sharing operators have a wallet function in their apps.
"Many powerbank companies have a top-up credits functionality to increase transaction value and reduce the number of transactions and cost to payment gateways," he explains. Such features allow users to top up in US$2, US$5, and US$10 denominations, for instance.
Asset-heavy model
Potential powerbank operators across Southeast Asia must be mindful of the operating costs of such an asset-heavy business. Additional logistics costs associated with shipping the hardware from China to the in-country port and the last-mile logistics from the port to the final in-store location can quickly add up. This is on top of charges like value-added taxes, customs, and duties for each country.
While regulations remain inconsistent across the region, it's also important to know proper disposal techniques for powerbanks at end-of-life because they use lithium-ion batteries, which degrade over time.
In the world of consumer electronics, servicing can be a headache to deal with as well. Technical maintenance teams will have to be able to quickly and efficiently cover densely populated areas to conduct various installation, repairs, replacement, and disposal processes in charging stations in the area. This also assumes that the technical team is fairly well-trained to repair electronic components on-site.
Operationally, most companies would have to manage two teams in the same territory – one on the merchant acquisition side and one for servicing and technical issues. This can drive up labor costs, even more so in cities such as Jakarta or Manila, where heavy traffic can limit mobility. As such, individuals can only cover a smaller territory. The saving grace is that Southeast Asian cities are denser than their Chinese counterparts in terms of population density.
Chinese powerbank operators were able to bypass some of these business model challenges because of some advantages. Certainly, the concentration of powerbank suppliers in Shenzhen and Guangdong have reduced a lot of logistical costs. The country's strong technical talent pool – thanks to years of electronics servicing even in tier 2 and tier 3 cities – was another major boon.
Existential threats
While most industry experts agree that there won't be a revolution in battery technology in the next four to six years, there is always a risk that the major smartphone suppliers will adjust how their phones are charged, forcing a mass hardware refresh from powerbank operators.
If Southeast Asia's powerbank market develops slowly and consumer adoption takes another two to three years to proliferate, it will leave a fairly small window for such startups to recoup spent capital and reach mass scale.
Furthermore, the impact of Covid-19 and the subsequent lockdowns have led to a cratering of demand, as far more people stay at home. As with many other in-person products and services, powerbank businesses are at the mercy of potential repeat shutdowns and a general lack of travelers.
The effects of Covid-19 may persist even after the pandemic ends, as consumers might become more resistant to sharing items with strangers. Powerbank operators may need to include more hygiene-focused processes into their operations, which will add to their costs.
Prospects
Despite such stumbling blocks, there are a few interesting industry trends at play that could create a rosy outlook for powerbank-sharing firms in Southeast Asia.
To achieve better margins, bundling powerbank rentals with other, higher-margin services could be a recipe for success. This approach, which Meituan used to full effect in China, could help reduce merchant or user acquisition costs by allowing cross-promotion with other products and services. It could also create a stickier platform and reduce merchant and user churn. All of this may result in better gross margins on a per unit basis.
Meituan-like companies such as Grab and Gojek, which have large F&B merchant networks, can benefit from this approach if they do choose to launch a shared powerbank service in the future.
Alternatively, having an effective and seamless supply chain and service model is another way to drastically cut costs. Whether this means streamlining shipment costs or reducing the fees associated with installation, maintenance, and disposal, any operator will have to run a clean supply chain in the long run to win with such thin margins.
There are two macro trends that might fuel the rise of shared powerbanks:
The rise of e-wallets:

As we saw in China, a fairly digital financial system – from credit scoring to payment to usage – has a massive impact on obtaining product-market fit.

The rise of 5G:

Industry specialists have indicated that they expect 5G to consume up to 2.5x the amount of battery than 4G phones. If this turns out to be true, there could be significant shifts in user demand
Prospects for success at this point vary country by country. Early operators such as PowerNow have found some success in Malaysia, which offers a WeChat Pay function in ringgit. The other markets we're keeping an eye on include:
Vietnam:

With a relatively strong local electronics capability, a healthy cross-border flow of electronic components with China, and a large domestic population, Vietnam can enjoy some of the relative competitive advantages seen in China. However, low e-wallet penetration and user education will provide continued headwinds.

Thailand and Indonesia:

Both countries have a huge population and heavy mobile usage. In Thailand, consumers can use messaging app Line to rent powerbanks. Meanwhile, the growing usage of e-wallets such as Ove, Dana, and GoPay in Indonesia might be able to bring the masses on board.

Singapore:

The city-state offers high e-wallet penetration, and its manageable territory size can reduce operating costs.
Billion-dollar opportunity
Going back to the original question, our research shows a TAM of US$658 million in the near term, so this might deter some investors and entrepreneurs who are seeking outsized returns – with a TAM in the billions of US dollars – from jumping in.
However, this TAM calculation is based on China's current revenue numbers, which though sufficiently large to attract giants like Meituan, still has room for significant growth. IResearch projects that the market will expand by 45% annually from 2020 to 2023.
To increase TAM, the market must grow powerbank usage rates and diversify revenue streams. Players in China make almost all their money from rentals right now, and efforts have only just begun to diversify into other income sources.
Ultimately, we believe Southeast Asia is a nascent market for shared powerbanks. But despite the challenging conditions, this model can be profitable as long as enough capital is invested to set up and maintain a city-wide network of charging stations, which ensures that users can pick up and drop off powerbanks conveniently.
From our analysis, this model won't have the same struggles as bike-sharing did. Shared powerbank networks will be less expensive to maintain, and powerbanks are not as prone to breakage as compared to a bicycle, according to iResearch data. Overall, the model looks to be less of a public nuisance, too.
Development trends in the region do seem to favor this business model: Smartphone and data usage are set to increase, digital payments and credit scoring systems are becoming more common, and a number of players have access to a sizable network of restaurants.
In our view, local powerbank startups are potentially attractive acquisitions or investment targets for larger tech companies looking to get into this space. Grab and Gojek, which share similar qualities with Meituan, come to mind here. However, Covid-19, which is hurting the retail sector and causing these companies to lay off staff and conserve cash, may delay their participation.
But there's also a window of opportunity: Life will go back to normal again, and there isn't a dominant shared powerbank service anywhere in Southeast Asia for now. A new or existing player could be rewarded by jumping back in just as economic activity picks up again.
---
We would like to thank Alexander Foo from Wattah, Dylan Wong from Rush, Jiarong Foo from PowerNow Asia, Jimmy Goh from Shareasy Inc, and Winston Koh from MobiJuce Singapore for contributing their insights to this analysis.