20 Jan 2021
Aditya Hadi Pratama
Despite a slowdown in fundraising across Asia, venture capital firms are betting on Indonesia's emerging social commerce platforms.
For the past four months, the industry has become one of the top-funded verticals in the country, after transportation, education, fintech, and ecommerce, according to Tech in Asia data.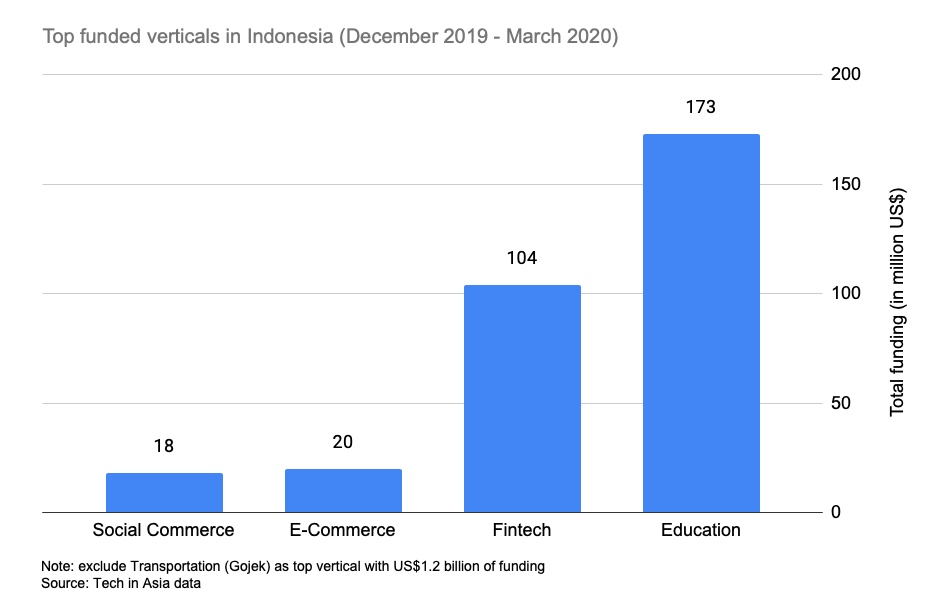 An offshoot of ecommerce, social commerce startups build a network of offline agents that promote and sell products to people in their communities. The business model was started in China by platforms like Pinduoduo and is just beginning to take off in Indonesia.
The sector is also seeing strong demand amid the Covid-19 pandemic as most stay at home and buy their daily necessities online.
| | |
| --- | --- |
| Venture capital | Social commerce portfolios |
| Sequoia Capital (Surge) | Chilibeli |
| Insignia Ventures Partners | RateS, Super |
| Lightspeed Venture Partners | Chilibeli |
| Alpha JWC Ventures | Evermos, RateS, Super |
| Arrive | Super |
| Jungle Ventures | Evermos |
According to Erika Dianasari, a partner at Alpha JWC Ventures, social commerce startups are addressing a need that traditional ecommerce sites like Tokopedia, Shopee, and Lazada have yet to fulfill.
"Ecommerce penetration in Indonesia is still low," says Dianasari. "That's why the opportunity for social commerce is very big." A recent Goldman Sachs report supports this statement, revealing that ecommerce penetration for physical goods is only 7% of the total retail market in the country.
Today, Alpha JWC Ventures has three social commerce startups under its belt. One has been working in the industry since the beginning, while the other two had different business models before switching into the space.
In the midst of the Covid-19 pandemic in Indonesia, social commerce startups have reported a spike in demand, especially for groceries and health-related goods such as face masks and antiseptic. Woobiz, which focuses on fashion, daily necessities, and mom and baby items, claims that its daily transactions have spiked fourfold.
"Products like supplements and sanitary care increased 5x compared to last month," says Putri Noor Shaqina, the co-founder of Woobiz.
As the outbreak continues to spread, people in the informal sector have found themselves out of a job which may work to the advantage of the industry as well.
"Acquiring agents through online channels is cheaper now because the conversion rate has increased. People are likely to adopt our platform to earn additional income," says Jake Goh, the CEO of membership-based social commerce platform RateS.
Despite the popularity of the business model and the good momentum it's gotten so far, startups in the space are still in their early stages. Most of these players only have a few thousands of agents and limited penetration compared to ecommerce firms, which typically have millions of users.
The total addressable market of the sector could reach US$200 billion, says Steven Wongsoredjo, the CEO of social commerce firm Super, which is backed by hip hop artist Jay-Z's VC firm.
Focus on specific products
To achieve significant growth – particularly against traditional ecommerce players – social commerce companies need to offer the right kinds of products.
Super, for example, focuses on the FMCG space, which is a high-volume business with low value per transaction. According to the CEO, this move can enable the company to process a large number of transactions in the beginning.
"We can optimize the profit after by cross-selling products that have a better margin," says Wongsoredjo.
Another social commerce startup, Chilibeli, sells fresh produce like vegetables and fruits, which are quite tricky to handle logistically. These goods are also sold in high volumes, as 20% of Indonesia's household expenditure goes into groceries, according to representatives from the company.
Other players center on items like fashion and personal care necessities from big retailers, which often offer better margins, or sell merchandise from small businesses that have more unique products.
With the massive size of the Indonesian market, Wongsoredjo predicts that there will ultimately be three to four types of social commerce firms that tackle different kinds of products, geographies, and users.
| | | |
| --- | --- | --- |
| Social commerce startup | Number of agents | Products |
| Chilibeli | 1,300 individuals and 600 stalls | Groceries |
| Evermos | 30,000 registered resellers | Fashion |
| Super | Thousands | FMCG |
| RateS | Tens of thousands | FMCG and baby products |
| Woobiz | 7,000 | Fashion and daily needs |
| Jamanow | N/A | Fashion and baby products |
| Kitabeli | N/A | Baby products and daily needs |
For players in the industry, Indonesia's vastly social population is a huge advantage, and it's a characteristic that may be even more prominent in rural areas, says Wongsoredjo, who claims that Super is the market leader in these localities in terms of number of agents and sales.
"If you go down to villages, you will see these people are often involved in so many organizations like arisan (social gatherings that revolve around finances), PKK (family welfare programs), and others. Digital literacy is not mature, and people have less trust to buy things online," he says.
The popularity of multilevel marketing businesses and pyramid selling is another aspect that points to the viability of the social selling model in the country, says Dianasari.
Social commerce startups operate almost the same way as these schemes but with only one layer of agents. Popular payments apps like Kudo and Payfazz also use an agent-based model.
A hybrid model
Most social commerce startups in the country use a reseller model, where end buyers can purchase products through agents. However, other companies like Super are trying a hybrid approach by pooling orders first before running transactions for some items.
"Part of [Super's] supply chain development is building small hubs in villages so agents can pick up products to sell to their communities," Wongsoredjo says. "We also have group buying with a minimum order to make sure we have the average order value that makes us profitable in every transaction."
While Indonesia's players aim to be like the social commerce firms in China such as Pinduoduo and Shihuituan, Dianasari says an exact copy of these companies may not happen in the country. For one, the infrastructure in Indonesia is not as advanced as China's – the country doesn't have chat apps like WeChat that can reach a massive audience while facilitating transactions at the same time – she says. Logistics and penetration to the end consumer is also a challenge.
However, Dianasari is optimistic about the growth of the business.
"Several years ago, we may not have predicted that e-wallets like GoPay can be used in food stalls, [but that is what happens today]," she says.