It's a grim situation for startups in Southeast Asia: Some companies are in danger of running out of cash as Covid-19 sours investor appetite and slows fundraising activities, founders and key executives tell Tech in Asia.
"Even in a worst-case scenario, Crayon Data will last through 2020," says Suresh Shankar, CEO of Singapore-based data analytics and AI startup Crayon Data. "Since we aim to balance our books by then, we should be OK. But it's not just us – the entire ecosystem needs a bit of luck, if we are to go further."
A survey conducted by SEA Founders, a nonprofit organization representing over 100 startup founders, shows that a majority of startups in the region are finding it difficult to reduce burn rate as their revenue has been hit by the pandemic. About 80% of startups around the region have been negatively affected by the outbreak, according to a recent Tech in Asia survey.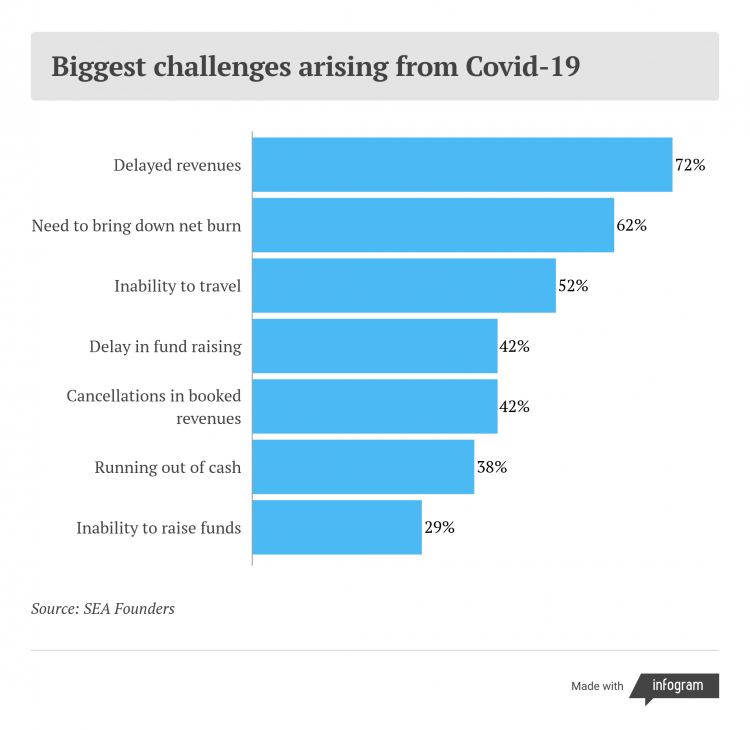 "Due to Covid-19 affecting the investment landscape, we need to lean towards a more conservative plan through which all of our business divisions will be self-sustained within the next six months," says Shieny Aprilia, chief marketing officer of Indonesia-based Agate. The video game developer has also taken a hit in revenue – an outcome made worse by delayed payments from its clients, who operate in negatively affected sectors, she says.
But the situation will only get worse before it gets better, with fundraising across Asia Pacific dropping 26% in February, following a 52% slump in January, according to data compiled by Tech in Asia.
Indeed, Silicon Valley venture capital firm Sequoia Capital urged its portfolio companies earlier this month to brace for the negative business impact of Covid-19, which it dubs "the black swan of 2020." It will take several quarters before the pandemic is contained, and it will take even longer for the global economy to recover, Sequoia said.
To make matters worse, the pandemic has also put a damper on all facets of fundraising – not only have ongoing funding rounds been delayed, some founders say they can't even get the ball rolling.
"Crayon Data will still grow through 2020, since we already have contracted coverage for about two-thirds of our revenue targets," according to Shankar.
As the company has received fundraising interest from investors, the CEO remains optimistic, but he is cautious as to when these will translate into an actual deal, and on what terms.
In the meantime, Crayon Data is implementing cost-cutting measures to extend its runway. "Our intent is to protect all jobs," Shankar says. "To make that possible, new hiring and investments are frozen. And we are implementing a principle of everyone collectively sharing in the burden, with senior management taking more of the pain of pay cuts."
Closing deals becomes considerably more difficult.
Eduardo Saverin-backed Perx Technologies, a customer engagement platform, is also feeling the pinch. "Our large enterprise pipeline is still considerably strong since we have purpose-built our platform to serve all industries," the company's CEO, Anna Gong, says. "During Covid-19, certain industries, like telcos, fintechs, gaming and supermarkets will be more resilient than others. Nonetheless, many of the corporates' operations have been severely compromised."
The obstacle comes as the startup is undergoing restructuring and adjustments to cope with the impact of the pandemic, which has affected the retail industry – one of its four target markets. "Closing deals becomes considerably more difficult, which in turn impacts our own quarterly projections and planning," says Gong. "With such delays, we have also reset revenue guidance and expectations just like all businesses around the world, large and small."
Glass half full
Not all is lost, however. Despite the prevailing uncertainties, it's clear that startups are optimistic, and many founders are eager to share their tips for survival.
Now is the time to optimize cash flow, says Lim Der Shing, founder of Singapore-based recruitment portal JobsCentral. "Make sure you have enough cash to last at least 18 months. If you don't, cut costs and drive revenue until you can," he advises.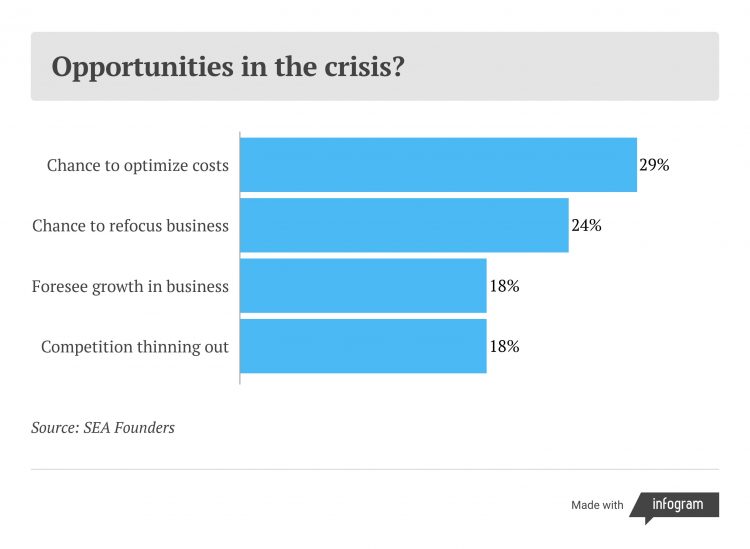 Some startups, on the other hand, are capitalizing on the situation. PouchNation, for one, is exploring speeding up its online product roadmap, CEO Ilya Kravtsov tells Tech in Asia. The event management startup is looking to diversify into digital concerts using online streaming technology as well.
Think creatively and challenge all assumptions.
"Now is the time to pivot," says Hian Goh, a partner at OpenSpace Ventures. "Think creatively and challenge all assumptions." Ultimately, it's the lack of innovation or "inaction" that could lead to a startup's demise, not Covid-19, he wrote on LinkedIn.
Perx Technologies' Gong agrees, "For most startups that focus on a niche product, they need to reevaluate their target markets as well as creatively position themselves by repackaging their offerings or a portion of the solution. Whatever playbook you had before, it will not be the one you're executing on in the next few months."
That's exactly what online talent recruitment startup Glints is planning to do. In light of the pandemic, the company is looking to expand into remote work and online education, which could speed up the adoption of its solutions by up to two years, says Glints CEO Oswald Yeo.
While Gong agrees that startups need to pivot and execute contingencies and continuity plans during these uncertain times, she points out that organizations also need to define how and when they will regain stability once the situation normalizes.
Now more than ever, it's important for startups to build rapport across the region, says Tomas Laboutka, founder of SEA Founders. The stress among managing teams only reinforces a "motivation to foster meaningful relationships," he says.
For Agate's Aprilia, on the other hand, startups must aim for profitability as fast as they can. "If you want to expand, make sure your core business is strong first, and then you can expand," she cautions.
At the end of the day, remaining positive could go a long way in these challenging times.
"Be calm, be paranoid, be opportunistic, all at the same time," says Crayon Data's Shankar. "There is always a move. Don't give up. Resilience is the key."
Note: This story has been updated with additional insights from founders and business leaders.