In the early 2000s, BBK Electronics Corporation was at the brink of falling apart as its mainstay audiovisual business dwindled. Under the leadership of founder Duan Yongping, the Chinese consumer electronics firm pivoted to smartphones.
This led BBK through a long, dramatic restructuring that resulted in the creation of Oppo and Vivo, which would become two of the world's best-selling smartphone brands a decade later.
While the two phonemakers now operate autonomously, their histories are closely intertwined with BBK and Duan is still widely regarded as the man behind their rise.
While Duan retired young 20 years ago at the age of 40, his influence and counsel has helped not just Oppo and Vivo but also other well-known Chinese tech companies such as ecommerce player Pinduoduo and internet firm NetEase.
An enigmatic group
Despite consistently being named as one of the largest smartphone manufacturers in the world, BBK likes to stay out of the spotlight.
Often referred to by the media as "China's Warren Buffett," Duan is even more mysterious than the electronics empire he has built.
Duan came from humble beginnings. He was born to a farming family in the 1960s in the Jiangxi province in southeast China. In 1978, Duan enrolled in Zhejiang University in Hangzhou, where he majored in wireless electronics engineering. He was among the first group of students in the country to graduate from the university after the Cultural Revolution.
After receiving a master's degree from Renmin University of China in Beijing, Duan went to work for a company called Zhongshan Yihua as the manager of a loss-making factory. The firm was known for making a knockoff version of Family Computer or Famicom, Nintendo's bestselling gaming console, in the '80s.
At a fourth of the original's price, Yihua's product was a runaway success, but Duan knew that it wasn't enough to get the company very far. So he rebranded it as an educational device that allows children and students to learn English. It also had a new name: Subor or Xiao Bawang, which translates to "little tyrant" in English.
The change worked. Duan made Subor appealing to both kids and parents, and it's still an iconic brand for Chinese born in the '80s and '90s.
By 1995, the product's sales hit 1 billion yuan (US$141 million) in a year. Before Duan joined Yihua, the factory was losing 2 million yuan per year. A key reason for his success was the emphasis on marketing. In the '90s, he gained a reputation for winning bids to air commercials on state-owned television channel CCTV during primetime, the most valuable and coveted ad slots at the time.
Duan was also the king of celebrity endorsements. Back then, dropping millions of dollars on an ad campaign wasn't commonplace for Chinese firms, but he went ahead and signed up showbiz legend Jackie Chan to promote Subor. Years later, he would recruit Hong Kong and Hollywood stars Jet Li, Stephen Chow, and Arnold Schwarzenegger to tout BBK's products.
While his career at Yihua was in full swing, Duan resigned after a public falling out with the company over his plan to spin off Subor and get a stake in the new venture was repeatedly rejected.
In 1998, Duan established BBK in Dongguan, an industrial city in China's Guangdong province. Six Yihua employees followed him, including Shen Wei and Tony Chen Mingyong, who went on to set up Vivo and Oppo, respectively.
At first, Duan had a 70% controlling interest in BBK, but he later adopted an employee share ownership structure. It was a progressive move in China at the time ,as it allowed staff and even distributors to get a piece of the company. The move diluted his stake to around 17%.
The idea of giving the workforce part ownership in his company was a seed that grew in Duan early on. At Yihua, he pushed to reform the shareholding structure because, according to Chinese media reports, he thought the company was paying him far less than what he deserved for Subor's success.
To this day, employees at BBK Electronics, Vivo, and Oppo hold a majority stake of over 60%.
Building a smartphone empire
In the beginning, BBK focused on three verticals: communication devices, audiovisual equipment, and education electronics.
In 1999, Duan spun them off into disparate business entities.
But not long after that, the audiovisual unit shuttered as China's DVD industry suffered after foreign tech firms like Sony and Panasonic slapped hefty royalty fees for their technology. In 2001, the three divisions jointly established Oppo, with audiovisual employees joining the newly formed company.
Three years later, former audiovisual head Chen bought the brand rights. In its early years, Oppo focused on DVD and MP3 player businesses and forayed into making LCD televisions.
On the other hand, Vivo was formed by the communications division head Shen in 2009. The first Vivo phone was released in 2011.
To the public, the relationship between BBK, Oppo, and Vivo is complicated, to say the least.
The three entities operate independently, but "there are some common investors," an Oppo spokesperson tells Tech in Asia. However, she declined to elaborate further.
"Publicly, Oppo and Vivo and their subsidiaries are independent of BBK Electronics," says Flora Tang, an analyst at Counterpoint Research. Tang explains that BBK is a shareholder of both companies, though exactly how much stake it holds is not publicly known. BBK was a major shareholder when Oppo and Vivo were established, but its stakes in both companies were likely reduced as other investors have come on board.
Though they're autonomous businesses, Vivo is a subsidiary while Oppo is a second-tier subsidiary financially controlled by BBK, according to industry expert Liu Yan. Every year, BBK still receives dividends from these two brands.
BBK holds influence in its subsidiaries in other ways. Staff and executives at Oppo and Vivo had spent years working for BBK. Liu Lei, who recently assumed the role of Oppo's president for global marketing, was among the employees who followed Chen from BBK.
BBK's DNA also runs deep in the veins of Oppo's offshoot brands Realme and OnePlus as well as Vivo sub-brand iQoo.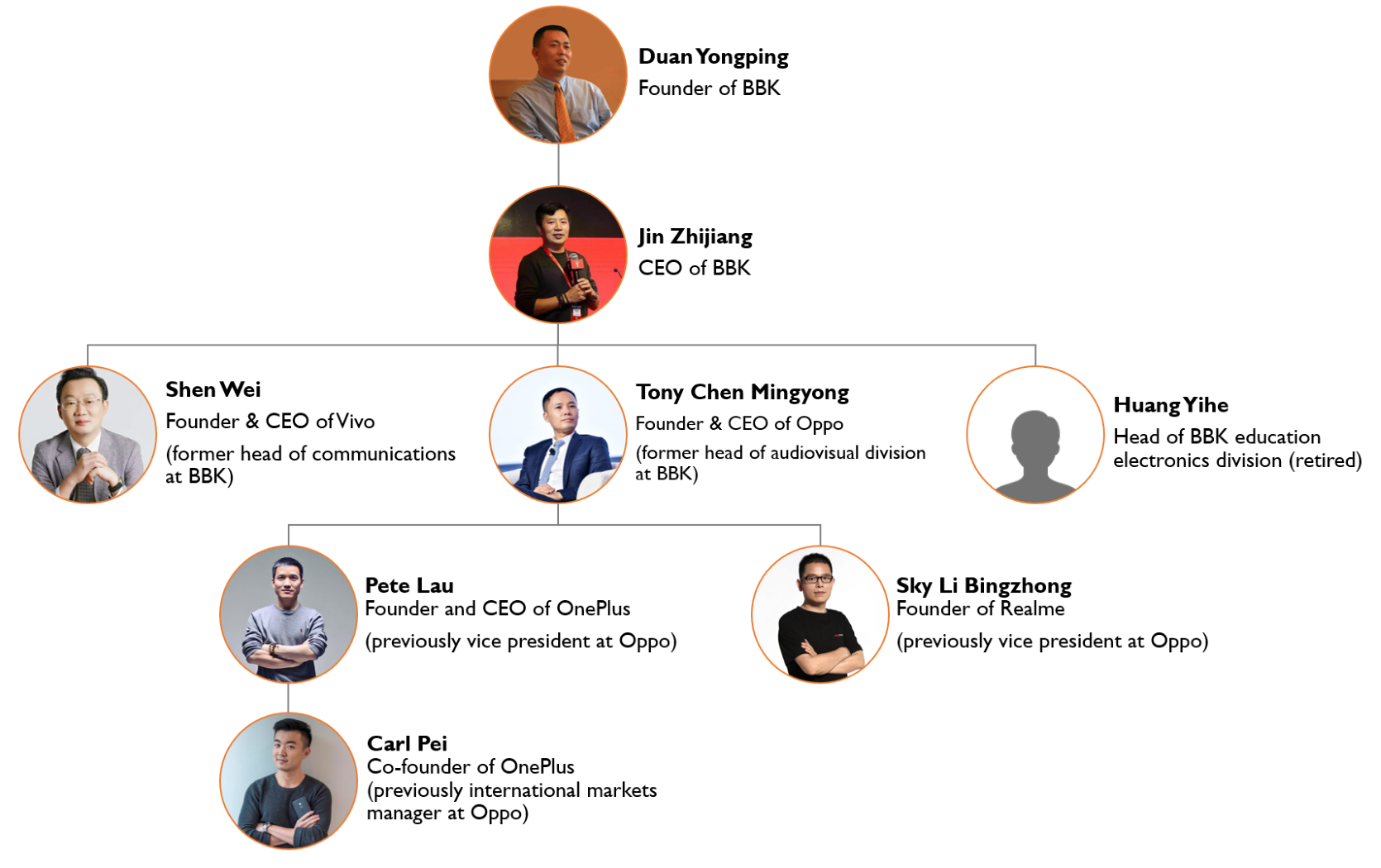 Top brands in China
Chinese smartphone brands have seen a spectacular rise over the past few years.
In Q2 2019, they accounted for 42% market share in the world, a new high. In the quarter before that, Oppo and Vivo were among the the top six smartphone vendors in the world.
Oppo and Vivo entered the smartphone market at a fortuitous time, when the appetite of China's consumers was insatiable but the market was dominated by high-end smartphone producers Apple and Samsung. The Chinese brands targeted the mid-end segment and focused their efforts on third and fourth-tier cities.
But the timing wasn't the only factor that helped jumpstart their nascent smartphone businesses.
The resources, suppliers, sales channels, accumulated from BBK helped Oppo and Vivo get a footing in the smartphone market and fend off competitors. Without BBK's backing and guidance, the two companies wouldn't have been able to spend so generously on advertising and marketing, which have proven to be instrumental to their fast growth in China.
Both brands had a very slim product portfolio. In the beginning, Oppo had the flagship R and lower-end A series. As such, it was able to throw its marketing resources on its chief product, and sales spiked.
Once again, Duan's flair for celebrity tie-ups was put to use. Vivo partnered with NBA China and was its official mobile handset sponsor in 2016, with basketball superstar Stephen Curry as its product ambassador. Similarly, Oppo teamed up with Brazillian football superstar Neymar Jr. in 2018 and is the main sponsor of the Indian national cricket team.
Oppo and Vivo have attributes in common that they imbibed from Duan: offering mid-range price points, catering to the younger consumers, combining online sales with offline marketing push, among others. The thinking behind having two brands was to create a friendly competitive environment for both to grow, Duan said.
"Product differentiation" is key for the phonemakers, according to Oppo's Liu. "While the two brands seemingly have the same positioning, they target different groups within that demographic," he points out.
The strategy to zero in on specific consumers also resonates with Duan's business philosophy of ben fen, which can be translated as "one's duty." It calls for a business to focus on what it's meant to be doing without straying.
Vivo and Oppo cater to the middle to mid-high end segment. OnePlus focuses on the tech-savvy, younger users, while Realme targets India and Southeast Asia.
Industry expert Liu Yan credits BBK's culture for enabling Oppo and Vivo to make it this far. "Ben fen can be interpreted as making the money you're supposed to make and serving the right customers well though making good products," he explains.
Duan's influence
In 2002, Duan retired and emigrated to the US to join his family. Since then, he devoted himself to investment and philanthropy.
But even from afar, he continued to influence China's consumer tech landscape.
Duan is regarded as a mentor by many Chinese tech entrepreneurs. Apart from Oppo's Chen and Vivo's Shen, his protégés include Jin Zhijiang, BBK's current CEO. His philosophy and accomplishments have also attracted Chinese tech entrepreneurs like NetEase's Ding Lei and Pinduoduo's Huang Zheng, among others.
When China's dot-com bubble burst in the early 2000s, NetEase's market cap plunged from US$ 470 million to below US$ 20 million. Duan famously bought around 2 million shares in NetEase, whose shares plummeted to as low as 48 cents per share.
NetEase founder Ding Lei went to Duan not for money but to seek advice on how to promote one of the company's online video games. After speaking with Ding, Duan invested in NetEase. In 2003, NetEase bounced back from its darkest hour because of its soaring gaming business. Ding also became the richest man in China that year.
Huang, founder of Pinduoduo, has spoke about Duan as his mentor on many occasions. The two got connected through NetEase's Ding. After finishing his master's degree in the US, Huang followed Duan's advice and went to work for Google. When Google went public in 2004, Huang became a millionaire.
In 2007, Duan won a bid to have a charity lunch with Warren Buffett for US$620,000, and he brought along the then 26-year-old Huang.
Duan is also an investor in Pinduoduo. But even before Huang made a name for himself, Duan let him take over BBK's ecommerce business and set up a platform Ouku.com, which sold consumer electronics products.
Since his retirement, Duan rarely makes public appearances, but the legend surrounding him and BBK will only grow with the rising popularity of Oppo and Vivo.
When they first came out, Oppo and Vivo products were derided as "cheap iPhone knockoffs" – just as Subor was mocked as a Famicom copycat.
"The best have no problem being the latecomers. They just do it better than everyone else," Duan said at a talk with students at Stanford University in 2018. "The success of our company is not accidental… Slowly, we build a great reputation, which is very valuable in the long term," he said.
Currency converted from Chinese yuan to US dollar: US$1 = 7.10 yuan.