In China, mobile apps are deeply embedded in people's everyday lives. You can access a variety of "local services" – shop for groceries, order takeout, get a taxi, settle bills, and book your travels – with just a single app.
Leading the market is WeChat, a social platform owned by Chinese gaming giant Tencent. Mobile payment app Alipay, operated by Alibaba affiliate Ant Financial, is a close contender.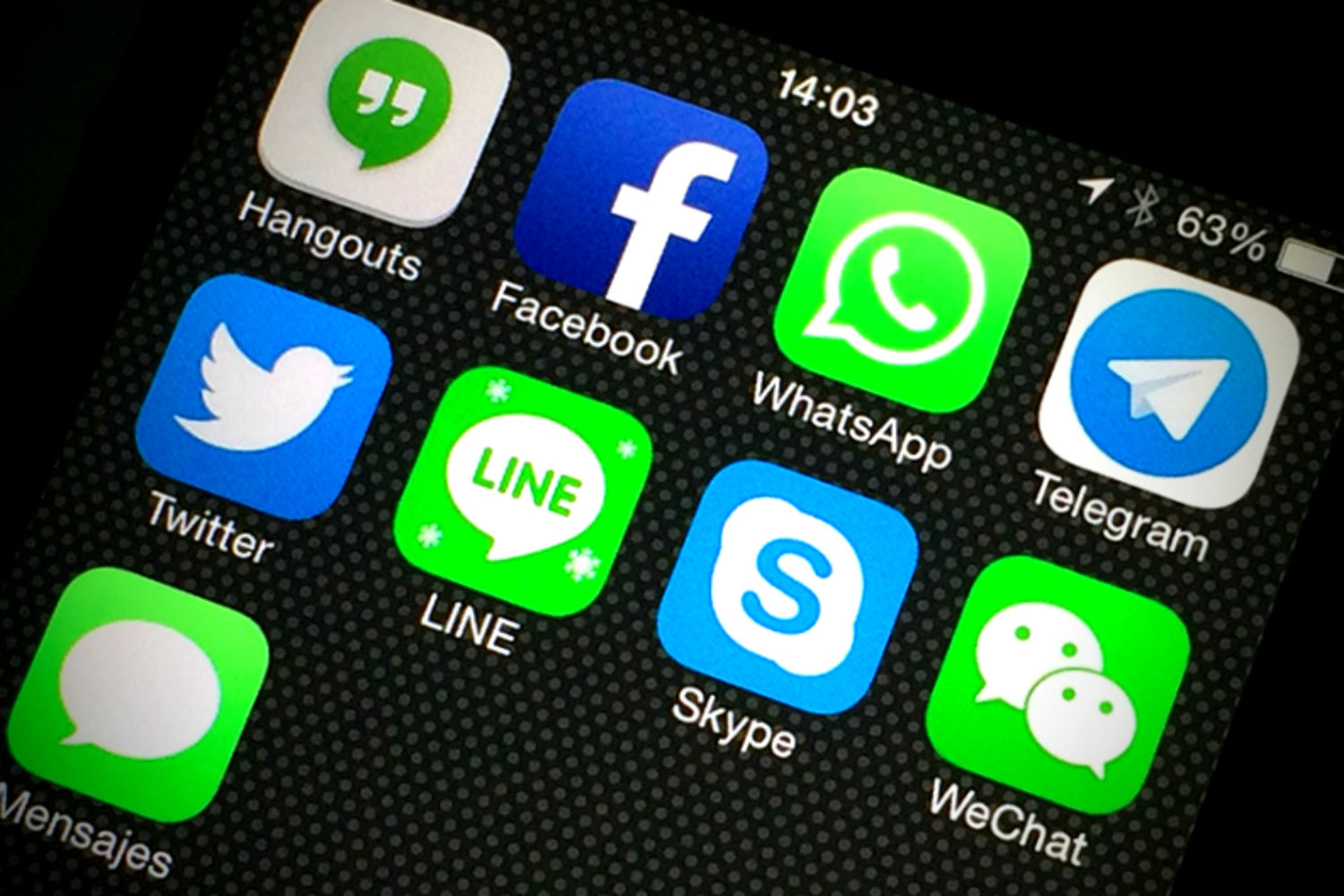 These so-called super apps have become so ubiquitous in the country that at the peak of the Covid-19 crisis, the government had to rely on them to host health status apps to keep track of all its citizens.
The pandemic has led to a surge in demand for local services, and it could be making these super apps even more relevant. Alipay recently decided to up the ante by adding on apps from Alibaba's ecosystem, such as food-ordering app Ele.me, travel-booking platform Fliggy, and movie-ticketing service Tao Piao Piao.
Alipay's recent move was prompted by the escalating competition with fellow super apps WeChat and Meituan-Dianping. Some believe that it's also aimed at gaining a tighter grip on data generated by users' daily consumption, which could fuel Alipay's financial, ecommerce, and advertising services.
Going local
In March, Ant Financial announced a three-year-plan to further open up Alipay to stores, restaurants, and merchants as well as to bring 40 million service providers in China into its ecosystem through marketing and operational support.
Ant Financial's ambition is to turn its mobile payment app into a "one-stop digital lifestyle platform," CEO Simon Hu said at this year's Alipay Partners conference.
Alibaba has been eyeing the local services market for some years now, building its ecosystem mostly through mergers and acquisitions. In 2018, the ecommerce titan merged its Ele.me unit with online-to-offline platform Koubei to further consolidate its local services business.
Expanding local services and integrating them into the Alipay app makes a wide range of options more accessible to users, an Ant Financial spokesperson told Tech in Asia.
While Alipay has attempted several major transitions over the years, moving into the lifestyle segment and local services is proving to be a more successful effort. Covid-19 has given Alipay a good reason to launch this initiative, according to Huang Dazhi, senior analyst from Suning Institute of Finance.
Alipay and online shopping platform Taobao are the two main traffic funnels within the Alibaba ecosystem. But compared with Taobao, local services are more compatible with Alipay's core of mobile payments and financial services, says Huang.
For hundreds of millions of consumers in China, going cashless to pay for their purchases has become the norm. As such, adding lifestyle services to the Alipay app could create synergies within Alibaba's ecosystem and drive traffic to its other apps.
Giants go head-to-head
Alipay's latest push is largely seen as a bid to take on Tencent-backed Meituan, its main rival in China's lucrative local services market, which was estimated to have reached nearly 916 billion yuan (US$129 billion) in transaction volume in the first half of 2019, according to a report by big data firm Analysys.
Alibaba's Ele.me has long been locked in an intense struggle with Meituan. Many have noted that Alipay's recently upgraded homepage bears an uncanny resemblance to the rival app.
Maidan, a new credit payment feature that Meituan launched in January is a direct competitor to Alipay's Huabei, observes Eliam Huang, an analyst at tech and retail-focused research firm Coresight Research. She adds that Meituan already has a payment feature in its app, and this is a clear indication that it no longer wants to rely on other payment services like Alipay. The bold incursion into Alipay's turf could have triggered Ant Financial to ramp up its local services efforts this year
Food delivery is the major battleground of local services, and Meituan has come out ahead of Alibaba's Ele.me and other players, holding nearly two-thirds of the fast-growing market. The company posted strong profits last year, largely driven by revenue from its food delivery and travel businesses, according to its fourth-quarter earnings report.

Compared to Alibaba, Meituan's local services also brought in more than double the revenue, and its merchant network for this business is larger and more active. Furthermore, Meituan recently expanded its physical sales offering to include selling smartphones and cosmetics to take on Alibaba and online retail giant JD.com.
Alibaba's ecosystem is broad but fragmented, observes Coresight's Huang. However, this doesn't mean that the company is lagging behind in the local services race. Alibaba has long regarded "new retail" – the concept of merging online with offline commerce put forward by founder Jack Ma – as a strategic area, and that includes local services. Apart from food delivery, it zeroed in on ecommerce, logistics, fresh grocery, and mobility.
When Alibaba decides to pour its resources into an area, it places a huge pressure on all players in the field, Wang Xiaofeng, senior analyst at market research firm Forrester, tells Tech in Asia. Its stickiness and customer loyalty can also help Alipay beat out other lifestyle or food delivery-focused apps.
Alibaba's interest in local services goes beyond short-term revenue opportunities. "If you followed Alibaba's past initiatives and M&As, they all [had] the goal of gathering more information on customers," notes Chiang Jeongwen, professor emeritus at China Europe International Business School.
He adds: "Intimate insights would empower its ecosystem to serve its clients and consumers better and eventually have more business opportunities. They don't require all apps to make money. So long as the app generates consumer insights, it is useful to the group."
Covid-19 offered an opportunity to internet heavyweights like Alibaba and Meituan to push further and innovate. "The pandemic forced people to get online more than ever – that means deeper penetration and higher frequencies," observes Chiang.
Super rivals
From social networking and food delivery and healthcare services to cloud computing, Alibaba and Tencent are fierce rivals on many fronts. Naturally, the rivalry has trickled down to Alipay and WeChat, respectively.
Alipay's foray into local services brings it one step closer to WeChat's super app status and allows Alibaba taking another swing at Meituan.
Though Alipay and WeChat have taken different routes, they've repeatedly crossed into each other's lanes and made strategic moves that seemed to mimic each other at times. For example, WeChat ventured into payments in 2005, two years after Alipay was launched. In 2016, Alipay attempted to incorporate social elements by introducing Quanzi, a feature similar to WeChat's Moments, but that has proven to be futile. In 2018, Alipay rolled out its own mini apps – lightweight in-app programs that don't need to be installed – after WeChat's success.
Payments and financial services have been an area where WeChat is at the forefront.
At the end of 2015, Tencent consolidated its fintech businesses – mobile payment and personal finance – into a separate unit called WeChat Pay. As a result, WeChat Pay's market share in China doubled to 40% in 2016, and it has maintained that market share ever since. Like Meituan, WeChat also launched a virtual credit card feature called Fenfu in late 2019.
Picking a space where it has good odds at getting ahead of domestic competitors and that's not yet dominated by Tencent is a smart move for Alipay.
"Alipay's strategy now is to expand from financial services to local services. It is impossible for WeChat to go the same route. WeChat's foothold will always be social," says Suning Institute of Finance's analyst Huang.
Services in Alibaba's ecosystem like Alipay, Taobao, Ele.me are standalone apps that can provide comprehensive features, according to Forrester's Wang. In WeChat, on the other hand, local services exist largely in the form of mini programs.
WeChat launched its local services feature called "mini-program near me" around the same time it introduced mini apps in 2017.
WeChat's approach has been to open up its platform and provide resources and tools for merchants to develop their mini-programs. Meanwhile, Alipay tends to invest or acquire services like what it did with Ele.me and Fliggy, but now it's following Tencent's lead by opening up its platform to other services.
So which is the "better" super app?
WeChat's edge over Alipay is its social network of billion-plus users. Social features underpin WeChat's wide range of services, which is a powerful way to retain and acquire users, and its approach to mini programs allows it to offer local services and beyond.
While social has long been its weakness, Alipay offers a variety of lifestyle features. In this respect, it's equally matched with WeChat.
On the other hand, Meituan has a narrower focus, dominating the few areas targets, including delivery for food and groceries. But it does not provide e-government services or bills payment like Alipay and WeChat.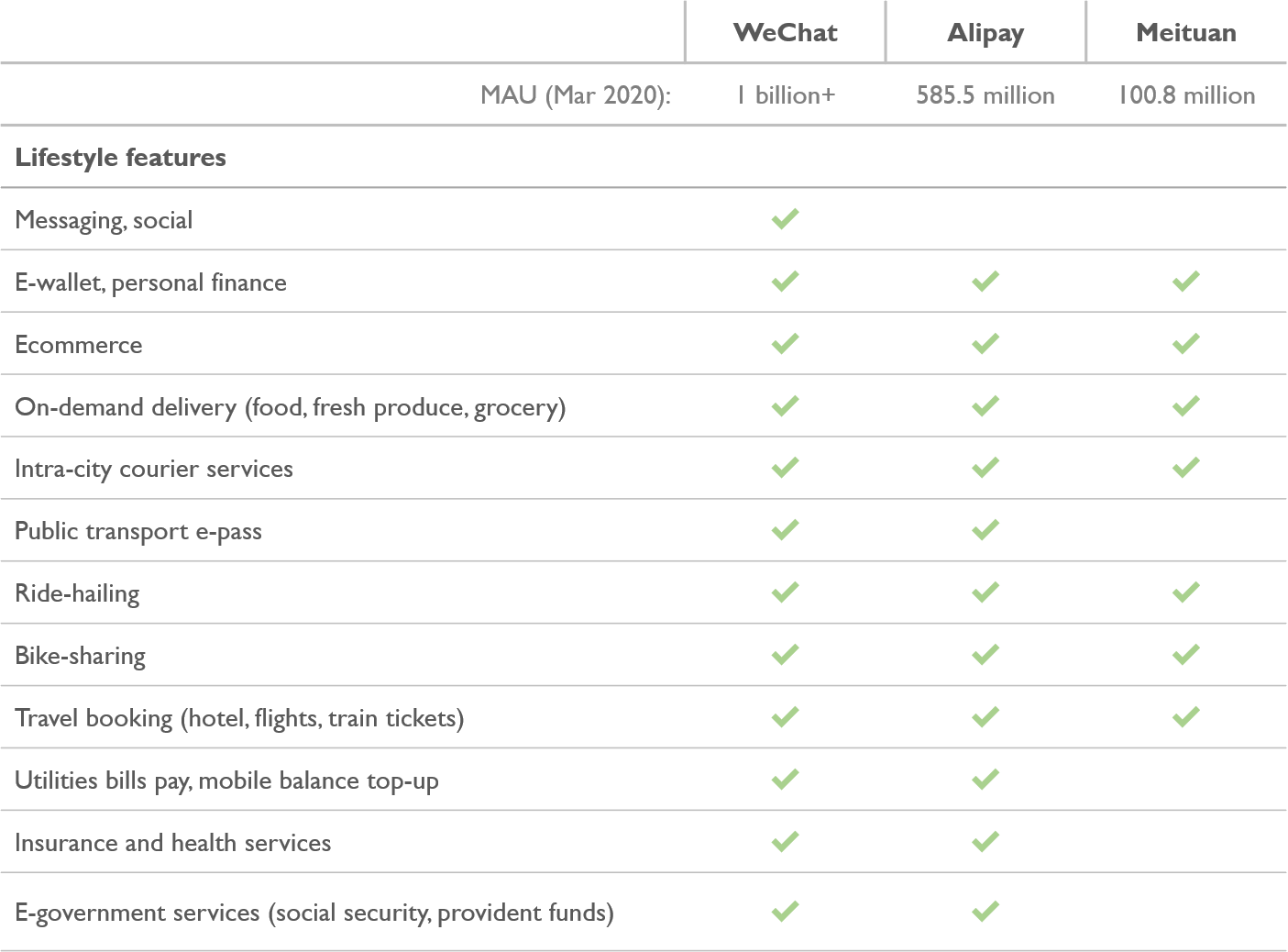 Everything's up for grabs
The rise of super apps suggests an increasingly saturated mobile app market that's forcing companies- even established players like Alipay that hold over half of China's mobile payment market- to reinvent themselves.
As people depend more on their phones to meet their daily needs and as the mobile internet population plateaus, super apps will become more prevalent.
But over the last decade, the mobile internet population has grown fivefold and hit saturation, giving internet companies in China a new challenge to tackle, according to Suning Institute of Finance's Huang. As of June 2019, there were more than 847 million mobile internet users in the country, accounting for over 99% of its netizens.
As we live through perilous times, people are relying more and more on mobile apps to go about their daily lives.
The same phenomenon is playing out in other markets, transforming local tech space. In Indonesia, Grab and Gojek are duking it out to be the top super app. And recently, Facebook's WhatsApp and Jio – the telecommunications unit of Indian conglomerate Reliance – are reportedly mulling over the possibility of building a super app like WeChat.
Becoming a super app is the end goal for many companies. But in China, it's especially challenging if you're not a deep-pocketed, resource-rich tech behemoth like Alibaba or Tencent.
"In Southeast Asia, there isn't a dominant super app like there are WeChat and Alipay in China," Wang points out. "It's relatively easy for Grab to foray into payments, for example. The absence of dominant apps gives it time and room to grow and cultivate its market there. Whereas in China, Didi Chuxing (Grab's Chinese equivalent) faces a strong headwind in doing so with Alipay and WeChat Pay."