In Southeast Asia, Rocket Internet will forever be associated with online shopping sites Lazada and Zalora.
What people may not know is that the venture builder was an early but premature pioneer of business-to-business ecommerce in the region. OfficeFab, a startup that's modeled after US office supplies retailer Staples, died in 2013.
However, B2B ecommerce's impact in Southeast Asia isn't comparable to its gains in China and India. Alibaba started as a platform for suppliers before launching its consumer businesses. Meanwhile, IndiaMart listed in 2019 and is now profitable.
But a resurgence may be happening. Consumer ecommerce is hitting its upper limit, forcing investors and ecommerce firms to seek opportunities in lucrative but untapped areas.
Southeast Asia seems ready, too. Online platforms like Tokopedia, Grab, and Gojek, as well as payments services providers like GoPay and Ovo, have introduced millions of merchants to a new form of commerce.
"B2B ecommerce can thrive when business-to-consumer ecommerce has proven the use case and reliability," says a founder of an ecommerce services firm, opting to remain anonymous.
Indeed, compared to a decade ago, businesses in Southeast Asia may be more willing to ditch face-to-face meetings and bookkeeping on pen and paper.
"Chat and web have started to take over and many B2B orders are negotiated and processed through chat platforms," observes Paul Srivorakul, CEO of ecommerce services provider aCommerce.
In the meantime, the manufacturing industry has grown multifold, with Indonesia's and Thailand's outputs surpassing US$100 billion, according to data from the World Bank.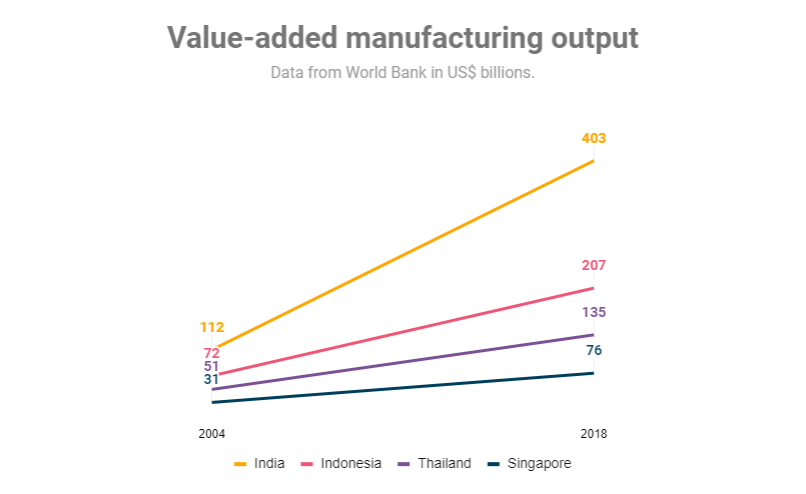 Looking over the horizon, the US-China trade war is already driving factories away from China and steering them towards Southeast Asia. The Covid-19 epidemic is another factor that could force firms to further diversify their supply chains away from the mainland.
These trends could spur small suppliers in the region who are motivated and savvy enough to invest in tools that can grow their business.
Southeast Asia remains a challenging bloc for tech companies. Internet and logistical services are spotty in less urbanized areas. Legacy business owners are just warming up to technology, while local distributors remain powerful.
Diverse regulations and trade barriers mean that the region can hardly be considered as one market.
Profitability remains a distant goal for B2B ecommerce companies, making them reliant on investors who can bring them to the finish line.
The Alibaba of Southeast Asia?
The asset-light marketplace model, as exemplified by Alibaba.com and IndiaMart, appears to be the only proven and profitable form of B2B ecommerce at the moment.
Rather than setting up their own logistics networks, these marketplaces focus on enabling online transactions between suppliers and buyers and earn mostly through subscription fees for services rather than sales commissions.
In other words, their success depends on convincing enough small and medium-sized manufacturers to part with their money upfront.
The subscription services model is still in its infancy in Southeast Asia, with players such as Ralali, Mbiz, Eezee, and Zilingo profiting mainly through commissions or product price markups.
"Charging a commission is our preferred method […] there's no major commitment upfront," says Eezee's CEO and co-founder Logan Tan.
See: Revival of B2B ecommerce in Southeast Asia: Meet the key players
The marketplace approach initially struggled to find its footing. Indonesia's Ralali had difficulty getting power sellers to use its platform, sources familiar with the startup tell Tech in Asia. It was also seeing more sales on its B2C side than B2B.
Its traffic has declined from 4 million visits in August 2019 to 1.1 million visits in January this year, according to SimilarWeb estimates.
Ralali, however, says that its users have been migrating to its mobile app. It managed to get funding last year and is carving out more revenue streams in a bid to be profitable by 2021. The startup says it's also looking to raise more money this year.
Bizzy, meanwhile, transformed from an office supplies marketplace into an ecommerce solutions provider.
B2B marketplaces in Southeast Asia face another threat: Competition from Alibaba.com, which has a huge global user base that suppliers and manufacturers would find hard to resist. China has also extended its lead as the world's factory in the past decade.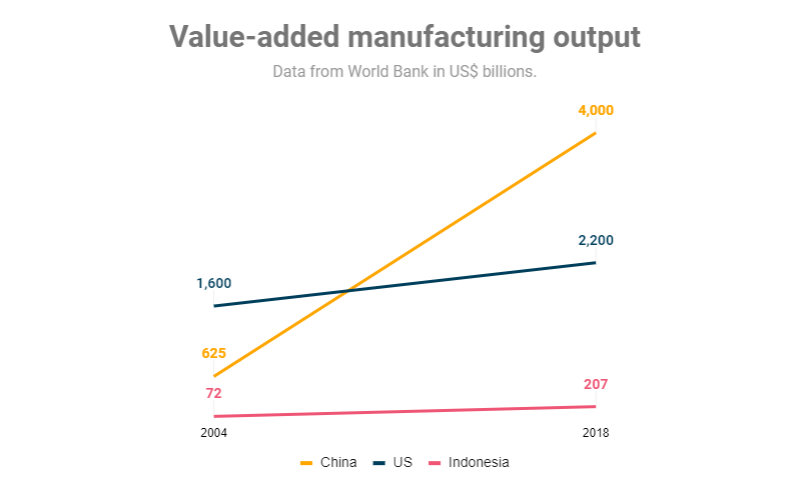 Local players are finding ways to set themselves apart. Eezee, which specializes in industrial and business supplies, seeks to integrate with their customers' enterprise resource planning systems to make the procurement process more seamless.
It has secured million-dollar contracts with multinational corporations to procure goods on its platform, Eezee co-founder and chief design officer Terrence Goh tells Tech in Asia.
While the region's micro and small enterprises, especially in Indonesia or Vietnam, may balk at paying for software, startups like Zilingo, Qasir, and Zeemart have gone the [freemium] route. That means they offer the basic software for free but charge a fee for specialized modules.
Zeroing in on specific industries, like how Zilingo focuses on fashion and Zeemart caters to the food and beverage industry, is also a way to stay ahead of Alibaba.
Zilingo has racked up huge numbers that way. It's seeing an annualized transaction value of close to US$2 billion, a person familiar with the company tells Tech in Asia. An industry source told The Ken that the startup has a take-home revenue of US$200 million. The company declined to comment on those numbers.
Comparison of buyer tendencies on B2B and B2C ecommerce:
| | |
| --- | --- |
| B2B ecommerce | B2C ecommerce |
| Rational, recurring purchases | Impulse-buying decisions |
| Long-term bulk discounting | Sales festival-driven with deep discounts |
| Longer onboarding period and relationship building | Fast onboarding but lower stickiness |
| Buyers know what they want | Buyers discover and buy new products all the time |
| Motivated by the bottom line | Motivated by convenience or enjoyment |
The unit economics – a measure of how efficiently a company makes money – for B2B ecommerce is "far superior" compared to its B2C counterpart, observes Aadi Vaidya, Zilingo's chief operating officer.
Consumer marketplaces rely on discounts and sales festivals to draw in sales, but with B2B ecommerce, "both parties in the transaction are doing it for a livelihood," he adds.
Mom and pop revolution
Another wave of innovation has emerged: the "Airbnb-ization" of industries.
This involves finding common but underutilized or inefficiently used physical assets then building a system that aggregates and standardizes them, with the ultimate goal of driving demand and enriching the whole network.
Airbnb did it for the hospitality sector; Uber did it for transportation. Co-working spaces and cloud kitchens are also based on the same premise.
The same wave is now hitting mom and pop stores across Southeast Asia, which are known kiranas in India, warungs in Indonesia, and sari-sari stores in the Philippines.
Tech in Asia's projections of Warung Pintar:
| | | |
| --- | --- | --- |
| | Current penetration | 15% penetration in Indonesia |
| Number of stores | 7,000 | 450,000 |
| Annual average store income (US$) | 2,500 | 3,500 |
| Potential take rate | 4% | 6% |
| Potential annual revenue (US$) | 700,000 | 94,500,000 |
Estimates calculated by Tech in Asia based on partial data from Warung Pintar, eMarketer
The warung trade hasn't changed much in the last 50 years, says Agung Bezharie Hadinegoro, co-founder and CEO of Warung Pintar, a startup that's building a network of warungs in Indonesia.
If companies like it succeed, neighborhood shops can finally push back against big retail chains that encroach on their turf and eat into their margins.
This convenience store network is part of an adjacent trend in which a local representative acts as a conduit between an ecommerce platform and a neighborhood's residents for all things: user acquisition, buying, selling, and deliveries.
This local agent model is gaining traction as it helps to unlock ecommerce, especially for fast-moving consumer goods (FMCG), in remote areas that have been hard to reach. This explains why China's Alibaba – through a division called Ling Shou Tong – and Indonesia's Bukalapak are investing in it.
The challenge with consumer ecommerce is that it's focused on serving individuals. "Each household has a different mindset," says an executive at a local agent ecommerce company who didn't want to be named.
That makes shipping items to a remote town of 5,000 people with spotty internet and vague addresses problematic. The agency approach, on the other end, focuses on maintaining a relationship with the 50 warungs in the town and then letting them handle last-mile deliveries to the consumers.
There's a clear path to profitability.
In China, Shihuituan specializes in fresh produce, believing that its approach can lower the costs of transporting these goods to far-flung areas.
However, the model hasn't been proven to be profitable. StoreKing, which started its kirana network in India in 2012, was in the red in 2018, according to regulatory filings. Its 2019 bottom-line numbers aren't available.
But ER Rollen, co-founder and CEO of Philippine sari-sari store network Growsari, believes his firm will get there despite having to maintain its own costly logistics network. Like other mom and pop shop networks, it focuses on selling FMCG products, which are attractive because of their high volumes and repurchase rate.
"I'm quite confident that within FMCG, there's a clear path to profitability," he says.
Tech in Asia's projections of Growsari:
| | | |
| --- | --- | --- |
| | Current penetration | 15% penetration in the Philippines |
| Number of stores | 25,000 | 120,000 |
| Annual average store income (US$) | 7,000 | 8,000 |
| Potential take rate | 4% | 6% |
| Potential annual revenue (US$) | 7,000,000 | 57,600,000 |
Estimates calculated by Tech in Asia based on partial data from Growsari and Pasco
Once that happens, it can tap into other opportunities to expand its profit margins, such as selling other types of goods or even offering mobile top-ups, bill payment services, and so on.
"All of these services are just the gravy on top," Rollen says.
Facing resistance
Because of how the local agent ecommerce model operates, it butts heads with local FMCG distributors that are already efficient in countries like Indonesia and the Philippines. It's also battling against convenience store chains.
Taking advantage of low labor costs and keen to increase sales, suppliers in the Philippines have been passing on an extra 3% to 4% margin to these distributors, says an anonymous ecommerce executive.
It will take a while for the likes of Growsari to reach the same scale to benefit from larger bulk discounts.
B2B ecommerce players are also racing against time. Facing pressure from large retail chains, the population of mom and pop stores is dwindling.
Growsari's digital edge may be able to reverse that downward trend. The startup can track the sales for each item in its network and manage the supply, creating better returns for the manufacturers of the goods, Rollen claims.
But chains also have to grapple with threats to their business – mostly from ecommerce marketplaces – so their growth will plateau.
Another problem that B2B ecommerce operators have to deal with is convincing buyers and sellers to bring their relationships and transactions online.
"B2B ecommerce is battling offline industry practices of salespeople giving kickbacks or buying gifts that can influence decision-makers," says a founder of an ecommerce firm who declined to be named.
Growsari's expansion playbook
Acquisition team drops into a new city
Team geo-tags and pre-profiles each store
Team organizes stores into clusters then walks the street to recruit them
Permanent sales agents take over after three to four weeks; each agent handles 300 stores
Team ensures engagement is healthy and consistent on a city and cluster level
And then there's the issue of making a new habit stick. Mom and pop store owners can be "super-passive," says the former executive of an agent-based ecommerce company.
A lot of them see their shops as a source of side income and nothing more, he adds. Many of them are also seniors who are not used to picking up smartphones to manage their business.
To tackle this, mom and pop store networks have been hiring salespeople to engage store owners in person, encourage them to register on the platform, and order through the company regularly. Growsari has a team of 20 such people, out of a staff count of over 500.
"At first, it may not be effective – they may think you're a scam," says the executive. But daily visits to the shop can sway the owner. "We're building a relationship," he points out.