20 Jan 2021
Kenan Machado
Facebook's venture with Indian oil-to-gas conglomerate Reliance could turn out to be instrumental to its plan to capture the country's vast retail market and serve as a template for Southeast Asia or any region it hopes to enter.
Tech in Asia spoke to people involved in the deal and industry experts to understand what may have prompted the social media giant to make its biggest acquisition since buying WhatsApp in 2014 for US$22 billion.
Facebook paid US$5.7 billion for a little less than 10% of Reliance's digital assets, which include its telecommunications unit Jio and e-wallet JioMoney as well as music and video-streaming services. The deal values Reliance's October 2019 carve-out at US$66 billion.
Global tech majors like Facebook, Amazon and Google are hoping that India's volumes will make up for the relatively low disposable income in the world's largest digital economy outside China.
With its formidable local tech giants and restrictive controls on foreign businesses, China can be a tricky or even a no-go market for international companies, particularly US firms. Facebook head honcho Mark Zuckerberg's relationship with the Middle Kingdom has hit a nadir despite making several overtures, including learning Mandarin.
"India is a special country for us," said Facebook when it announced the deal with Reliance. It wants to "enable new opportunities for businesses of all sizes," especially the over 60 million small businesses across the country, the social network added.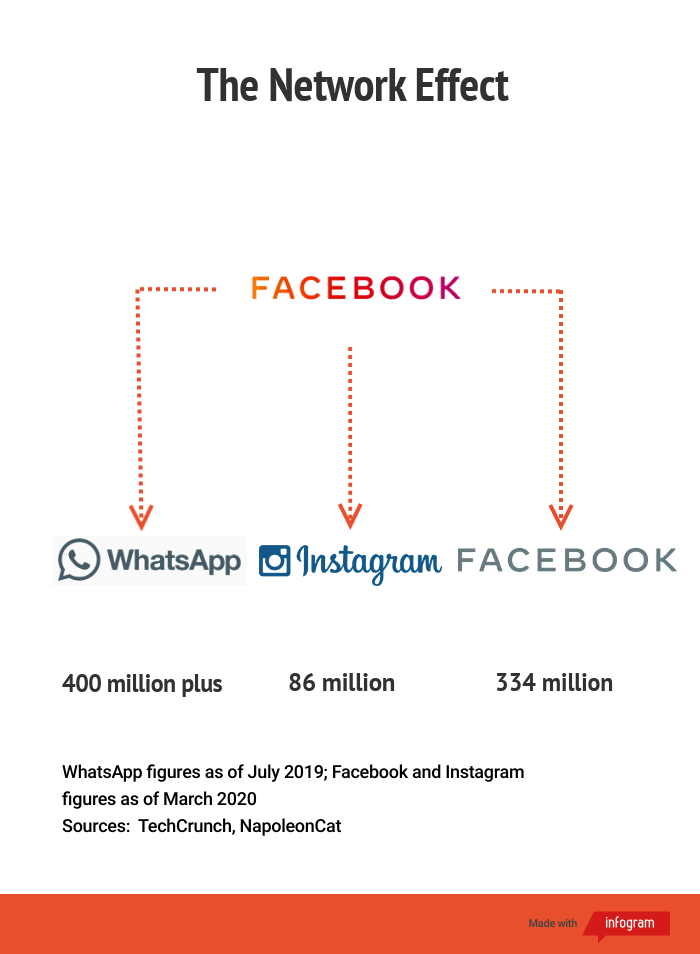 "Payments have always been the tip of the spear," says Vijay Mani, a partner at professional services network Deloitte India. That's why controlling the flow of money at kiranas – the mom and pop shops that dominate India's unorganized retail industry – will help them sell other services. Facebook and Reliance will likely offer ecommerce as well as lending and financial services to small and medium-sized enterprises (SMEs), he adds. They also plan to leverage Reliance's existing payment terminals with kiranas, a person familiar with the companies' thinking tells Tech in Asia.
Through its grocery shopping app JioMart, Reliance has been trying to make inroads by subsidizing the cost of these terminals and waiving transaction fees. The company piloted JioMart in January to connect neighborhood kiranas with millions of Reliance Jio users.
The goal is for merchants to deepen their relationship with Reliance and use it to order supplies, finance working capital, and borrow money, the source says.
From Reliance's perspective, the deal could dramatically increase its potential reach and give it access to Facebook's deep pockets, according to the source and some analysts.
WhatsApp will help almost 30 million kiranas take digital payments, said Mukesh Ambani, chairman of Reliance Industries, in a video message following the Facebook deal. "This means all of you can order and get faster delivery of day-to-day items from nearby local shops," he added.
Three days after the announcement, JioMart allowed customers to place orders from local grocers in three Mumbai neighborhoods. From order to delivery, all transaction-related communication takes place on WhatsApp – an approach that could come in handy for users as India is under a nationwide lockdown.
Connecting with friends
Facebook's earlier attempt to tackle payments in India on its own had hit a stumbling block. The country's regulators delayed the rollout of WhatsApp's payment service over concerns about storing data locally, among others. Even though WhatsApp said it had complied with guidelines, the service hasn't been offered widely and is limited to its initial 1 million users.
"We're also working beyond India in a number of other countries and hope to have this rolled out to a large percent of the people who use WhatsApp within the next year," Zuckerberg told analysts in a June 2019 call. One of those countries is Indonesia, where Facebook plans to team up with local firms to launch its payments service.
However, Facebook still has to overcome regulatory hurdles in each market. In India, for example, Reliance has long been known for its ability to work around local regulations. This has helped Jio upend India's crowded and cutthroat telecoms industry, emerging as the leading player by number of users in just a over three years.
Yet Facebook's India head has denied that the Reliance deal is aimed at sidestepping the Indian government's increased scrutiny of WhatsApp.
Reliance is expected to help its 380 million users transact on WhatsApp using its in-house wallet JioPay, the source adds. But the company and Facebook didn't clarify what would happen on these fronts.
Almost all of Jio's mobile users are authorized using their unique government-issue identity number, and this has helped with meeting know-your-customer regulations. These rules, which are relatively new in India, have adversely affected JioPay rivals Paytm and Amazon Pay as they did not have the infrastructure needed to verify existing and new users. Most Amazon Pay users, for example, are asked to verify their identity to continue using their digital wallets.
It is likely that Alphabet Inc.'s stunning success in India was on Zuckerberg's mind, says Jayanth Kolla, the Bangalore-based founder of research firm Convergence Catalyst. Though Google Play doesn't contribute much to the search giant's revenue, it is the toughest competition for the Facebook-Reliance venture, he notes.
Google Pay became the world's most downloaded financial technology app as of December 2019, according to SensorTower. Within two years after its launch, Google Pay had 67 million active users in India. It processed more than 2.5 billion transactions with an annual transaction value of over US$110 billion in the country.
Google Pay hitched a ride on India's Unified Payments Interface, which was rolled out in 2016. By 2025, digital transactions in India could be worth US$1 trillion annually, with four out of every five transactions being made digitally, Google said in a report.
In September 2019, Alphabet unveiled Google Pay for Business. The platform allows kiranas to accept digital payments and host digital storefronts on Google Pay.
Other US tech giants aren't sitting idly by. Just a day after the Facebook-Reliance announcement, Amazon introduced a program to connect kiranas to their customers in the neighborhood.
Facebook's investment comes as Reliance boss Mukesh Ambani tries to reduce the company's debt, which piled up as it spent approximately US$50 billion to roll out cheap mobile internet.
Reliance's net debt was at about US$20 billion, Ambani told shareholders in August 2019. Costs to finance that debt then had more than doubled from a year earlier.
Before the Facebook announcement, investors were increasingly apprehensive about Ambani's promise to turn Reliance debt-free by March 2021. Petroleum and gas titan Saudi Aramco's proposed investment has been delayed in the wake of falling oil prices.
On March 23, Reliance's stock was in decline, falling to a 20-month low as the Covid-19 pandemic threatened business. Respite only came after news reports of a potential deal with Facebook. The recovery in the share price also put Ambani back on the throne as Asia's richest man.
A finger on the till
Reliance's attempts to steer the flow of money at SMEs is not going unchallenged.
India's HDFC Bank is the market leader in processing merchant payments. Every third transaction is done either through s cards or one of its payment options.
Facing competition from the likes of Google Pay and Paytm, HDFC recently had a tie-up with tech firm Innoviti to enable its terminals to accept digital payments. The bank has more than 400,000 of such devices, which are used by 300,000 merchants across India.
Innoviti and HDFC – the country's second-largest bank – are using this extensive reach to lucratively lend to SMEs, retail consultants say.
At present, lending rates are high for kiranas in the absence of proper bookkeeping and daily cash flow records, but access to such data would help tech majors to offer more affordable loans, analysts and bankers observe. For instance, Innoviti already has a highly profitable lending business. This could mean the difference between turning profits and burning cash to dominate payment terminals.
Reliance's strategy so far has been to provide payment terminals to kiranas and other SMEs at steep discounts and to forego fees. The hope is that its collaboration with State Bank of India – the country's biggest – would eventually augment such spending.
"Multiple businesses could be built with this partnership," notes Deloitte's Mani, including ecommerce, financial services, and solutions for SMEs.
While Reliance has dismissed speculation that it wants to become super app like Grab, WeChat and Alipay, some analysts believe that its partnership with Facebook will help both companies tap into India's growing ecommerce scene.
The nationwide lockdown has forced everyone to order online, and the billions of dollars invested by Walmart-backed Flipkart, Amazon, and other players have brought about a change in consumer habits.
"Reliance let everyone else do the heavy lifting when it came to changing user behavior," points out Santosh Pai, a partner at Link Legal India, which advises Chinese clients on Indian investments. "It's now coming in to reap the benefits."