20 Jan 2021
Kenan Machado
Xiaomi and BBK Group's Oppo are joining the race to become global fintech powerhouses. For their first gambit, the companies are replicating their China playbook to sell loans in India in an attempt to shore up wafer-thin margins on budget smartphones.
If successful, these phonemakers could earn significant revenue by charging commissions and interest on loans. They could also profit from collecting and selling anonymized consumer data to financial institutions, giving them an edge over traditional lenders. Limited sharing of user data after getting their consent is allowed in India as regulations are drafted to better manage the information.
Xiaomi and Oppo have launched apps on the Google Play stores that allow Indian users to borrow money for personal or business purposes and invest in mutual funds.
The two companies are acting as intermediaries to sell loans of up to 200,000 rupees (US$2,600) for Indian banks such as HDFC and Aditya Birla Group. Financing startups such as EarlySalary and Lendingkart have also teamed up with Oppo, while ZestMoney and CreditVidya are working with Xiaomi.
Currently, both Xiaomi and Oppo get commissions in line with what traditional brick-and mortar distribution channels charge lenders. These distributors include banks, retailers of consumer goods, and online loan comparison startups.
| | | | |
| --- | --- | --- | --- |
| Company | Unsecured Loans | Secured Loans | Interest Rates |
| Oppo India | 2.5%-3.5% | 0.75%-1%* | 24%-30% |
*Commissions on loan disbursements
Source: Oppo
Despite multiple requests from Tech in Asia, Xiaomi declined to comment on its commission structure. But observers and rivals say its fees should be similar to Oppo's, whose commission rates are in line with industry standards. Annual interest rates on loans disbursed on Xiaomi's platform range from 16.2% to 36%, according to the Google Play Store.
Xiaomi helped disburse US$16.6 million in loans through December 2019, a spokeswoman tells Tech in Asia. Oppo didn't give a similar number.
The loan book of Indian microfinance institutions stood at about US$28 billion by the end of December, an industry body said. It didn't provide a year-earlier figure.
The next gold rush
India is the world's second-largest smartphone market, so its lure as a testbed for expansion outside of China is understandable.
Xiaomi and BBK dominate the Indian phones market, where Chinese firms sold more than half of the 158 million smartphones shipped in 2019. Between themselves, the companies have more than 200 million users in India, analysts estimate.
Xiaomi and Oppo have been constantly churning out hardware improvments at competitive prices. Value-conscious consumers in emerging markets like India have forced firms, including titans like Apple, to keep prices low and boost sales.
The cutthroat competition over pricing, however, is eating away at their margins. This is where fintech can come to the rescue.
According to KPMG, a blockbuster October to December quarter helped Indian fintech close 2019 withUS$3.76 billion in funds raised – a new record.
Digital lending itself is expected to grow exponentially. The market in India is expected to hit US$350 billion in loan disbursements by 2023 from US$110 billion in 2019, says the Boston Consulting Group (BCG).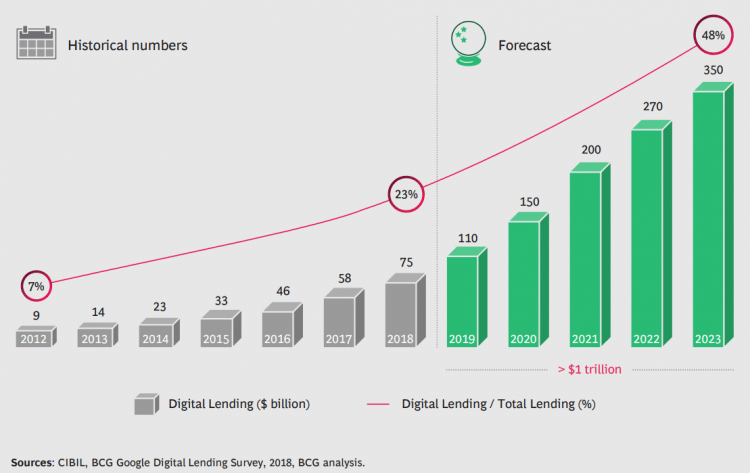 If Xiaomi and Oppo get just a 5% market share – a conservative estimate – of India's estimated online lending market in 2023, they could gain a fee-based income of US$350 million at an average commission rate of 2%, according to Tech in Asia's analysis. However, this calculation only counts revenue from loan commissions and not the sale of consumer data to financial institutions. It also doesn't take into account potential revenue from a standalone lending business.
The potential income would come at relatively lower costs in terms of customer acquisition.
"Our strength is the large user base we have. We have 100 million users that we can reach out at no cost," Vikram Singh, head of Xiaomi's financial services in India tells Tech in Asia. " This gives Xiaomi a leg up on traditional offline distributors of financial services, he adds.
BCG estimates that 98% of loan seekers in India used a smartphone to research about financing deals.
Borrowers in India have to undergo a tedious application process, with lenders often seeking different sets of documents to prove identity and residence. They also ask for proof of income such as tax returns and salary slips.
But recent regulatory changes have made navigating the lending system less laborious. Lenders can now pull data from credit scoring bureaus. They can also verify someone's identity within minutes using a nationwide technology platform.
Lessons from China
China is leagues ahead of any other country when it comes to fintech. The country is home to four of the world's top 10 fintech firms, according to an October 2018 report by H2 Ventures and KPMG.
And despite a recent cooling off in funding, investments in China's fintech industry dwarf others in the Asia-Pacific region.
Xiaomi and Oppo are counting on applying lessons they learned at home in India.
In March 2015, Xiaomi began public beta testing of its financial services in China, and users of its digital wallet began earning interest on their savings in the platform.
Since then, revenue has steadily increased. For the three-month period ending in September 2019, revenue from Xiaomi's fintech unit grew by 91.2% from a year earlier to 1 billion yuan (nearly US$141 million). Overall revenue grew 5.5% on-year to 53.7 billion yuan (US$7.6 billion).
Numbers for Oppo or BBK aren't available as they are privately held. Both declined to share numbers with Tech in Asia.
Growing pains
Xiaomi's fintech journey hasn't been without its fair share of hiccups.
Its ambitions in consumer finance have faced significant setbacks in China due to a tightening regulatory environment and a recent slowdown in fintech investment in the country. But in January, Xiaomi finally obtained a consumer finance license, saying that the move would help it gain a stronger foothold in its home market.
Prior to that, though, Xiaomi got entangled in China's peer-to-peer crisis in July 2018. Over a third of China's P2P platforms ran into difficulties because of disputes, halted operations, frozen withdrawals, or executives who absconded with investor funds.
Hundreds complained about risky third-party P2P platforms being promoted on Xiaomi's ecosystem. Xiaomi responded by removing all related ads and banning new P2P products in its app store.
According to local media, Xiaomi ramped up marketing efforts for its own P2P platforms in July 2017 – the same year when founder Lei Jun announced the firm's commitment to fintech.
Last March, Zhuhai Mi Credit, Xiaomi's microfinance company in Zhuhai, a city in Guangdong province, had its business license rescinded amid a nationwide crackdown on online lending.
These setbacks have given the company invaluable insights into know-your-customer regulations and money collection that could come in handy in India, says Xiaomi's Singh.
It doesn't come as a surprise then that Chinese firms are also eyeing Indonesia, Malaysia and the Philippines as promising markets for fintech, analysts say.

The market landscape mimics that of China to a large extent

India has the world's second-largest unbanked population after China, says Prateek Roongta, a partner at BCG in India. "The market landscape mimics that of China to a large extent," presenting a "massive opportunity" amid the Covid-19 crisis, which has boosted digital lending, he adds.
Chinese tech companies like Oppo and Xiaomi also have access to data from millions of users, giving them a better understanding of consumers compared to traditional intermediaries, says Varun Mittal, global emerging markets fintech leader at Ernst & Young. "If people have a daily consumer touchpoint and data, then they can leverage that," he adds.
Data of potential borrowers is shared with financial institutions only after their consent is secured, and the data usage of partners is strictly enforced, say Xiaomi and Oppo executives.
User data has assumed more significance as Xiaomi faces increased scrutiny. A Forbes report said that the company was furtively recording customers' web and phone activities, including browser usage in private or incognito mode. Xiaomi later released a software update to allow users to disable data collection in private mode.
Covid-19 and its impact on the economy has also become a concern.
Oppo launched its consumer fintech in India just a few days before the country went into a lockdown. Despite that, some 150,000 users have used at least one of its services, Zafar Imam, head of its financial services business tells Tech in Asia.
But most of the 753 reviewers of the company's app on Google Play Store said they used Oppo's free service to generate credit score reports and not apply for loans.
Xiaomi was also in a similar situation, with most reviewers reporting that they had trouble using the app to borrow money. It would either fail to respond or there would be no feedback from Xiaomi about their applications, they claimed.
Covid-19 has hurt loan disbursements due to a shortage in manpower at partners, a spokeswoman tells Tech in Asia. "We have noticed that the demand for personal loans has gone down," she said.
Just like in China, both Xiaomi and Oppo will eventually seek to lend on their own abroad, say industry observers. Both companies will capitalize on their experience acting as intermediaries in India to help in pricing loans and train internal artificial intelligence algorithms.
Banking on distribution
Xiaomi and Oppo are banking on their extended retail networks in India to further their fintech ambitions.
Xiaomi wants to tap on its exclusive tie-up with 3,000 mom and pop stores across the country to push its financial services and ecommerce play. Earlier this month, the company said it would connect customers to its partner retailers.
Oppo's physical distribution network will be its strength as it plans to to leverage its 60,000 stores across India, says Imam. It's targeting to acquire 10 million users in the next five years.
But the key to success in India still depends on their ability to collect debts, which was a significant problem in China. As such, Xiaomi and Oppo are at the mercy of the borrower's ability to pay on time, says EY's Mittal.
"Just because you dance well doesn't make you a rockstar," he says.
With additional reporting from Nicole Jao.
Currency converted from Indian rupees to US dollar: US$1 = 75.89 rupees.